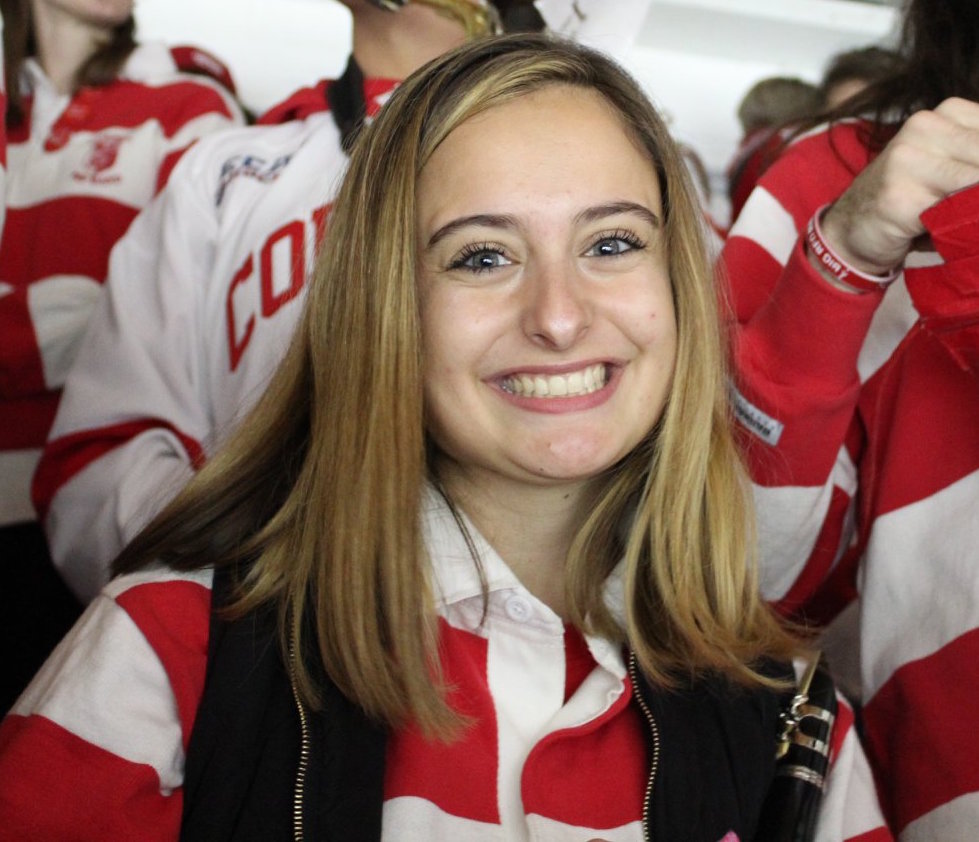 Hey everyone!
My name is Natalie Parker and I already love being the 2019 Head Manager of the Pep Band! I am a junior in the College of Arts and Sciences studying Biology and French and I am pre-med and pre-dietetics. I am from Ridgefield, Connecticut and I play clarinet in the band and absolutely love living at Clarinet House with my fellow 'nets! Last year I had so much fun serving as your Alumni Relations Chair and Pep Band Historian. When I am not doing band, I am the Secretary for Cornell's chapter of MEDLIFE and a student caller at the Cornell Annual Fund. I am also an active member of the Marching Band!
Everyone on the Pep Band board has already done such an amazing job and I am so proud of our two conductors, Emma Jacob '20 and Jeremy Miller '19 for their contagious enthusiasm! It would not be possible to keep the Pep Band going without everyone's continued support, which I appreciate so much.
As expected, our Men's and Women's Hockey teams were fantastic this season. Our Men's team was even ranked number one in the country for a little. We went on two weekend trips with the men's team during their regular season to Yale/Brown and Northcountry (Clarkson and SLU). We hosted the first round of Men's Hockey playoffs. Then, we followed the team to Lake Placid, where they competed in games for two days. A portion of the band also went to Hamden, CT, where the women played in the Frozen Four! It was so exciting that the women made it this far and was a very incredible experience.
We have really enjoyed playing at almost every home Wrestling match, the coaches told me "you guys have completely transformed the Friedman Wrestling Center environment. Everyone loves you guys, except the opposition who despise you more than you can imagine!" Our Men's Basketball team also had a winning streak for a little while, and we were able to follow them to the Ivy League Tournament at Yale, which even earned us some money from Cornell Athletics! We are looking forward to seeing how our our Men's and Women's Lacrosse teams perform, since in the past we have been able to travel with them too. We were also invited to play at Baseball and are looking forward to playing for the Softball team soon.
So what's new in the Pep Band? We have more members active than ever and have been performing at an average of four events each week, which the band is really enjoying! After several years of not playing at Track and Field, we got the chance to play for them again and the band and team really liked that and we got a lot of praise! We also got to play at a performance for Athletics which we got paid for, and are also planning on performing at Ithaca College and SUNY Cortland and will be compensated for that as well. The drumline has started performing the Big Red Rave, or their light show, before hockey games, and hopefully we will bring this show to our other sports! It really hypes up fans and is exciting to cheer along with the drummers.
If you have any questions, feel free to reach out to me. Next time you are in town or we travel to a game near you, please stop by and introduce yourself, I would love to meet you! See you soon and GO BIG RED!!