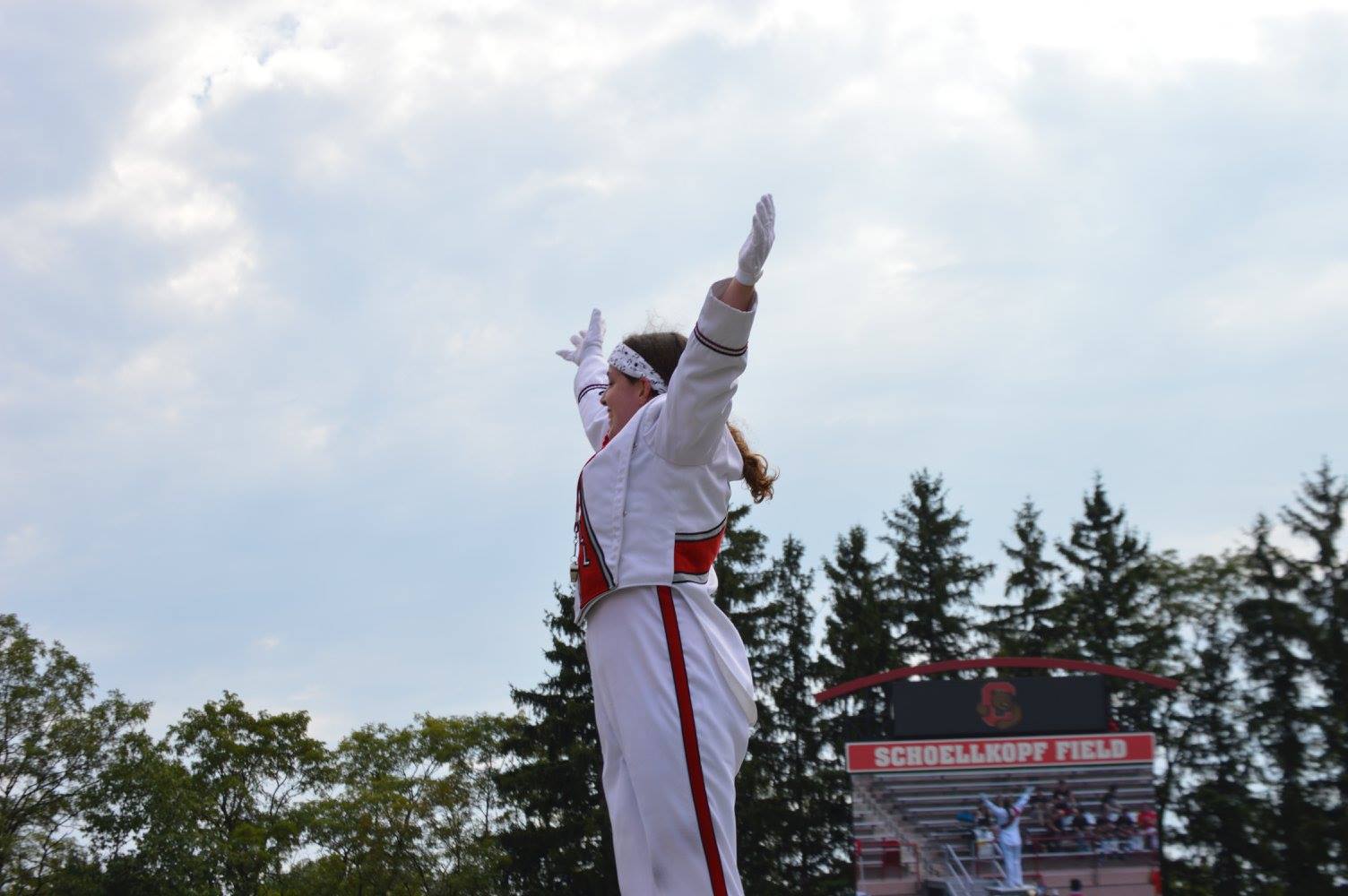 Hey, all! In case you still haven't heard enough of me, it's Michaela, your 2014 and 2015 drum major! This season has been equally as exciting as the last (if not more so!) and the band has really accomplished an incredible amount. As a reminder of my background, I am a senior studying materials science engineering. I am formerly of the trumpet section, and still spend a lot of time there for pep band. In addition, this past summer, I marched trumpet for 7th Regiment Drum and Bugle Corps, touring and performing all over the country (but that's a story for another time).
Our first show this year was The Who show, in honor of their 50th anniversary. Pregame featured a medley of Who Are You and Won't Get Fooled Again, where the band struck many dynamic poses on the field (to the immense approval of our alumni audience at homecoming!). Halftime shifted moods with I Can See For Miles and, of course, closed with Pinball Wizard, with the band crowding the podium for the final chords of the piece. Conducting Pinball Wizard at homecoming with the alumni band was an experience like no other. The absolute wall of sound as hundreds of instruments crowded the podium almost blew me right off! The show was then taken on the road to Yale where it continued to impress!
The second show was the ever-clever (K)Night show. Pregame was Knights of Cydonia, and the song featured a new drum break where the band marched some impressive pass-throughs. This show was also unique in that it was played at our home game against Colgate, which was Cornell football's first Friday night game in its entire history! The band certainly held its own under the Friday night lights, continuing with a halftime of Some Nights and Nights in White Satin (featuring a thoroughly gorgeous trumpet duet). The show was performed again at the home game against Harvard, where, from the podium, I was able to hear the Harvard band cheer as the band knelt midway through the song. Clearly, they were quite impressed, as was I! In addition to the regular season Cornell football games, the band made appearances at not one, but two, pro football games! Okay, one of them was a Canadian football game, but still exciting. The band adapted well to the 55-yard line as we brought parts of both The Who and the (K)Night show to Montreal. Then, the following week, we made our appearance at Ralph-Wilson Stadium to perform at the halftime show for the Buffalo Bills! Getting the chance to perform at an NFL game was both terrifying and exciting, but overall, certainly unforgettable.
Also Check out our Preformance at the Bills Stadium on Facebook. Read More →