Hey Alumni!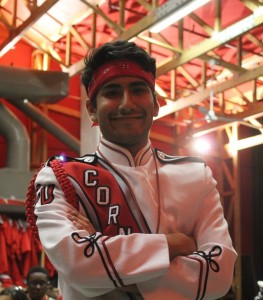 My name is Christian Romero and I am the Big Red Marching Band's 2020 Drum Major! I am a senior in the College of Arts and Sciences majoring in Sociology and Performing & Media Arts. While it's been great to do more conducting, I miss jamming, grooving, dancing, and moving with my fellow saxes.
This spring semester has been an interesting one. We kicked off our spring performance schedule a little earlier than usual with a small performance in the Tompkins County Library. This event was organized by our amazing Philanthropy Coordinators for mid-February and we were able to show many children in the area the joys of band! After playing a short set, we were able to share some band memories, show off each instrument, and give the kids a closer look at each instrument. Although the event wasn't too long, the kids and the band had a blast and we look forward to partnering with the Tompkins County Library again in the future.
The band then had their first music rehearsal to prepare for our annual Giving Day Concert in mid-March. We practiced some of the more difficult concert songs as well as our newest concert song, Brooklyn (dance break included)! The Giving Day Concert itself was a very bittersweet moment for everyone involved. Prior to the event we were a bit stressed, as we did not know if it would actually be able to occur, but once we finally got the okay and found a way to operate under university guidelines we did everything we could to make the event unforgettable. The band dressed up in uniform and we added an extra pep band and marching band set than what we usually have. By evening song we were all left feeling very emotional. The event was even more special having so many alumni tuning in and sending us support!
As the university started to shut down and classes moved online we did all we could to keep the band spirit alive. Showcomm and I were able to devise a schedule where we would send out our new show music to the section leaders to be distributed to the members of their section. In addition to sending out music, we also worked with our publicity chairs to create a social media series called Music Mondays. We created this series to share some of our favorite songs with newly admitted students since we were not able to hold any Cornell Day performances. Marissa and I also held our first HM & DM Office Hours via Zoom as a way to reconnect with some of our members. To close out the semester we made a video honoring our graduating seniors and worked with BRBAA to host the first Big Red Bands Town Hall.
The fall was just as eventful as the spring semester. With university protocol changing throughout the semester we focused our efforts on online events. We kicked off the fall by recruiting new members with chalking, a virtual clubfest, and a more active social media presence. We got interest from about 100 new members and welcomed them through a virtual First Night. The rest of the semester we focused on finding ways to get the new members involved in band and to meet other members. We hosted office hours every week, set up a weekly speed friending system, held zoom events with other Ivy bands, created the "BRMB Olympics" (ran by 3 band seniors), did virtual music performances, and hosted various other zooms as a way to keep everyone connected.
Throughout the year we also took time to reflect on what it means for us to be a truly inclusive organization. As one of the largest student run organizations in the Ivy League we felt it as our duty to take a more active role in addressing what is going on in our university and the world around us. In order to best support our Black and Indigenous band members of color we decided we could no longer shy away from these conversations of racism and human rights. While we have by no means fully addressed the issues of racism in our university and our organization, we have started a dialogue that will without a doubt contribute to the band becoming an even more inclusive and anti-racist organization.
While the year was not what we expected, I think we still were able to make the band special for all of our new members and I couldn't be more grateful for the opportunity to welcome so many new faces into our band family. Thank you all for your continuous support and thank you to Marissa, Lynn, and all of our band leaders for all your work and remaining adaptable throughout this difficult year. It's been an honor to serve as your Drum Major. While I never would've guessed everything that this year had in store, I'm proud of the band for coming out stronger. No matter what happens the band always wins!
Chris "Feel free to reach out to me whenever!" tian Ro "I've got a lot more free time now that I'm not running a band" mero
---
HEY ALUMNI!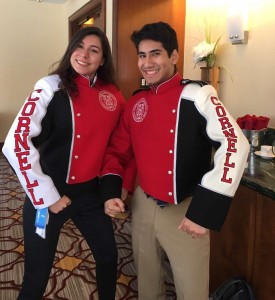 My name is Marissa Gailitis, and I had the pleasure of being the 2020 Head Manager!  I have completed two years of my degree in Environment and Sustainability with a concentration in Environmental Economics through the College of Arts and Sciences, but I decided to take a gap year in New Zealand half way through my term due to COVID-19.  In the band, I am a proud member of the Drumline (Bassi Bois for life!!).  2020 came with a unique set of challenges that forced us to think creatively and come together as an organization.
We began the year with a goal to increase events channeled towards giving back to our Cornell and Ithaca communities by further establishing the role of the Philanthropy Coordinator ("Phil Coor", formed in 2019).  We began working towards this goal with a Tompkins County Public Library Event, put together by the 2020 Phil Coor, Kai Chen '21 and Arya Saksena '22.  At this event, the Band pursued our love for playing in libraries by performing a small concert for children and their families at the Tompkins County Public Library in the Ithaca Commons.  We completed the afternoon with an "instrument petting zoo", where children were able to get up close to the instruments to learn how they work.
In February and March, we began rehearsing for Giving Day.  There was also talk of not coming back to campus after Spring Break due to the pandemic.  Just a day before the event, we were given the first of many event-limiting guidelines put forth by the University.  We worked with these guidelines by ensuring that no more than 100 people would be in attendance at the event by requiring students to RSVP before attending and by managing the number of people in the band center at the door.  With these guidelines changing every couple of hours, we had no idea if we would be able to move forward with our event until about 30 minutes prior to the scheduled livestream.  The University closed for the rest of the semester the next day.
When we were told to leave campus, we began asking ourselves the question that would haunt us for months to come: if we aren't together, how can we still be a band?
We began to try to answer that dreaded question by hosting band bonding events, like band-wide Zoom calls and virtual events for each section hosted by section leaders.  Some of these sectionals were movie nights with Netflix Party, hang-outs over Zoom, or even performing virtual cheers!  Additionally, we were able to work with BRBAA to host a Big Red Bands Zoom Town Hall, where we connected with Bandies past and present, reminisced on the old days, explored how the band functions logistically, and went over the current state of the band.  Upon hearing about the death of George Floyd, Breonna Taylor, and countless other Black individuals, the Band also came together to stand with our communities by supporting the Black Lives Matter movement, providing resources and ways to help the cause through our many social media platforms.  We also began to re-explore ways we can make the Band a more inclusive environment for everyone.
Upon hearing the changes to the Fall semester, we had many questions.  Can we still perform while social distancing?  Can band still happen this Fall?  Should band still happen this Fall?  To answer some of these questions, we formed a COVID Committee to brainstorm ways to keep Band as safe but active as possible the Fall '20 semester.  It was a tough call, but at the end of the day we decided to stick to virtual events through the semester to maximize the safety and comfort of our band members.
Months after being away from campus, I finally found an answer to the question that haunted me last March.  Although we may not be able to play together for a little while, the Band will always be a Family because we stand together in times of need.  Instead of viewing the virtual changes to the Band as a negative, I am thankful to view the situation as an opportunity for the Band to bond more as individuals and look towards other things that bring us together.
Managing the Band in a pandemic has certainly been a learning experience, so I thought I would share some of the things that I have learned from 2020:
Just because you don't know what's coming does not mean that it won't turn out alright
Even if we are apart, the Band will always stand together
You can take us away from our instruments, but we still won't be quiet
The flove is real
The Band always wins!
Now some shout outs:
Thank you so much to Christian and Lynn for being the best co-leaders I could have possibly been paired with!  The band is so lucky to have had such passionate and hardworking leaders, and I hope you enjoy retirement and the rest of your senior year!
Thank you to BRBAA for working with us through all the difficulties that came with 2020.
Thank you class of 2024 for being absolutely wonderful, I can't wait to get to know you guys better in person!
And of course, Thank You Band!  2020 was definitely a memorable year with many ups and downs, but thank you for staying with us through it all!
Good luck to Carey, Oliver, Cups, and the whole of 2021 Bandstaph!  I can't wait to see what you guys will accomplish this year, I have faith that all of you will do amazing things!
With Flove, Drumstix, and Surgical Masks,
~Marissa, 2020 Head Manager
---
Hey Alumni!!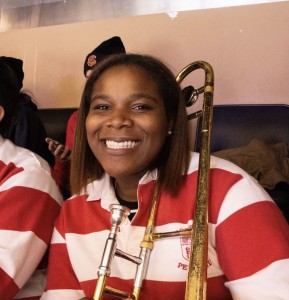 My name is Lynn Jeannoute and I had the utmost pleasure of being your 2020 Pep Band Manager! I am a senior majoring in Chemical Engineering and minoring in business. I am originally from Elizabeth, New Jersey, and play trombone in Marching Band, as well as Pep Band. Before assuming my role as Pep Band Manager, I was one of the pep band historians for two years!
Everyone on the pep band board has been really great this past year despite the circumstances, especially all of our new board members who brought with them a really great spirit and enthusiasm onto the board and all did amazing jobs in their new roles.
This year ended up being really crazy but also started off similar to many others. Both hockey teams had amazing seasons and the pep band was able to cheer them on at all of the men's games and most of the women's games as well! Last spring we were able to go on two overnight trips for the Princeton/Quinnipiac and Yale/Brown games and also take a day trip to Colgate. These trips were super fun and everyone had a great time! Unfortunately, the end of the hockey season took a hit due to COVID-19 and all the playoff games were canceled, but both our teams were ranked No. 1, which was incredibly exciting.
Even though there is a lot of hockey in the spring, we still make time to attend some other events. The pep band was happy to be able to go to most of the home wrestling matches and a few basketball games as well! A lot of the band members really enjoy wrestling and basketball. It's really great being able to support our other amazing teams on campus.
As I mentioned earlier, our in-person semester was cut short due to COVID-19, so we weren't able to go on any playoff trips or do any of our usual end-of-the-semester events like last rehearsal and conductor elections. This was definitely a bummer for all of us, but I'm super grateful and happy that we got to have such an amazing first half of the spring semester.
Also due to COVID-19, the Ivy League had decided to cancel sports for the Fall 2020 semester. This led us to the question: "If there are no sports, is there still band?" We spent so many months trying to figure out what band would look like for the fall semester and how we could bring people together virtually. In the end, we decided that even though we could not meet in person or play together normally, we could still foster a fun and supportive environment for all our members. We did this by holding virtual events throughout the semester, including holding office hours each week, rotating hosting between the drum major, head manager, and pep band manager. Even though we weren't able to meet in person, we were still able to meet the new members and interact with each other safely.
Another goal we had this past year was trying to promote diversity and inclusivity within our organization. We want band to be a safe place for everyone to feel welcome and appreciated. This year we tried to build on these values by addressing things head on and fostering discussion around social justice issues. Though we took some progressive steps this past year, building an inclusive community is an ongoing process and there is still a lot to be done. We can all participate, regardless of leadership position by continuing the dialogue and holding each other accountable.
Through the continuation of the pandemic, many things are still up in the air, but there is one thing that will always be certain and that is the band always wins. The Big Red Bands is composed of some of the smartest, kindest, friendliest, and most passionate people at Cornell and I am confident that we will continue to come together to make the best of whatever situation we come across in the future.
Good luck to Cups and the rest of next year's leadership team, I know that you will do amazing things this year! Thank you to the BRBAA council and the rest of the alumni for your never-ending support. Thank you to Marissa and Christian for your help throughout the year; I could not have asked for a better leadership team to get through this strange time with! Finally, thank you band, it has been an honor being your PBM this past year.
Sincerely,
Lynn Jeannoute, 2020 Pep Band Manager