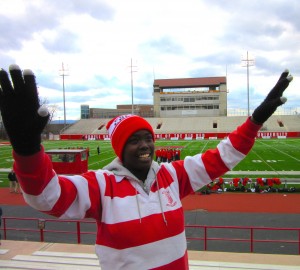 Hey, band alumni!
It's me again, Anita Mbogoni '15. I'm a senior Biology & Society major,and I'm thrilled to be serving a second semester as Pep Band Conductor. Additionally, I served as Alumni Relations Chair and Clarinet Section Leader in 2013.
I could not have imagined a better final semester with the Pep Band! We welcomed a bunch of new members this semester (read: freshmen who realized that they missed band once marching season ended), and added a few new songs and cheers to our repertoire (hint: Taylor Swift and Shakira might grace the pages of our folder these days). As usual, the Pep Band was essential to the intense atmosphere at hockey games – including victories against Harvard and Union (senior night) at home and against Colgate and Union on the road during the regular season – and during the postseason for both the men and women. We also supported our stellar basketball squads, and look forward to traveling with our men's lacrosse team as they begin their postseason campaign.
Whether we're supporting the Big Red, playing a quick set on Ho Plaza, or performing Pachelbel's Canon at a wedding, I'm constantly blown away by the band's energy, enthusiasm, and spirit. Every conductor probably feels this way, but I have never heard the band sound better than it has sounded this semester. Sadly, I can't bring the Pep Band with me to grad school, but I know that I'll treasure the memories of this past year forever. The Pep Band is definitely the part of Cornell that I'll miss the most. It's been an awesome ride, and I'm honored that I had the opportunity to spend two fantastic semesters in front of such an amazing group of people. I can't wait to come back and visit Ithaca as a band alumnus. See you (CU?) all at Homecoming!
-Anita Mbogoni '15
Hey there, alumni!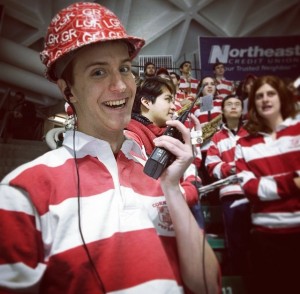 My name is Paul Jackson, a senior in Electrical and Computer Engineering. I've been the luckiest member of the band since I've been spending my last semester at Cornell doing something I've always dreamed of doing: conducting the Big Red Pep Band. I was the treasurer for the pep band in 2013 and one of the Sax section leaders in the marching band last year. I had a blast working in those positions, but I don't think anything quite compares to leading the pep band at events and rehearsals.
I had to hit the ground running this semester, starting off with a hockey road trip to Union and RPI even before classes began. It was quite the rude awakening how out of shape my arms were at the beginning of a semester — working with Anita to cover 4 hockey and 2 basketball games each weekend was quite the workout! Even throughout the semester, the band has wowed me time and time again as they keep putting on a spectacular performance. With new songs like "Game of Thrones" and Taylor Swift's "Shake It Off" introduced to the music repertoire, the band has turned heads in Lynah and Schoellkopf as we show off our fresh new sound while still keeping up with the classics.
I can't believe how fortunate I've been and will always remember moments (both big and small) from this semester. I've loved each moment, from playing at Downtown Crossing in Boston before our game at Lynah East to having a blast at the band's very first tennis match! I will sorely miss it all next year when I head to Princeton next year for grad school. Oh, if only they had a half-decent band…
-Paul Jackson '15