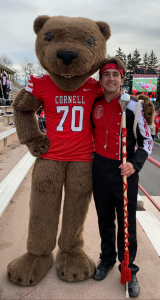 Hey Alumni!
My name is Zack Kozma and I am your 2022 Drum Major! I am a junior in CALS studying Ecological and Evolutionary Biology with a minor in Plant Biology. Before taking the podium, I spent time on the field and in the stands playing saxophone alongside the best section in the Ivy League. Prior to that, I was the drum major for my high school marching band in Randolph NJ. Outside of band, I am an undergraduate researcher in the Gandolfo lab focusing on paleobotany. I hope to continue research after my time at Cornell by pursuing a Ph.D. in wildlife conservation.
Bouncing back from 2021, a year still recovering from the impacts of  COVID, we have had high energy and great experiences. We started off strong with a parade around the Arts Quad in celebration of Mardi Gras and our mascot Touchdown's new Mardi Gras outfit. We played some jazzy tunes including the "Saints go Marching" cheer and "Friend Like Me". In Cornell spirit, we also played MYOC and NCFS, to celebrate Big Red. In preparation for events in the near and distant future, we have rehearsals planned to review not only our favorite songs in the folder but also songs that might need a little more attention. These will be kicked off with a rehearsal the day before Giving day to get our members and you all excited for our highly anticipated Livestream! After Giving Day we are set to perform for Cornell Days and Spring Concert. If you are in Ithaca or around during those events definitely stop on by, say hi, and join us in celebrating Cornell and our band!
Looking towards the fall, September 23-24 is Homecoming! This will hopefully be our first full Homecoming since 2019 so I hope to see you all there, celebrating our school and coming back home! In the fall we will be traveling to Brown, Princeton, and Columbia. This will be the full band's first time attending these away trips and we could not be more excited. While I am excited to get the chance to see family back in Jersey when we visit for the Princeton game, I am personally very excited about the Colombia trip. Parading down 5th avenue has always been a dream, especially with it being the 50th year of the Sy Katz parade. We have a lot of exciting events coming up and I hope to see as many of you as possible whether that be away or in Ithaca.
Go Red (Dammit)!!!
Zack Kozma '23