Hey Alumni!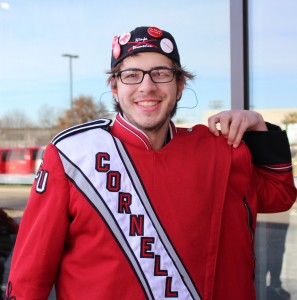 My name is Oliver Matte, and I have the fortune of being your 2021 Drum Major! I'm a Computer Science major through the College of Engineering, and I'm from Minnesota. I'm also a drummy boi, where I play the tenors! When I'm not doing band related stuff, you can find me on the Cornell University Autonomous Underwater Vehicle Team, and this summer I'm going to be interning with Amazon! I am thrilled to get to work with Carey Lau, our Head Manager this year!
The current state of the band is an optimistic one. Though we haven't been able to have any in-person music activities for a while, we are excited to be trying out some new ideas this semester to allow for more music engagement! We are currently working on music education Zoom events to help people remain involved with music before we're allowed to meet again.
Once we do have the go-ahead to do more things in person, we also have some plans on how to approach rehearsal. These rehearsals will have to be limited to 10-20 people depending on location per Cornell policy, so we are planning to make our rehearsals this spring more section-based. I plan to work closely with the section leaders to ensure that the new members get to experience a slice of the band experience, as well as start to get familiar with some of our more well-known music and our marching technique. This will hopefully give us a better-prepared class of sophomores next year than there would be otherwise. Of course, these rehearsals would be limited in size, so we're also planning to give virtual opportunities to get the same sort of practice for those who aren't able to make it to rehearsal or for those not in Ithaca.
As for the fall, Showcomm and I have started discussing some ideas about how to create a show that allows newer members to learn the music we already know while allowing the older members to focus more of their energy on the newer members. Enter the Folder Show (working title). For this show, we plan to use songs that are already in the folder in order to help ease the transition into marching band for two student classes that will have less BRMB experience as a result of the pandemic. More info will come on what other show ideas we come up with! If the college lets us have a fall season, you can be sure to see us at Yale, Harvard, and Penn!
I am more than excited to get to lead the band this year, and I can't wait to see what the future holds for us!
GO BIG RED!!!
Oliver Matte, Drum Major, Class of '23