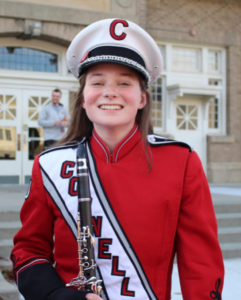 Hey Alumni!
My name is Bella Burgess and I'm the 2022 Head Manager for the Big Red Marching Band. I am a junior majoring in Global and Public Health Sciences in the College of Human Ecology and minoring in Healthcare Policy and French from Purcellville, VA. I am a member of the clarinet section and a former clarinet section leader. I am so excited to be leading the band this year alongside our 2022 Drum Major, Zack Kozma.
We have big plans for this year! This spring, we will perform during Cornell Days, and host a Spring Concert in the commons for the first time since 2019! This fall we will travel to Brown, Princeton, and Columbia for the first time in four years! It will be the entire band's first marching band trip to these schools and first Sy Katz Parade. After hearing so many of your stories about the Sky Katz parade I couldn't be more excited for the band to attend and celebrate the 50th anniversary of the parade.
Our fundraiser involving the previous uniforms is finally coming to fruition after much hard work and dedication from many previous Head Managers and Uniform Chairs. I am so excited to give these uniforms a new life and share the special memories they hold with bandies past and present. Stay tuned for more updates!
Additionally, we recently split the Philanthropy Coordinator and Diversity Chair position into two separate positions: Philanthropy Coordinator and Diversity Chair. Zack and I are excited to continue promoting diversity and inclusivity within the band and making the band a welcoming and comfortable environment for all Cornellians. We have continued to receive inquiries about joining band all year and have welcomed a handful of new members already this semester.
I hope to see many of you this June at reunion and this fall at Homecoming and on our away trips. Fingers crossed we will be able to play together once again! If you haven't already follow the BRMB instagram page, and facebook page to stay up to date with what's going on in the BRMB!
Go Big Red!
Bella Burgess '23