Hey alumni!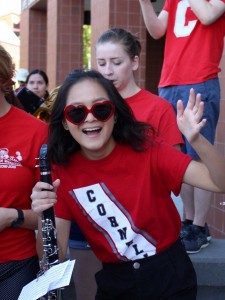 My name is Carey Lau, and I'm the 2021 Head Manager for the Big Red Marching Band. I'm a junior Biology & Society major and a Global Health minor in the College of Arts & Sciences. I'm also from Freehold, New Jersey, and I'm a member of the very lovely clarinet section! Outside of the Big Red Marching Band, I'm also a Cornell Chimesmaster (ding!) and work for the Center for Teaching Innovation. I'm so excited to lead the band along with Oliver Matte, our 2021 Drum Major!
Although the band hasn't seen each other in person for several long months, we've managed to stay connected through Zoom and social media. We plan to continue our virtual events this spring, with Zooming with other Ivy bands, HM/DM/PBM Office Hours, speed friending, and more! We're also planning a virtual music tutoring program and more virtual performances to keep everyone musically engaged. If you haven't already, follow the BRMB Instagram to stay up to date with information on events like Giving Day and more performances this spring! Later in the semester, we're planning to host some small in-person, socially distanced rehearsals on Schoellkopf Field with specialized instrument masks, if permitted by Cornell's COVID-19 guidelines.
This spring, we're also anticipating the arrival of our new uniforms! Our wonderful uniform chairs are planning a fundraiser for the band involving the old uniforms, so stay tuned for more information and a survey about the fundraiser in the coming weeks.
Additionally, Oliver and I are working with Melissa Montejo '23, our Philanthropy Coordinator and Diversity Chair, to better address diversity and inclusion within the band through related training for Bandstaph, EARS discussions for band members, COVID-19 mental health workshops, and more. We're so grateful for the opportunity to help our band evolve and grow, even as we spend much of our time apart.
This fall, we've got our fingers crossed in hopes of traveling to Yale, Harvard, and Penn for away games. If we don't end up seeing our alumni on the road this year, we hope to see you at Phonathon this fall!
Although we may be spending much of our time apart this semester, I'm so excited for the opportunity to help the band stay connected, welcome new members during Spring Club Fest, and plan lots of exciting new events for our members. Please continue to stay safe and healthy, and we're looking forward to seeing all of our alumni again on the hill! It's going to be another great year with the BRMB!
-Carey Lau '22