Reunion was a blast! It was so good to meet those of you who came up to Ithaca for the weekend as well as hear your stories from th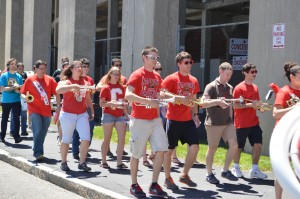 e band in the past.
Here are a couple of our favorite pictures from the luncheon:
If you could not make it up for reunion, never fear. The band has a busy fall planned and we will be playing in several locations!
The Big Red  Bands Coming Soon to a City Near You!
Sesquicentennial Event in NYC, 9/13: SSSSH! The band will be participating in the New York City sesquicentennial event at Jazz at Lincoln Center, but it's a secret so don't tell non-band alumni. If you're interested in attending, the evening event is sold out, but you can register for the afternoon event here.

Quincy Market Concert and Harvard Game 10/10 -10/11: We will also be playing a concert at Quincy Market Friday evening at 7:00 pm. The band will of course be playing at halftime and a post-game concert at the Harvard game. Kickoff is at 1pm on Saturday. If you are in the area come check us out.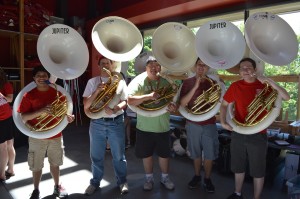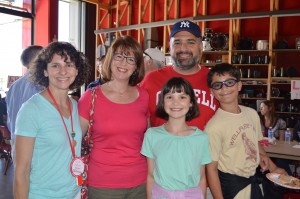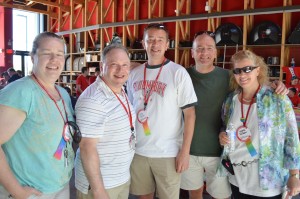 Homecoming,10/17-10/18: It's a special Homecoming this year as we celebrate the sesquicentennial in Ithaca We'll start with a tailgate on the Katz-Vanneman Plaza right outside of the Fischell Band Center beginning at noon.(register below) Then join us for a halftime celebration (we'll be performing "Emerald Eyes.") Additionally, the stars have aligned and also that evening is the Red/White hockey exhibition. Football and Hockey, what more could you ask for?
Register Here l See Who's Coming

We have also reserved a room block for band alumni, which will be available for reservations through 9/16. For more information, click here.
Brown Game 10/25: The band will be in the Providence area for the Brown football game the weekend of October 25th. Kickoff will be at 12:30 pm.

Columbia and Sy Katz Parade, 11/15: The band will travel back to New York Columbia football game and the Sy Katz Parade. Football kickoff will be 12:30 pm and the parade will start around 5:00 pm at Rockefeller Center and work its way down to the Cornell Club-New York. The parade is always a great time and will be even greater with our alumni in attendance!
Frozen Apple at Madison Square Garden. 11/29: Last but not least, the pep band will be traveling to NYC as Cornell takes on Penn State in hockey game! The puck will drop at 8:00 pm!

For more photos and information and updates about the bands please check out the Big Red Bands Facebook page.
If you have any questions, please let us know.
We hope to see you at one (if not all) of these events sometime this fall!
Emily and Anjum