Hey Alumni!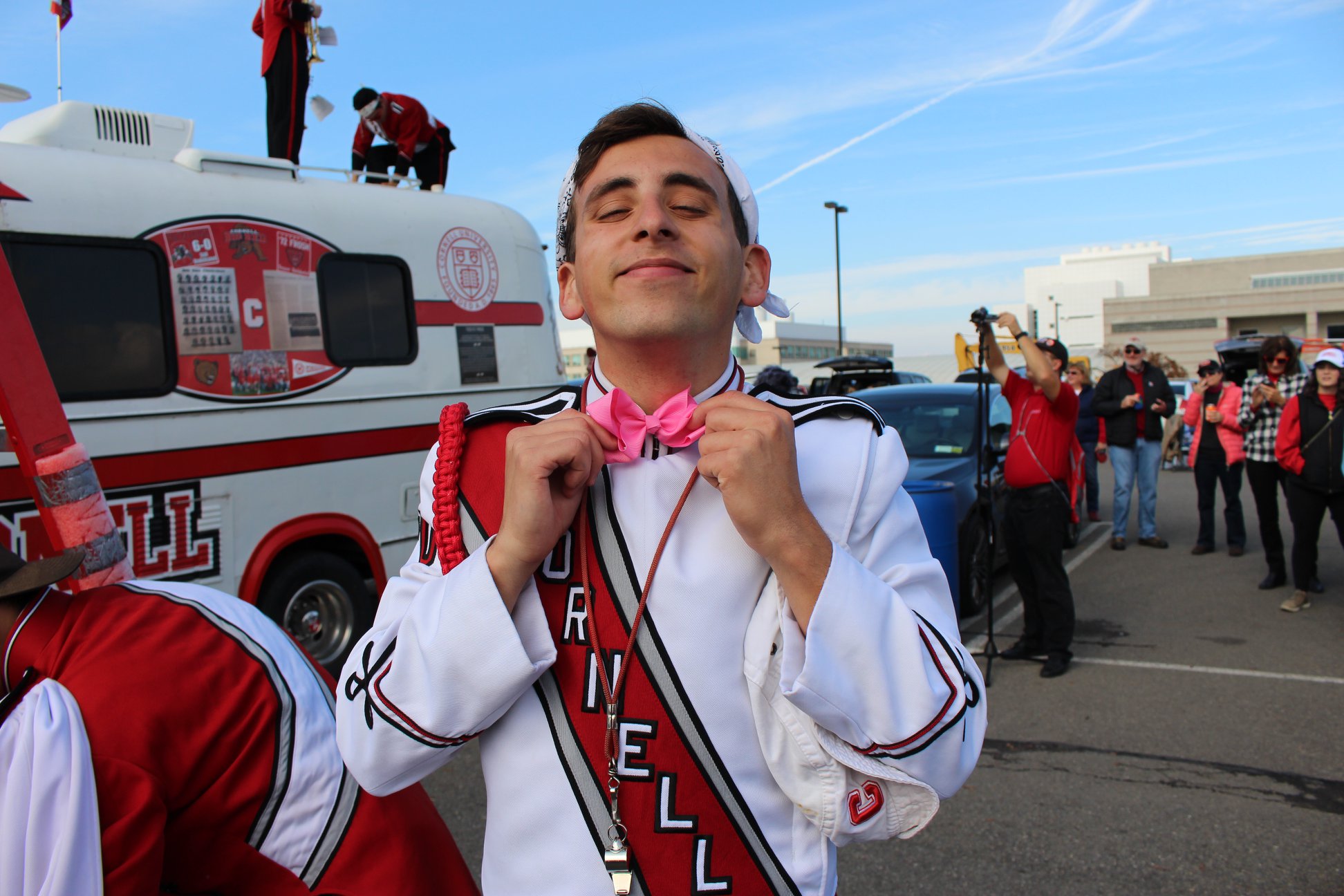 It's your guy on the ladder, Buckets, here to tell you a bit about how our marching season has been going!  From Day 1 of recruitment, all hands were on deck as we chalked for the first time in recent memory without any rain washing away our beautiful art.  We auditioned 140 new members, with a high retention rate shown in our 160 member Yale trip and 140 member Harvard trip attendances by the band. All these new members is what has kept me bright-eyed and spirited as I truck-away at finishing my pre-vet requirements and submitting my applications for the next phase of my life.
And now to go into the shows for the year.  Our celebration of 50 years of Women in the Band included a show centered around the power women hold and the impact they have had on our organization.  Keeping in spirit with this, our very own sax section leader Kyra Butler '20 arranged the pregame song of "Woman" by Kesha. Halftime consisted of "Confident" by Demi Lovato, and an arrangement of "Natural Woman (You Make Me Feel Like)" by Aretha Franklin done by ShowComm member Josh Mooney '20.  The turnout for homecoming was incredible, and we dedicated "Natural Woman" to all of the women in the band the past 50 years and added it to our concert folder. During our trip to Yale, we were blessed with the opportunity to perform in Herald Square. Seeing the empire state building above and conducting in a spot I grew up visiting throughout my life was an experience I will never forget.
The second show we performed was that of the Empire State Show.  The Band takes the audience on a tour around New York State, starting in the Adirondacks with "Welcome to the Jungle," for pregame.  As halftime approaches, we move to New York City, where we perform an arrangement of "Brooklyn" by the Youngblood Brass Band done by former Head Manager ('14) Alex Settle '16, and finally come back home to Ithaca with "Bare Necessities."  We performed this show at Harvard, and showed them who is boss, even during their 100th anniversary of their band's existence. During the Harvard trip, we performed in Quincy Market, and even with the rain, the Band persisted and sounded great in yet another iconic location, making memories for the books.
Our third show was the Rockin' Through the Generations show, where the Band took you through 3 generations of people found at Cornell and the songs they grew up listening to.  First we started out for pregame in the 80's, the generation many of the bandies' parents grew up in, and performed "Livin' on a Prayer" by Bon Jovi. For halftime, we moved into the millennial era, our recent grads, and performed "Thnks Fr Th Mmrs" by Fall Out Boy, and closed with a Gen Z favorite of "Believer" by Imagine Dragons.  Both performances of this show were done at home, so we enlisted help of our Indoor Drumline President and Bell Subsection Leader Elena Fernandez '20 to put together a front ensemble featuring a drum kit, adding a fun element to the show.
The final show we performed was the Victory Show.  We started the show off with "Victorious" by Panic! at the Disco for pregame.  For halftime, we performed the infamous "Sweet Victory" as seen in the famous Marching Band episode from Spongebob Squarepants.  For the second song of halftime and our senior song, we performed "How Far We've Come" by Matchbox 20. This show was performed in part during our final trip to Penn on November 9th as well as two weeks later, the 23rd, during the last game of the season, followed by the traditional senior concert.
It is hard to believe that the very position I have devoted so much of my life to the past year is soon to come to a close.  Having the honor of being the Drum Major of the ONLY real marching band in the ivy league has given me the greatest of moments I could have never even thought of.  I have gotten nostalgic and sentimental almost every game so far, and am sure I'll be even more emotional as the season comes to a close.
Thank you Jill, section leaders, show comm, librarians, all of bandstaph, the trumpet section, and most importantly THANK YOU BAND for giving me experiences of a lifetime and for giving me a reason to always be longing and yearning and always returning to my old, Corn-ell.
GO RED (DAMMIT!)
~ Justin "Buckets" Kozma