As we progressed through the season, our sections have done an incredible job in maintaining the spirit of the band and welcoming so many new members into the organization. Our wonderful section leaders have put together blurbs to update you all on the status of the band!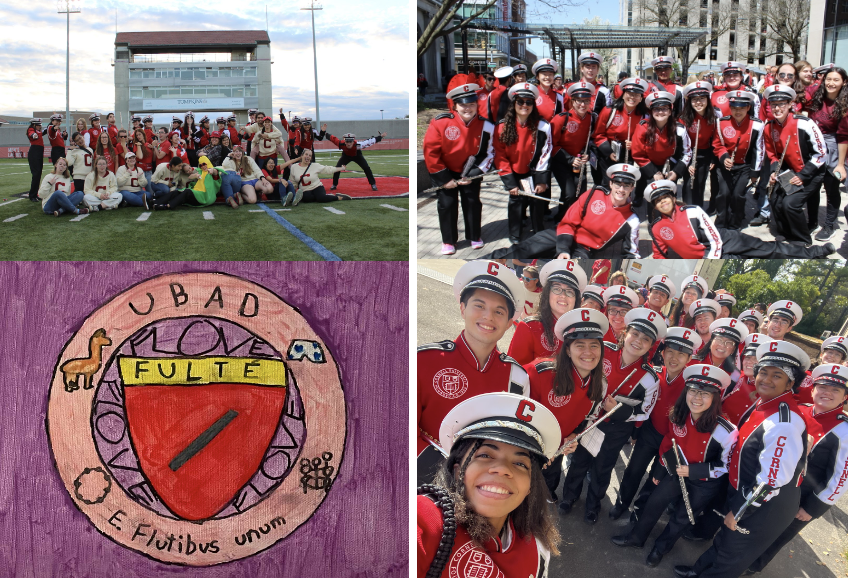 Hey alumni! The Flutes had a flamazing year! We continued Flalentine's, this year going back to the brilliant venue of Willard Straight helping to raise money for local charities. We ended the spring semester with a flovely flute formal at the one and only Ithaca Applebees, and we took a bunch of flotos in our most flancy attire. Auditions and first night were super flenergetic with all of our new members! Performing again at CU Downtown for the first time since fall of 2019 was flectacular and it was great to play for the Ithaca community. During the marching season, we were able to flute-up so many people since the football team scored so much! The Flutes also got a new Section Crest courtesy of the flovely drumline's brilliant artistic skills. We ended our season in NYC marching the Sy Katz parade and playing at the Cornell Club!
The Clarinets had an awesome semester marching and hanging out with all of our members (new and old)!! We welcomed many new members in the first few weeks of the semester and watche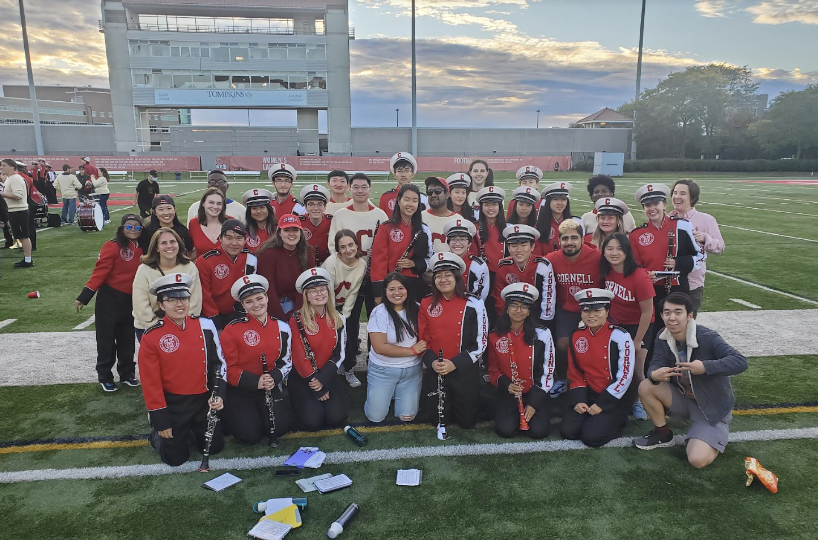 d Rank Z Fails, Flaminoes, and random high school projects. We kept our winning streak for the scavenger hunt up and got cookies for the home game against Harvard as our prize. On the field, we continued our traditions of breaking our pelvises, squatting when the team scores, and making pie for the last home game. We had an incredible season going on all three away trips this season (first time since 2019!) and parading through New York City for Sy Katz where we saw many of you cheering us on. Back home, we renewed our vows with the flutes, watched a lot of Taylor Swift music videos, and painted along to a Bob Ross video. We look forward to playing with you again at Homecoming and seeing you on away trips next fall!
Hot damn! What a semester it has been for the Saxes, aka the GREATEST section in the ivy-league (I mean come on, the drum major is a sax after all)! We had the privilege of welcoming a truly incredi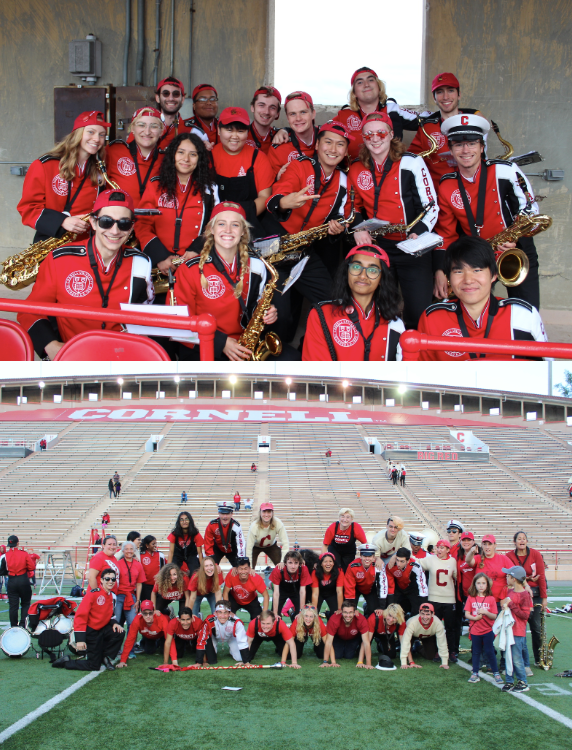 ble batch of new members this year during auditions, including a record-breaking number of people who had never played the sax before (and I must say, they've been sounding awesome since day 1!). The semester continued on strong with first night and special rehearsal, letting new and old members alike bust out some killer dance moves in true sax fashion (parade for the barbz!!). At the Stewart Park picnic, we created our usual sax pyramid, and this marked the 20th year of this tradition; not only that, but we were able to do it again with so many alums at our first REAL homecoming since 2019

Outside of our minty-cocoa filled rehearsals, we've also been as quirky and tight-knit as ever, enjoying some not-so-productive Work Wednesdays, good eats, and also a whole lot of Glee (oof, now I've lost the glame). We've been a fan favorite at games as well, playing a lot of new student-written cheers (we've even got a bit with the drumline now!) and also giving Ryan Lombardi a sax hat at long last. Beyond this, we had three sax-tastic away trips to Brown, Princeton, and most recently Columbia for our first Sy Katz parade since 2018, CRAZY! As good as the section has sounded this semester though, I'm most happy that our silly goofy sax family has grown bigger, it truly warms my heart <3 It's been really touching both to see that the seniors have stayed so close after 4 years, and to see the new members start to form that same bond with each other. Every time I hang out with this rag-tag group of saxophonists, I am reminded of just how lucky I am to be surrounded by the best section in the world


This year the Horns continued to recover after having after a couple of hard covid year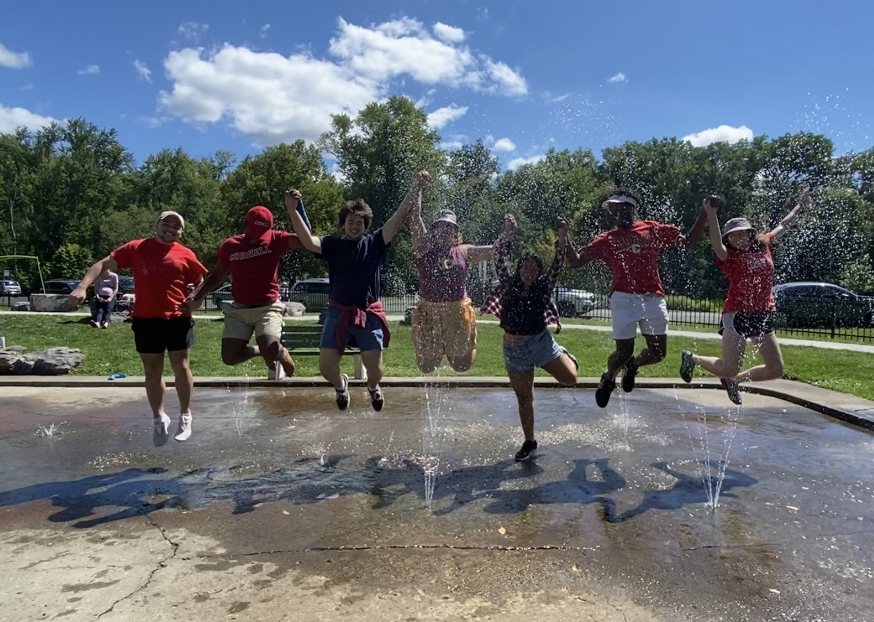 s. We introduced four new members into our section after having 1-2 freshmen per year, and for the first time since 2019 everyone in the section got to meet all our alumni at homecoming as well as at away events like the Sy Katz parade. Additionally we made sure to preserve traditions like pranking each other with chicken wings in our bells, our love for Waluigi, and chanting at the end of rehearsal in addition to new rehearsal traditions like duck duck goose. We have also started to play bone cheers after we enjoy our third quarter snacks at football games. We are excited to keep up the spirit and have another great year!
From First Night and Homecoming to Sy Katz, the Big Red Trumpets had an incredible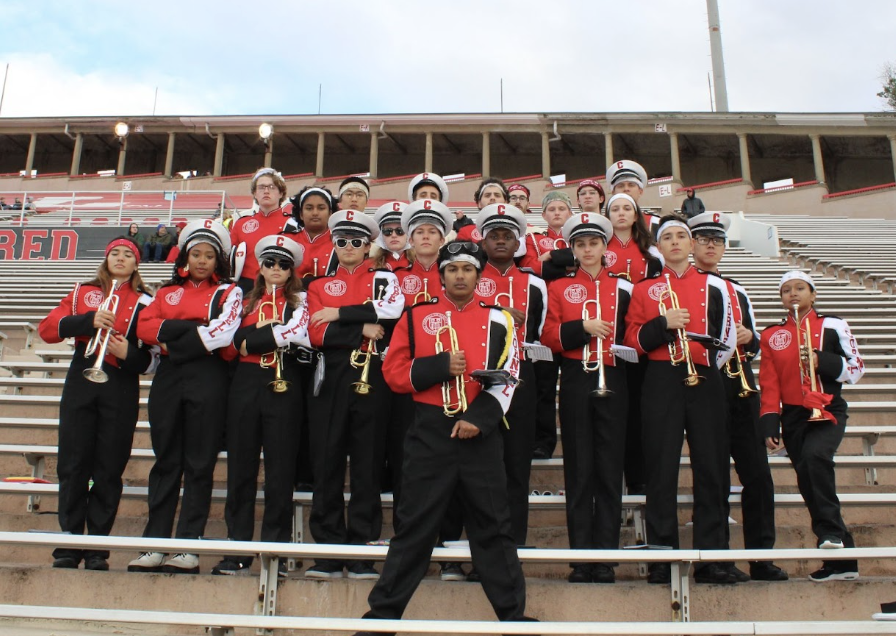 year. We added an outstanding cohort of freshmen to our ranks, and continued to represent as the best section in the Ivy League. We added a new rank to keep up with our rapidly growing section, and had each rank filled to the brim with members and spirit throughout the entire season. Bus 7 carried us to Brown, Princeton, and Columbia, and with us, we brought energy, laughter, and some pretty sweet melodies. In addition to the marching band, our presence frequently dominates the pep band, where the Trumpets collectively have the most points by a long shot. Outside of our regularly scheduled band events, the section is closer than ever. We study, cook, stargaze, and make marvelous memories along the way. Catch us at Homecoming next year, on any of our away trips, or at home in Ithaca anytime! You'll be sure to feel our infectious energy.
Thanks to our dedication to taking calcium supplements, we were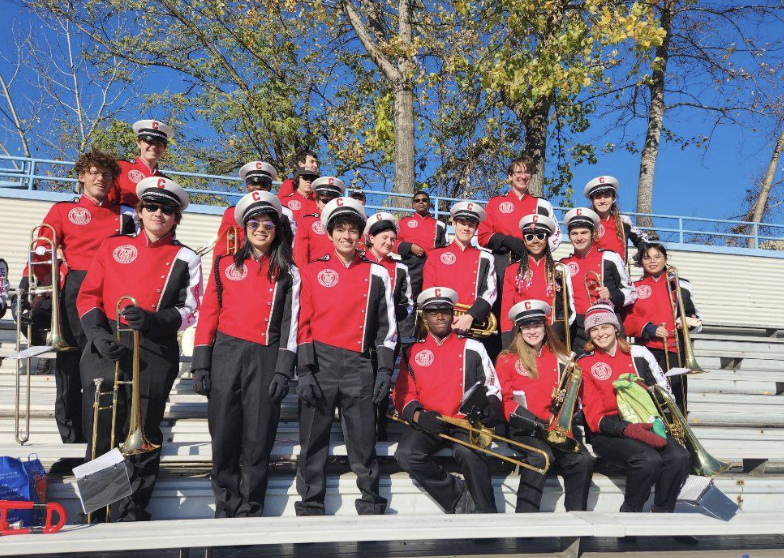 able to strengthen our section this year with a fat, healthy class of new Bones! This year we celebrated our most normal year yet, which included an absolutely bone-ful GRAND BONECOMING. We played some new cheers, including Wellerman and CBat (featuring the horns), and generally had moderate to great attendance at all rehearsals and games. (Music rehearsal doesn't count as rehearsal, of course). For the second year in a row we will be losing a large senior class, but da bones are in good hands and are ready for a great spring semester!
To our many adoring fans, you'll be happy to know that ninja Pe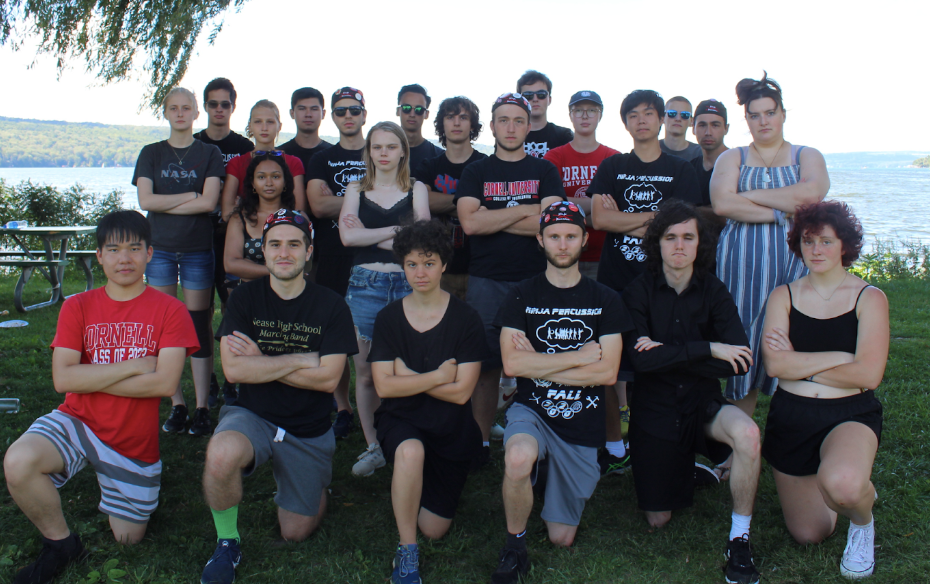 rcussion has been killing it this year! Everyone pitched in to make this year something truly special. None of it would have been possible without the hard work and fearless leadership of our subsection leaders, as well as hard work of many others! Together we did a whole heck of a lot! We took the opportunity to go bowling, apple picking, pumpkin picking, paintballing, and of course watched many movies and shows! Each of the new members are wonderful and it was a joy bringing them into the fold of the section this semester! Now, on the field, we brought the hype with some fun parts, sick visuals, and a kick-butt drum break! Those weren't the only fun things we added as we also brought in some new cheers! (You know it's a hype cheer when the saxes want in on it too!)
Fall came and went too quickly, but that's part of what makes it so special. Once again, we've been killing it this year, and we're excited to see where the future takes us.
Until next time,
Respectfully, the Drumline.
The Guard had a fantastic season! In addition

to performing four super fun shows, we ate many snacks, including but not limited to, brownies, cookies, summer rolls, bean dip, and even a whole cake! We were thrilled to visit Brown, Princeton, and Columbia and most excitingly, for the Colorguard, this year was everyone's first Sy Katz parade! I think it's safe to say we had a blast parading through and performing in New York City! We even welcomed a new guard move to our repertoire, the Heather's 3. We hope everyone is doing well and we cannot wait to see you all next season for Homecoming and at our away trips!
Much glove,
The Colorguard <3
The Tubas had a fantastic marching season! We welcomed a

n awesome group of new tubae who will surely carry on the spirit of the section. At rehearsal, we enjoyed throwing around frisbees, plastic balls, field hockey balls, or whatever other aerodynamic distractions we could find while the rest of the band learned drill. We certainly startled some people at Tuba Halloween after climbing 161 steps to the top of the clocktower, where we chimed 13 times and played such classics as Alma Minor and Minor Moose. By the end of the season, our left shoulders were as strong as our spirits marching at the front of the Sy Katz '31 Parade. Until Homecoming 2023!