HEY ALUMNI!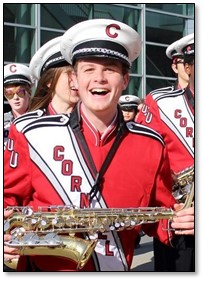 My name is Liam Tully, and I am honored to serve as your 2021 Alumni Relations Chair. I am a sophomore in the School of Hotel Administration from Mobile, Alabama, and I am a proud member of the only REAL saxophone section in the Ivy League (and Rank $)! Outside of band, I am an assistant director for Hotel Ezra Cornell as well as in the Hotel Leadership Development Program.
As disheartening as it was to halt all in-person band events last March, return to our homes, and adapt to the reality of a virtual college experience, we have found so many ways to stay connected and deepen our relationships as a band family. I especially want to give shoutouts to Christian Romero '21, Marissa Gailitis '22, and Lynn Jeannoute '21 for working tirelessly to recreate the fall marching band experience as authentically as possible.
It is a pleasure to work alongside Oliver, Carey, and the rest of the Bandstaph to make this year as great for you as we can. We hope to bring back in-person experiences in the year ahead, so we will keep you updated of exciting events to come. If you have any questions or suggestions, I encourage you to reach me at ljt86@cornell.edu. I am looking forward to getting to know many of you over the course of this year, and GO RED!
All the Best,
Liam
… and now presenting the only REAL Band Notes in the Ivy League!