Hello Beloved Alumni!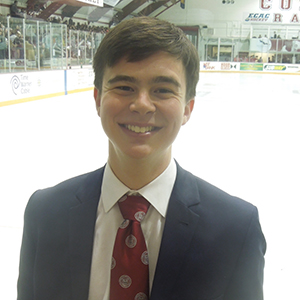 My name is Henry Smith but everyone in band calls me Pinto! I am delighted to be the 2015 Pep Band Manager. A little about me, I'm a sophomore from the Boston area who is studying Industrial and Labor Relations. I also play trumpet in both marching and pep band. I've fallen in love with both but my love of hockey makes Pep Band just that much better. Coming into the manager position as a sophomore has its challenges but the band has been incredibly awesome on trips, at home and just in general. I have certainly been greatly helped by two awesome senior conductors, Anita Mbogoni '15 (in her second straight conducting semester) and Paul Jackson '15. They have been phenomenal in helping me where my youth leaves gaps and extremely cooperative in incorporating some of my ideas.
2015 started off with the Union/RPI trip the weekend before the semester began. It's probably the best trip to start with for a manager in terms of making sure everything goes smoothly (I'm sure you all remember Crossgates, our home away from home). The next weekend was the fated Harvard game in which the boys took home a W with a goal in the last minute. I've now watched two home Harvard games and Cornell won both of them in the final stages of the games. I count myself lucky! The next road trip we took was to NH/Boston for Harvard/Dartmouth. Those of you from the Boston area know how brutal this winter has been for Boston, with the weather breaking all sorts of snow records as well as all sorts of subway trains. When I checked the weather reports that Thursday I saw blizzard warnings everywhere! But Bright Rink can't be Lynah East without a band, and we were determined to make it, prepared to stay an extra night. The snow began to fall as we entered Lynah East that evening and was going full force by the time we left after a 3-3 tie. Despite the weather, we decided to trek back west. The going was slow but we made it safely back to Ithaca – albeit 3 hours later than planned. The highlight of the trip had to be a 20 minutes flat McDonald's stop on the Mass Pike on the way home. I don't know how but the Band was super speedy! The men's hockey season was not all we could have hoped for however, as we bowed out to Union in the first round of the ECAC playoffs. It was certainly an entertaining season if not the most successful. The women upset #1 Clarkson in the semifinals of the ECAC playoffs but fell to Harvard in the final. Harvard went on to the NCAA Championship game, so the loss was not completely unwarranted. We also watched very exciting Men's and Women's Basketball teams all semester. We look forward to watching very talented lacrosse teams this spring. As of April 1, the men are still undefeated in the Ivy League!
Please let me know if you will be in Ithaca at all and are interested in visiting and playing with the pep band! My email is hrs77@cornell.edu and my cell number is 617-999-3737.
Can't wait!
Pinto Smith '17