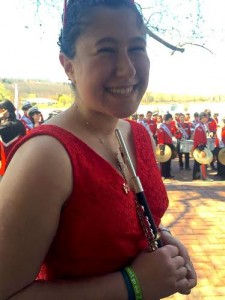 Hey everyone! My name is Emily Isenstein and I couldn't be more thrilled to serve as theBig Red Marching Band's Head Manager in 2015! As a flute in Marching Band and a horn in Pep Band, this organization has sure kept me busy over the last few years, and I can't wait to give back to the group of people that has given me a family and a home here at Cornell. After serving as Fundraising Chair and Treasurer these last two years, I have a pretty good idea of how things operate, but I'm sure this year will be quite the adventure!
In March we eased the Band back into things with our annual appearance at Hotel Ezra Cornell, where we help commence the entirely student-run program at the Statler. At the end of the month, I was able to work with Pep Band Manager Henry to put on the Band's first ever live-streamed concert for Cornell's inaugural Giving Day! We spent a lot of time figuring out how set up the cameras, but the day was a roaring success and we managed to raise over $26,000 for the Band in a mere 24 hours! Thank you again to everyone who supported us!
Once April came, we hit the ground running with nine exciting events jammed into a mere four weeks! Within our normal fare we had our annual Spring Concert, once again held at the Ithaca Farmer's Market. Despite a questionable weather forecast, we were greeted with a sunny day and surprised faces as we paraded through the wooden halls of the market to the dock. We also lucked out at Cornell Days, where we met a lot of enthusiastic admitted students (and their even more enthusiastic parents). The Band also had a great showing at Cornell's Relay for Life, and the saxophone section plans to perform at the Cayuga Ridge retirement home in the near future.
But the fun doesn't stop there! We will also be making appearances at several of the Charter Day events happening all around campus! From helping kick off the student run celebrations on Ho Plaza, to leading people "pied piper style" from the Joy of Discovery event at Bailey to the Big Red Birthday Bash at Barton, we are ecstatic to be such a big part of the celebration! To round out our wonderful plethora of events, the Big Red Marching Band escorted Vice President Susan Murphy to her retirement party, and thanked her for everything she has done for the Band. We will also be making a surprise appearance at the campus-wide farewell event for President David Skorton, who has loved and supported the Band for many years (don't spoil the secret though, he doesn't know we will be there!).
We also have a very special sesquicentennial Reunion coming up, and I hope to see as many of you there as possible-if not, there is always Homecoming! Between the remainder of the spring semester, our trips to Yale, Princeton, and Penn, and all of the other shenanigans the Band has planned, I couldn't be more excited to see what the rest of the year has in store!And if I'm lucky, I can sneak a piccolo into some events –being Head Manager doesn't have to be all boring!