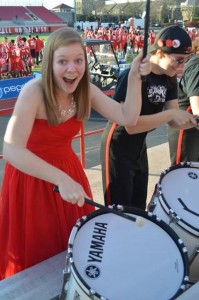 2013: what a great year to be at the helm of the only REAL Marching Band in the Ivy League! Steve and I had the pleasure of leading the band through some truly ridiculous and amazing situations that only the Big Red Marching Band could find itself in. From a very rainy Homecoming to a tearful last home game and senior concert, every moment with the BRMB has made my Cornell experience special.
The season started off with a bang, with First Night appearances by Coach Archer, President Skorton, and the band's advisor Mark McCarthy. After a few weeks of rehearsing and getting to know the new members, we gathered with alumni for the dedication of the Fischell Band Center at Homecoming. I felt so fortunate to be able to help plan such a special moment in the band's history. The band toughed out the torrential downpour until the end of the day, when we gave a very soggy post-game concert in our new facility.
My favorite band memory at Cornell was this year's trip to Montreal, where we had the pleasure of performing at an Alouettes home game over fall break. Band members enjoyed the city on Sunday night, and got up early on Monday to rehearse on the CFL field. Although CFL fields are slightly different than the fields we are used to marching on, the band pulled off two show-stopping performances to a full football stadium. And, to my delight, we managed to get three full buses across the border in less than 30 minutes!
Another highlight of the season was playing a concert at Herald Square the night before the Princeton game. Seeing each band member having a blast while performing in the heart of New York City truly made the stress of planning the trip more than worth it.
We always tell new members about the fundamental conservation law of band: the time and effort that you put into the band equals the reward that you get out of it. After serving as Head Manager, I now know that this law doesn't always hold. Every frantic email and sleepless night planning trips was rewarded tenfold any time I saw a band member having fun at a rehearsal or a performance. For me, band has always been 80% about the community and 20% about the music. Our instruments brought us together initially, but at the end of the day, we're just a big, dysfunctional family.
Luckily, I don't have to leave my band family just yet. I plan to stay at Cornell for another year to pursue an M.Eng in Mechanical Engineering. What I'm most excited about, though, is being around to see where the new leadership takes the band in 2014. Leading the band was such an amazing experience, and I hope Alex and Michaela have as much fun as I did!
Shelby Hulett '14