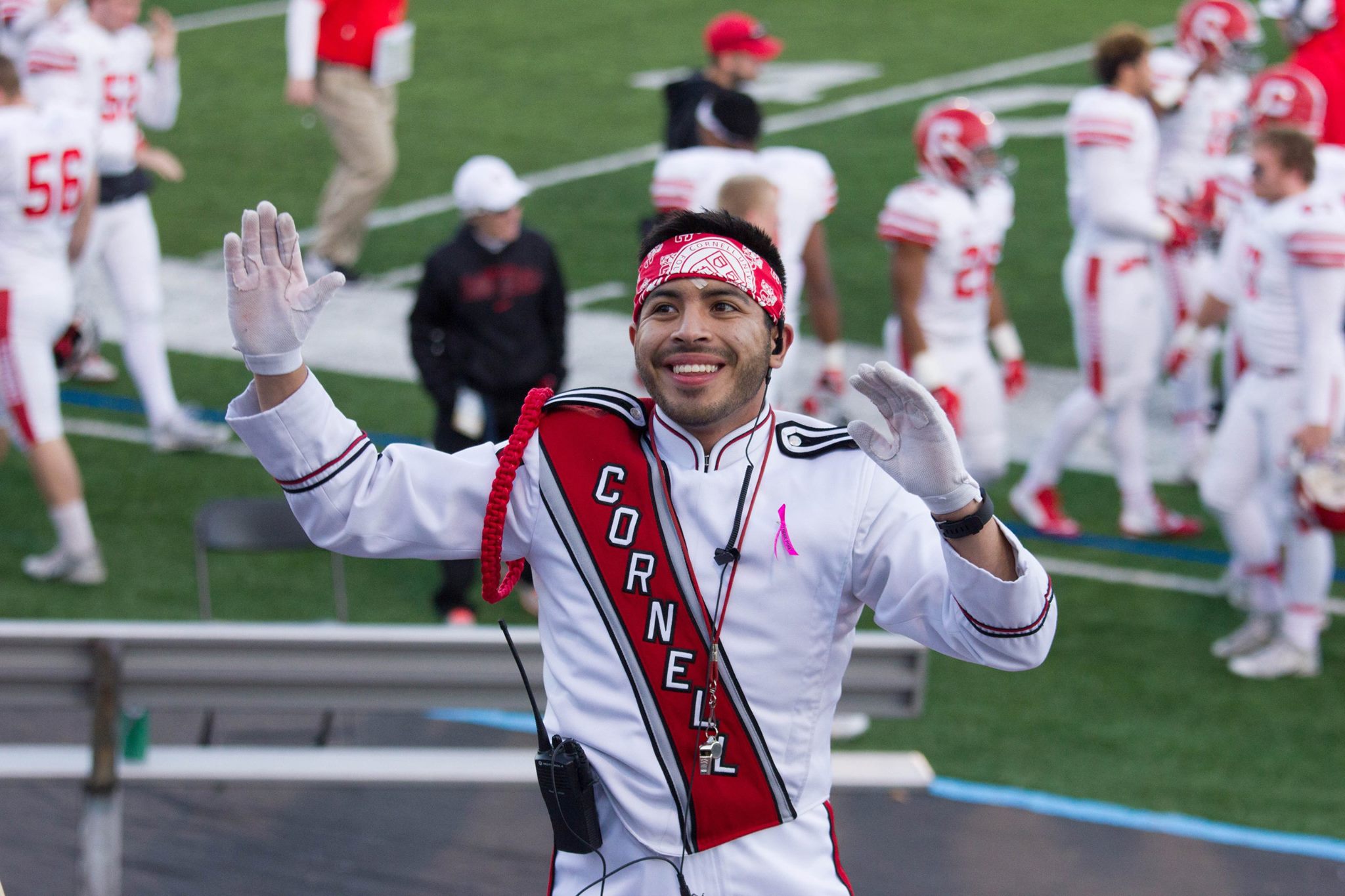 Don't worry, I'm still Sergio Manuel Preciado and I'm still the 2016 Drum Major of the Cornell University Big Red Marching Band! I've been pretty consistent with that. I'm a senior Biological Sciences major (concentrating in Molecular and Cell Biology) in the college of Agriculture and Life Sciences.
Our first show this year was "The 80's Show" (or as some of our members called it: "The Super Concentrated 80's Show™")! Pregame featured "99 Red Balloons" by Nena, as arranged by our wonderful Show Committee chairs Jeff Crosby '18, Mary Amper '18, and Susan Eichorn '18. We started "99 Red Balloons" with 4 "Red Balloons" formed by 4 different ranks (the other 95 red balloons declined the invitation to perform). Halftime featured "Billie Jean" by Michael Jackson, with the band showing off their impressive moonwalking and leaning skills (to wonderful alumni applause), and Power, an official song of the 1984 Olympics by Bill Conti. Conducting Power with alumni on the field was an amazing and memorable experience! The 80's Show was then performed at the away Hahvahd Harvard game, where we continued to show off how a real marching band performs.
Our second show was "The Shrek Show", in celebration of the 2001 film's fifteenth anniversary! Pregame was a medley of "All Star" by Smash Mouth and "Accidentally in Love" by Counting Crows. Halftime featured a beautiful rendition of the ballad "Hallelujah", where the band was able to showcase their softer side with a wonderful BariTone soli. "Hallelujah" was followed with "I'm A Believer", as arranged by one of our very own TromBone section leaders: Jordan Greissman '18! We first performed The Shrek show at our home game versus Sacred Heart and followed up that performance with the show's second performance at New Era Field for the Buffalo Bills versus San Fransisco 49ers NFL game! The band performed Hallelujah and I'm a Believer (of The Shrek show) for the game's pre-game performance and all of The 80's Show for halftime. Performing at New Era Field was an absolutely memorable experience. There's nothing quite like the atmosphere at an NFL game, and the Buffalo Bills' fans certainly bring a unique atmosphere at their games. The band had a short feature on national TV! Our literal fifteen seconds of fame happened riiiiight before the TV broadcast switched to commercial break. Hi, Mom!
This year's third show was titled "A Semester in Spain," which took the band abroad with music focused on the Iberian country. Pregame consisted of "España!", as made famous by the Cornell University Big Red Pep Band, and featured the color guard with a rifle routine in the center of the field! Halftime only consisted of one song: "Malgueña." "Malagueña" is a DCI classic that is originally based on the sixth movement of Ernesto Lecuona's "Suite Andalucia," focusing on the municipality of Màlaga along the southern coast of Spain. The band expanded on "Malagueña" by featuring the drum line in an extended drum break while the rest of the band formed pin-wheeling X's. The song also featured a TromBone solo, as performed by Jordan Greissman '18, and a trumpet trio, as performed by Kent Takada '20, Christopher Sanchez '19, and Henry "Pinto" Smith '17. "A Semester in Spain" was a challenging show, and the band rose to the occasion.
Our final show of the year was "The Spotify Hipster Show," featuring music from various indie and house artists. Halftime consisted of three songs: "Cecilia and the Satellite" by Andrew McMahon in the Wilderness, "Here it Goes Again" by OK Go, and "This Too Shall Pass" by OK Go. "Cecilia and the Satellite" is a beautiful ballad that was arranged Frank Gonzalez '13, a recent TromBone alumni, and featured Mary Amper '18 with a trumpet solo to start the song. After performing at the away game versus Columbia, the band high-tailed it out of the stadium to set up for the 44th Annual Sy Katz '31 Parade in New York City! The band impromptu paraded past Broadway, 7th, and 6th avenue before meeting up with the rest of the parade at Rockefeller Plaza. I'll never forget seeing St. Patrick's Cathedral as the band made the right turn onto 5th avenue, and I'll never forget the sight of the city passing us by during the parade. As someone raised in South Texas, there's really nothing quite like it back home. Our season ended with our home game versus Penn(SUKCS). "Wake Me Up" by Avicii (not by Wham! or Evanescence) was performed for pregame at our last home game versus Penn(SUCKS).
And with that, my year as Drum Major is coming to a close. Now more than ever, I remember why I stuck with the group of musically-inclined weirdos my freshman year. The band has given me a family and home when my actual family and home are 3 flights and one time-zone away. The band has given so much over the past 4 years, and I can't thank the band enough. I'm very proud of this wonderful group of weirdos, and I hope the freshman (class of 2020 – crazy, isn't it?) this year found the home that I found when I was a freshman.
Good job, everyone!
I'll see y'all in the spring in my new position as an opinionated OLD person. I love you all, and thank you.
Sergio "Serge" Manuel Preciado '17