Hi Alumni!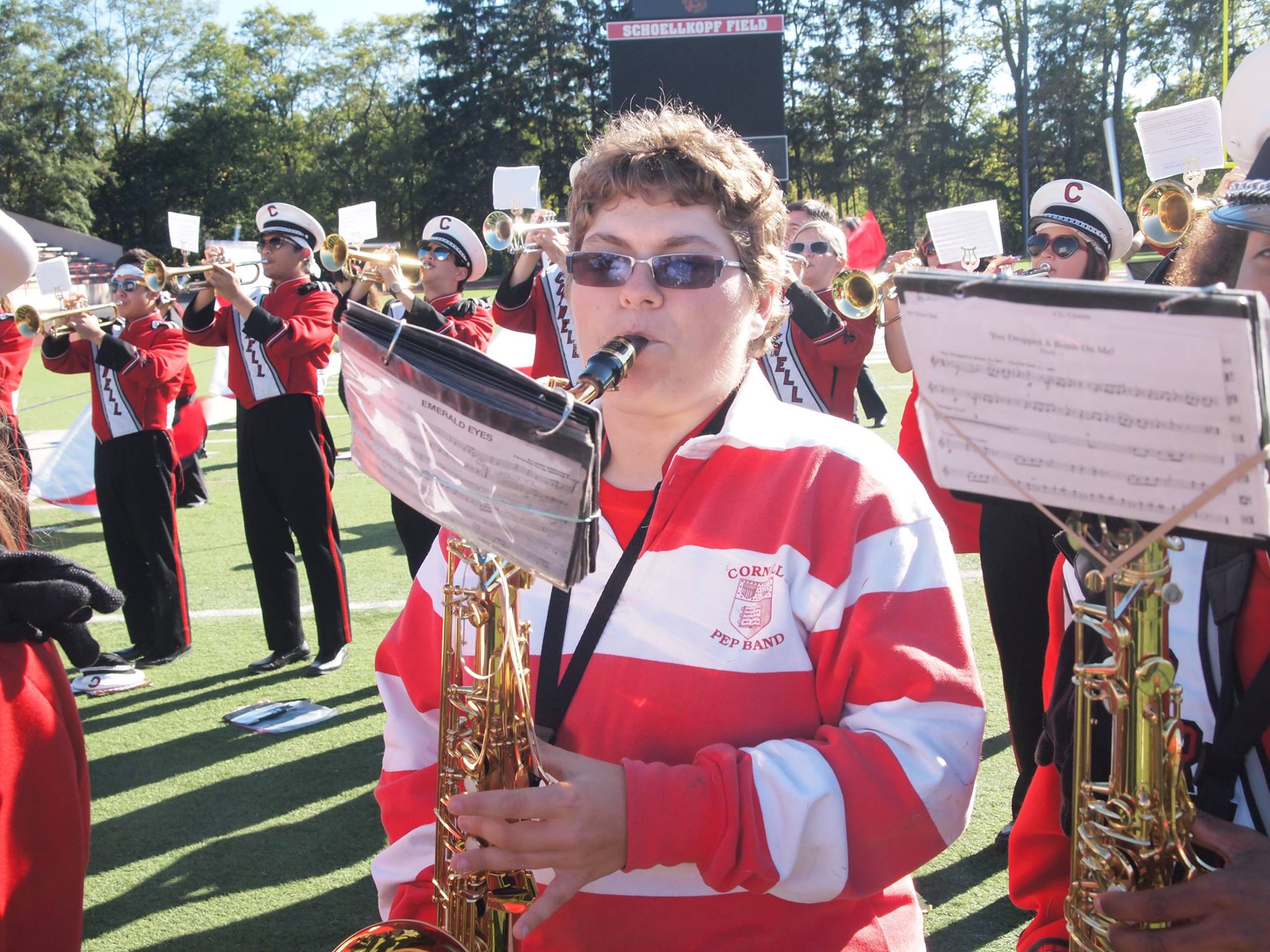 The Fall semester began quite slowly for the Pep Band, as it usually does, with occasional FieldHockey and Volleyball games. The games went well and the band sounded great, as always. Thankfully, the Field Hockey team ended its streak of losing games that we attended. It had been getting a little sad that they would never win when we came. At one game, the volleyball coach brought pizza for the fans – although, it really must have been for the band as there were only about 15 other students in attendance. This semester's conductors, Brendan Duffy '17 and Jeff Crosby '18, have had a good time getting comfortable in front of the band and learning to deal with all of the weird events that get thrown our way. Outside of athletic events, members of the band have had several opportunities to get to know people across the sections through weekly dinners at Ivy Room, lunch gatherings at Trillium and our second "Duct Tape and Ice Cream" social where people can artfully design and decorate their construction paper folders to protect against Ithaca's weather. Over Fall Break we recorded a CD similar to the one produced in 2012. Stay tuned for more information about the CD and possible purchasing options.
In recent weeks, just as the Marching Band season is coming to a close, the Pep Band's has begun to ramp up. The winter sports are now in full swing and we are starting to have home games in both Basketball and Hockey. The Men's Hockey home season opens on November 18th with what is sure to be an exciting game against Quinnipiac.  This game will mark our first home hockey game three weeks. Fortunately we have not been completely deprived of Cornell's favorite sport for almost a month. We have had the opportunity to travel to Harvard, Dartmouth and Brown. While we have been on the road, we have been the only band at every single game proving once and for all that we are the best and only real Pep Band in the Ivy League. We travelled to Madison Square Garden to cheer for the Big Red at Colgate on November 29th and in the biennial Frozen Apple game on November 26th. This year Cornell will take on the University of New Hampshire.
The Women's Basketball team has had a strong start to the season and we are excited to go to our first game on November 22nd. The Men's Basketball team is still finding its feet, but we are looking forward to seeing more of their games and to cheer them onto victory. When we return for the spring semester we are hoping to attend more of their games as well as some wrestling matches and other spring sports. We attended baseball and softball games last semester and the teams were excited to see us and were very accommodating. Hopefully, we will be able to get to some more of their games. Next semester, we will have at least two more trips with the Men's Hockey team visiting the Albany region at the beginning of February to face Union (2/3) and RPI (2/4) before heading to North Country two weeks later to play St. Lawrence (2/17) and Clarkson (2/18).
As my term as Pep Band Manager comes to a close, I hope to see some of you at our upcoming games.
–Elizabeth Martinson '17