Hello Alumni!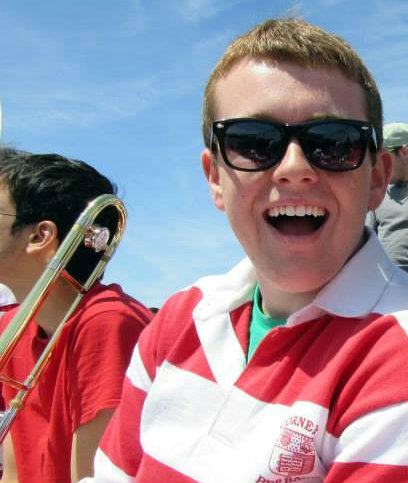 My name is Jeff Crosby, and I am one of your Fall 2016 Pep Band Conductors! I am a junior Psychology major preparing to attend law school after graduation. Some of you may remember me from my position as one of the Alumni Relations Chairs last year. I have had an amazing experience conducting the Pep Band so far, and I'm so excited for upcoming events in the near future!
This season, Elizabeth, Brendan and I were challenged with an extra push to find new members because we had lost a large senior class to graduation last spring. The Pep Band held recruitment events with performances and quarter carding at Move-In Day, Club Fest, and the newly established North Campus Safety Fair. The Band's efforts proved successful as we now have a wonderful group of new members from all classes including many transfer students and freshmen that are exclusively members of Pep Band!
With the sudden higher amount of new members that had never played with us before this season, preparing for a CD Recording Session proved to be a challenge, but it was a challenge we were willing to take on! After jam-packed, fast-paced rehearsals and a long recording session rehearsal, we recorded our 2016 Pep Band CD over Fall Break! I'm so excited to share the result with you soon!
Preparing and recording a CD for the band was probably one of the biggest challenges I had to endure as a Conductor because we only had four weeks to prepare. Although it was stressful and we didn't have the opportunity to ease new members into the music as we had previous years, our efforts proved to be worth it. Elizabeth, Brendan, and I are very excited to share it all with you in the coming weeks, so look out for an order form!
In addition to recording a CD, we had a filled schedule this fall! We have performed at Weddings, Alumni gatherings, Rallies, CU Downtown, Field Hockey, Sprint Football, Volleyball, Basketball, Women's Hockey, and Men's Hockey. We already had the chance to perform Hawaii 5-0 at Men's Hockey and Davy in 3 at Women's Hockey this season! We recently appeared at Madison Square Garden where Men's Hockey took on the University of New Hampshire. Leading the Pep Band has certainly been an amazing adventure during this busy fall season!
Jeff Crosby '18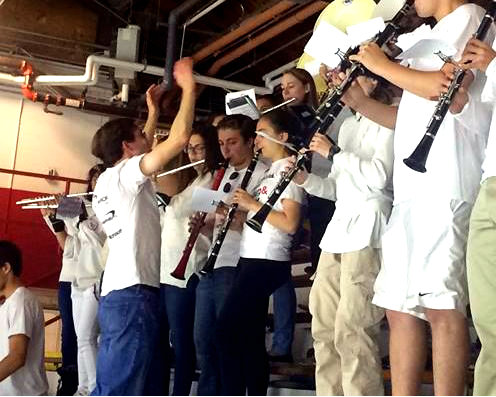 Hey Alumni!
My name is Brendan Duffy and I've had an amazing time conducting the Pep Band this fall! It was so great to see so many of you at Lynah East for the Harvard hockey game – and the band sounded amazing! The onset of hockey season is distracting me from finishing up my senior year in mechanical engineering… but I'm loving it! It truly is an honor to stand in front of the band.
The pep band put in a lot of hard work this semester to prepare for and record a new CD. This was definitely one of the biggest challenges Jeff and I faced. But everyone brought their excitement and energy to rehearsals and we had a lot of fun. Preparing over 30 tracks with the band really paid off and the CD sounds incredible!
Red/White hockey was as loud and fun as ever. The amount of energy the band can bring into Lynah Rink is truly incredible.
Although I have missed getting to play trombone at every event, I am so glad that I was able to be a conductor. I am incredibly excited for where this band will go in the coming semesters! Our recruitment efforts have resulted in a sizeable group of dedicated newcomers. I can't wait to see where the band takes them… and where they will take the band!
- Brendan Duffy '17