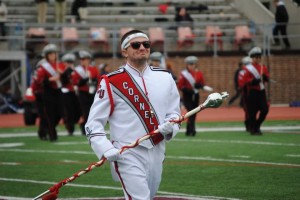 Hello everyone! Last fall was an amazing season for the Big Red Marching Band. With the dedication of the Fischell Band Center and Coach Archer's first time as Head Coach, this season was certainly an unforgettable one!
Homecoming was an unbelievable start to the semester! The dedication ceremony for the Fischell Band Center was such an important moment for the Big Red Bands and I am so honored to have taken part in that piece of band history. Although it literally rained on our parade, the band's spirit was high and we were able to perform our Evolution of Rock show. Our victory over Bucknell also heralded the return of Cornell Victorious as the football team's victory song, as well as a new tradition with the Football team singing along with the band.
A few weeks later, the band was lucky enough to travel to Montreal to play at an Allouettes game. We were able to perform the Evolution of Rock and Les Miserables shows, which featured several trumpet and horn soloists and trios. Watching the band perform one of my favorite shows in my four years with the Marching Band in front of 10,000 people is something that I will treasure for the rest of my life.
The second half of our season was just as eventful as the first. Our third show was the most difficult in my four years with the Marching Band. However, the band really rose to the occasion and did a phenomenal job with songs like Ascend and Reflections of Form, which are written in 5/4, 6/4 and 7/4. The band was also fortunate enough to be invited to play in Herald Square in New York City the night before we played at Princeton.
Seeing the band rock out in the middle of a huge crowd in New York City is one of my favorite memories from my time atop the ladder, and a tourist passing by told us that they could hear us from the top of the Empire State Building!
The last game against Penn was a fitting wrap up to the season! In addition to playing our Stevie Wonder Show and a postgame concert just as the sun set, the football game itself came down to Cornell blocking an extra point for the win!
In all, this season was everything that I could have hoped for as Drum Major. I truly loved every minute of my time atop the ladder and I am so excited for the new leadership of the Big Red Marching Band to continue the band's legacy!
Steve Albanese '14