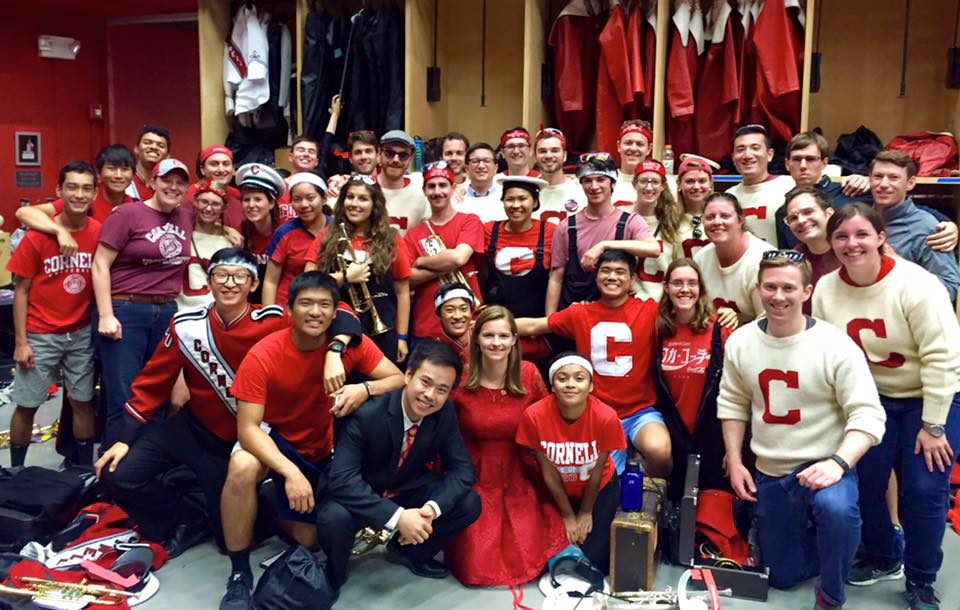 The Trumpets welcomed an astounding number of new members to replenish our ranks, which severely dwindled after the class of '16 said their goodbyes. We have sounded fantastic in each and every one of our shows, blasting out Malagueña, España, and Power (Oh!). We got to play on the field of the Buffalo Bills where the wind stole hats and music, but not our spirit! Special thanks to the alumni for all they do for the trumpet section on away trips! We had the joy of watching our fellow trumpet compatriots Bethany Angeliu and Jeff Van lookin' snazzy by the ladder as Head Manager and Field Manager respectively. Great job guys! But we need your horns back on the field! Special thanks to Mary Amper and the rest of Showcomm for all their hard work with the shows this year! Off the field, we had a great time making our own, puffy, giant, slightly undercooked, but delicious pizzas, watching some great movies and playing lots of games, both video, and board! Can't wait to be back next season for more! Stay hairy my friends.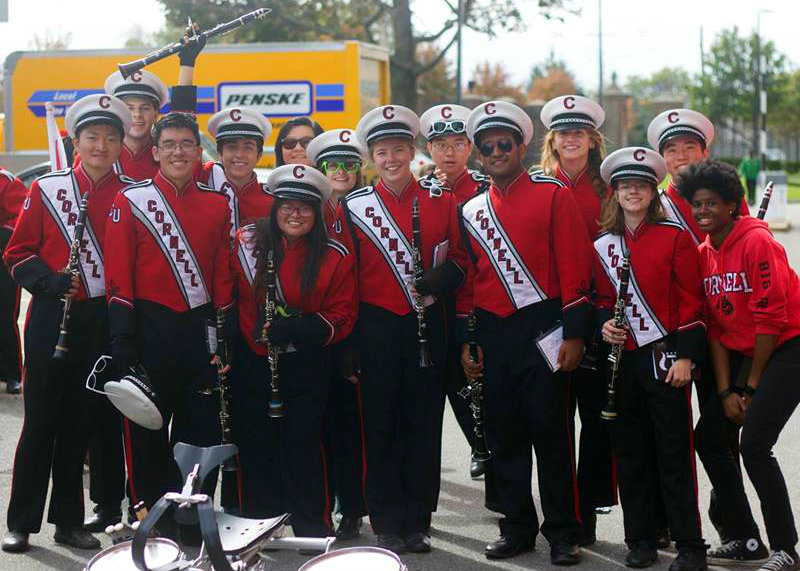 The Clarinets have been having a fantastic and very busy fall semester! At the end of the summer we welcomed nine outstanding new freshmen who fit with our unique brand of craziness. This semester, in addition to the usual trips, we traveled to Buffalo to perform at a Bills game which was an incredible experience. We started the season strong by continuing our scavenger hunt winning streak. We added a new dance move in Everybody's Everything and continue to rock the old ones. We're enjoying the frequency with which our alumni come back to visit as well as continuing to see alumni still in town for grad school. It's been an amazing year – thanks to all past and present section members for making it so incredible!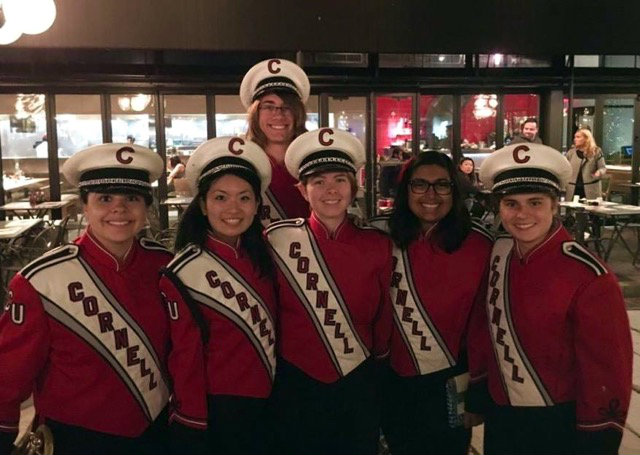 The Big Red Horns are still going strong as the smallest but mightiest section in the BRMB! Between performing for the Buffalo Bills game and marching at the Sy Katz parade in New York City, we've had a fun and eventful marching season. We've also had the pleasure of welcoming three of our section members' pets into the horn family as unofficial mascots: Shark the bunny, and guinea pigs Davy and Schaefer! As the season draws to a close, we're excited to see what the new year will hold for the only real 8-mile-wide section in the Ivy League.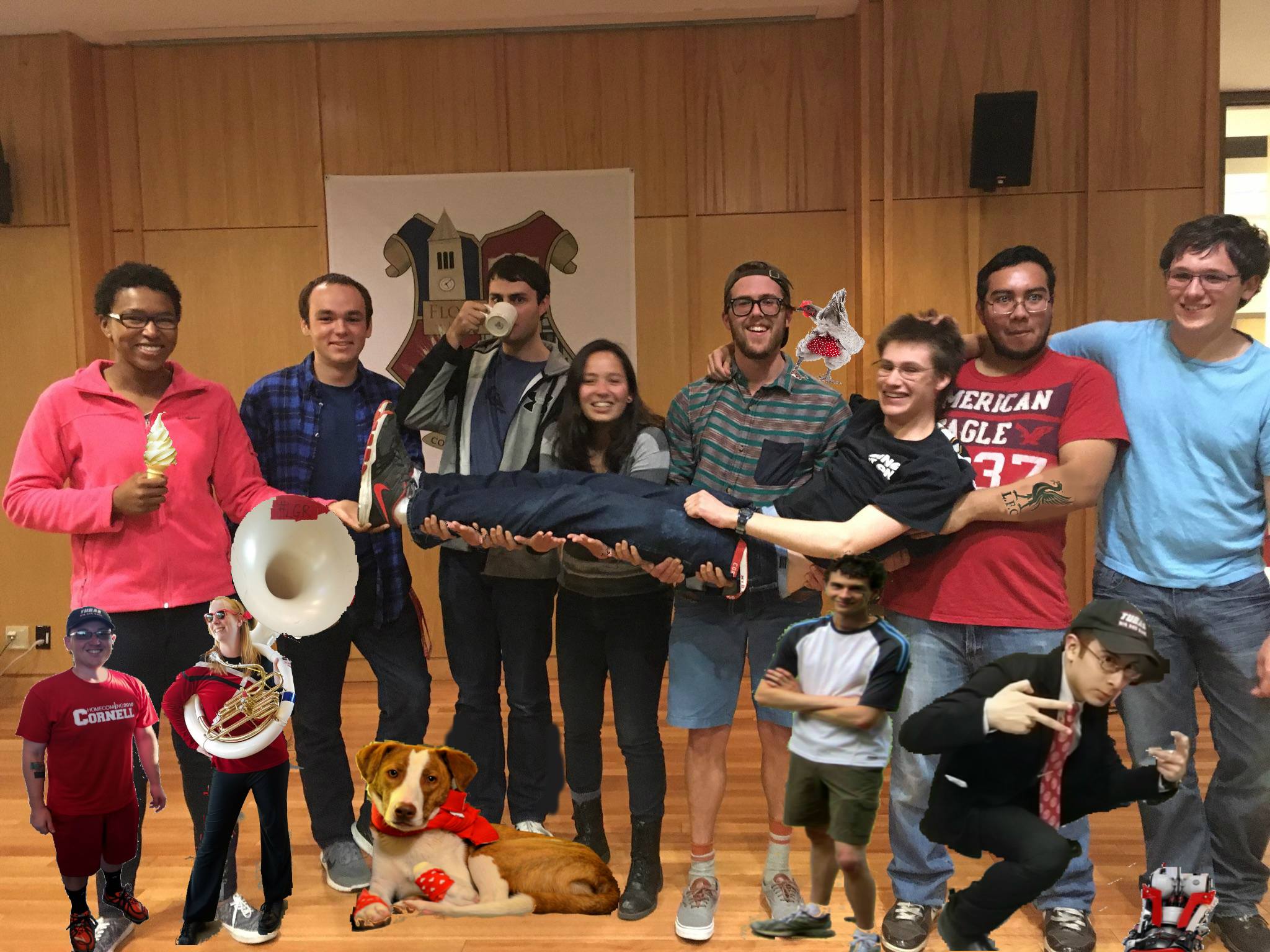 The Tubae have had fantastic semester! First off, we came, we saw and we collected some paper! 7000 sheets! After a tense season, Rank Hammer snatched the inaugural ultimate frisbee title from Rank Sickle! We're also very happy to welcome our new freshman, Zach Brothers, to the only ugliest section in the Ivy League!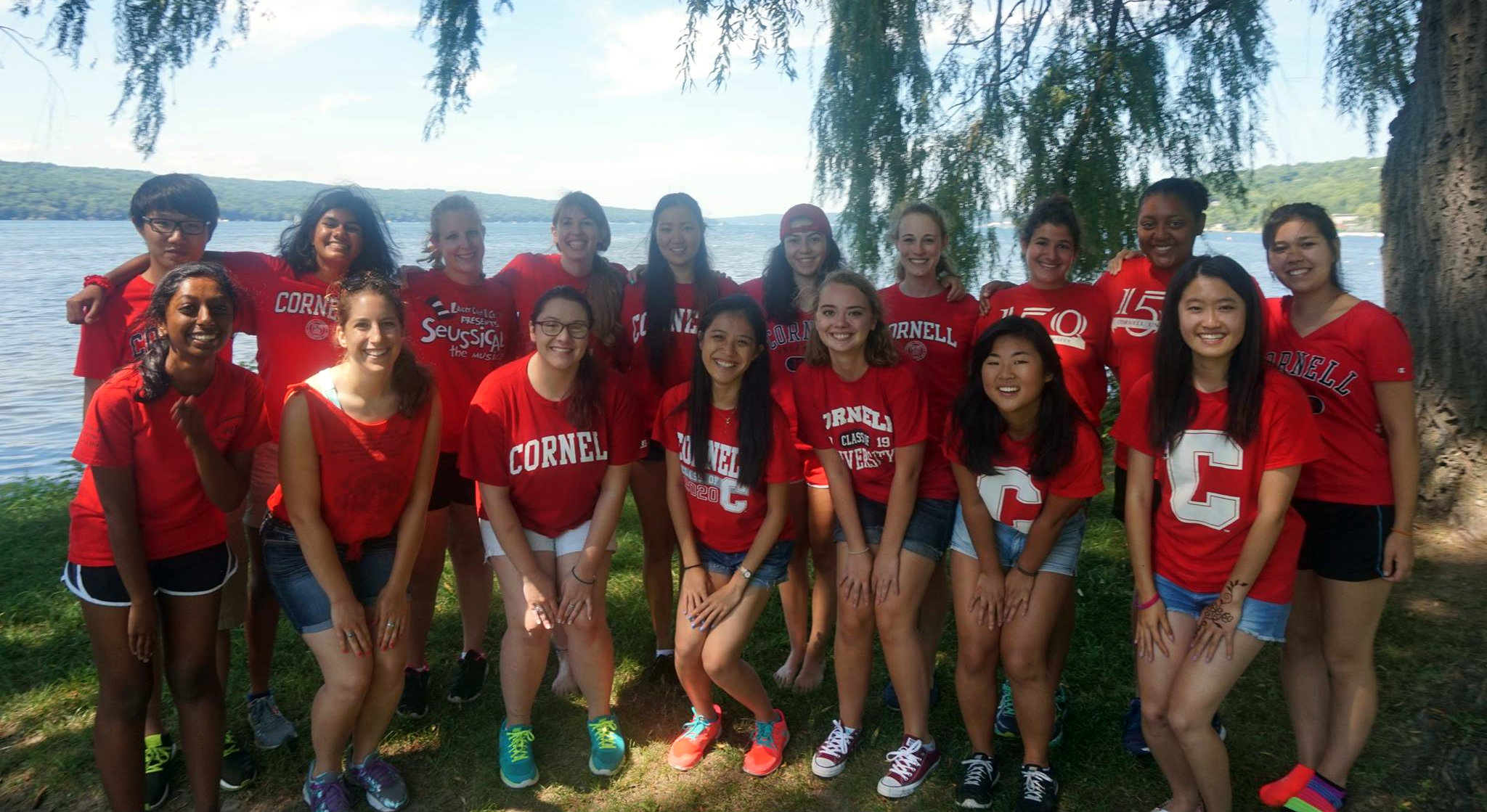 The Big Red Flutes have a lot going on this semester! We welcomed 18 new members to marching band and pep band this fall. We continued our traditions of flute-ups, flute naps, and chopsticks, and even created some new traditions (ask us about taco-ing). We've had a semester full of rain and shenanigans, but the flutes haven't let that keep us down! We've managed to put four difficult shows together on the field, and we've never sounded better (seriously, you can hear us now). The season finished strong and we eagerly look forward to gearing up for next season! Congratulations to our seniors for completing their last marching season, and good luck on figuring out the real world!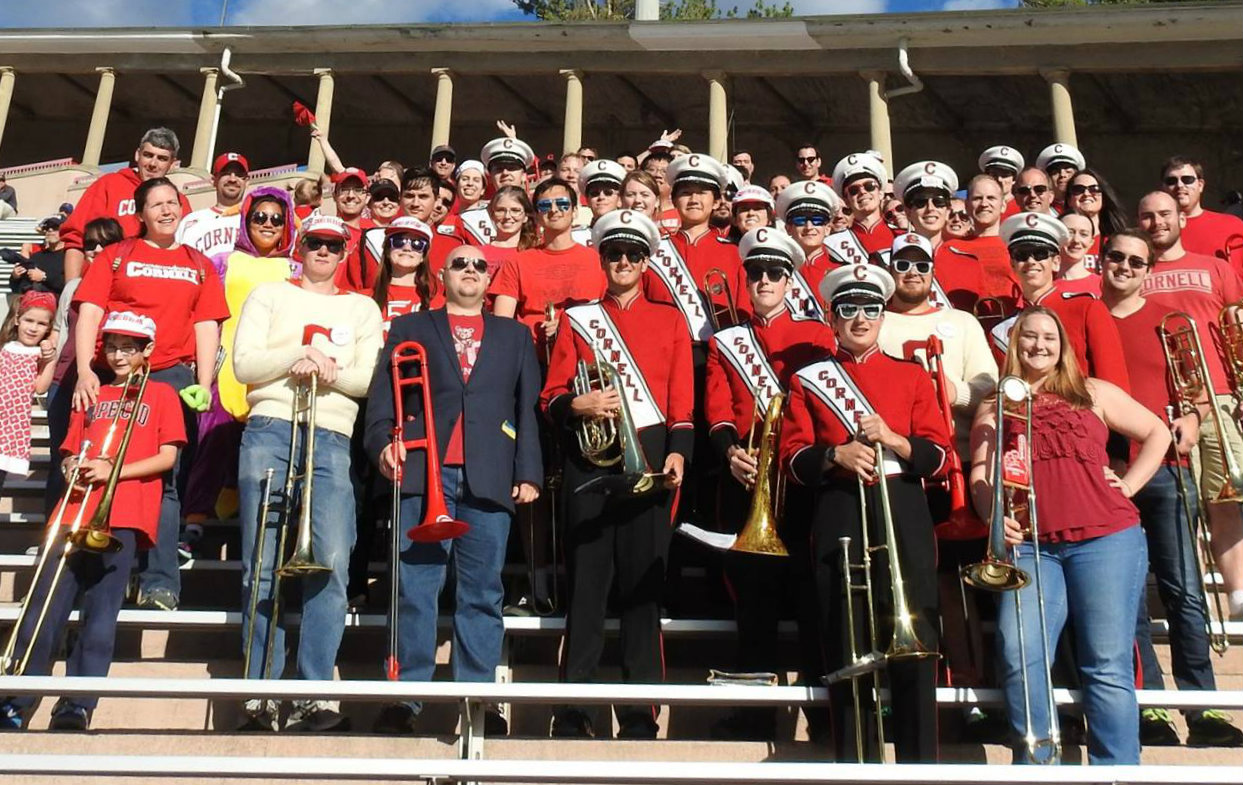 Da Bones have had an action-packed semester! We picked up seven new freshmen and one transfer sophomore! Grand Bonecoming went really well and we enjoyed seeing many of our alums back on the slope. This semester included some classic traditions like Night of the Unknown Bone and Hawaii Five-O, and we added to our bone restaurant repertoire by trying Pizza and Bones in Dryden. We're currently working on adding new songs to the bone cheers folder and we can't wait for Bone Caroling!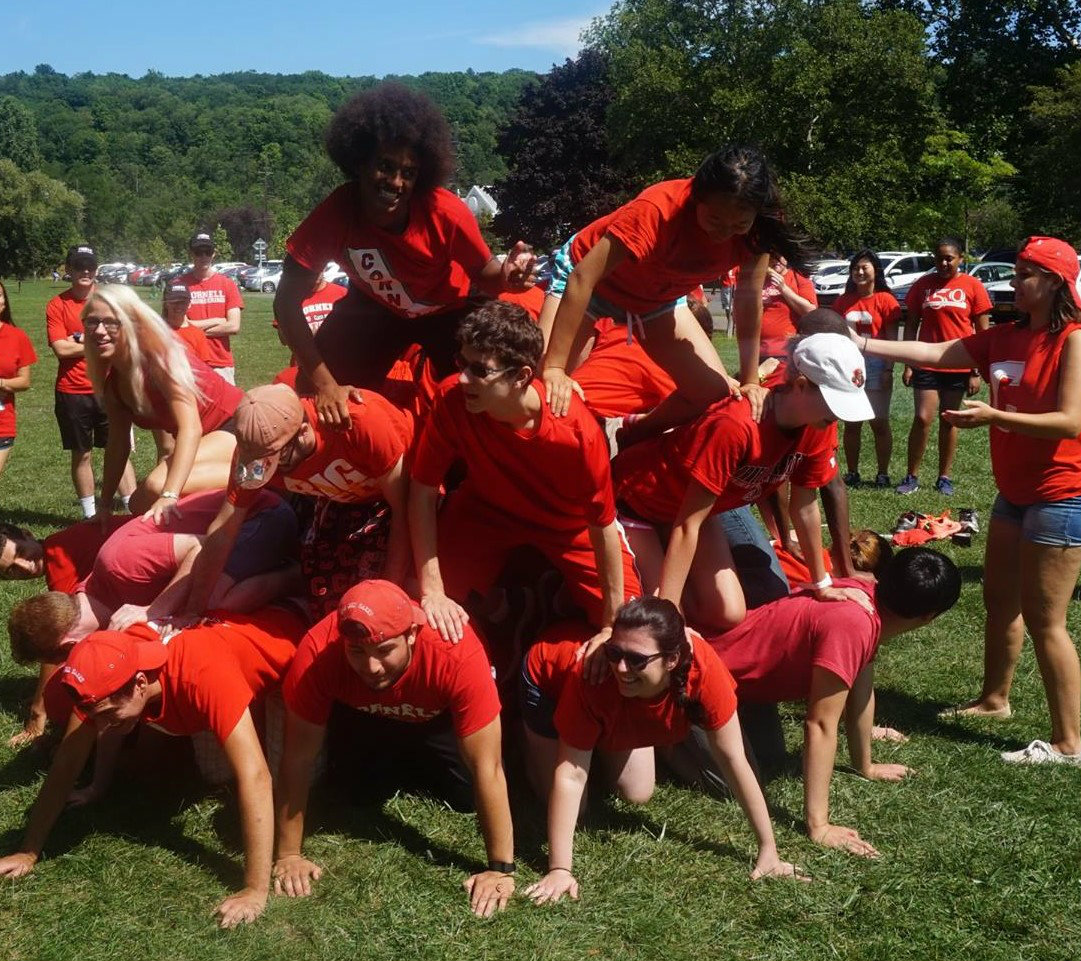 The Saxes are on a bit a killing spree right now (we're playing Sax Assassins.) This year the game involves temporary partners, prisoners' dilemmas, and lots of hidden secrets! (If any saxes see this, tell Brian "it's not all black and white.") Aside from that, the Big Red Saxes having been arranging and trying out new sax cheers. We're also arranging ourselves into some new shapes: namely, sax colosseums!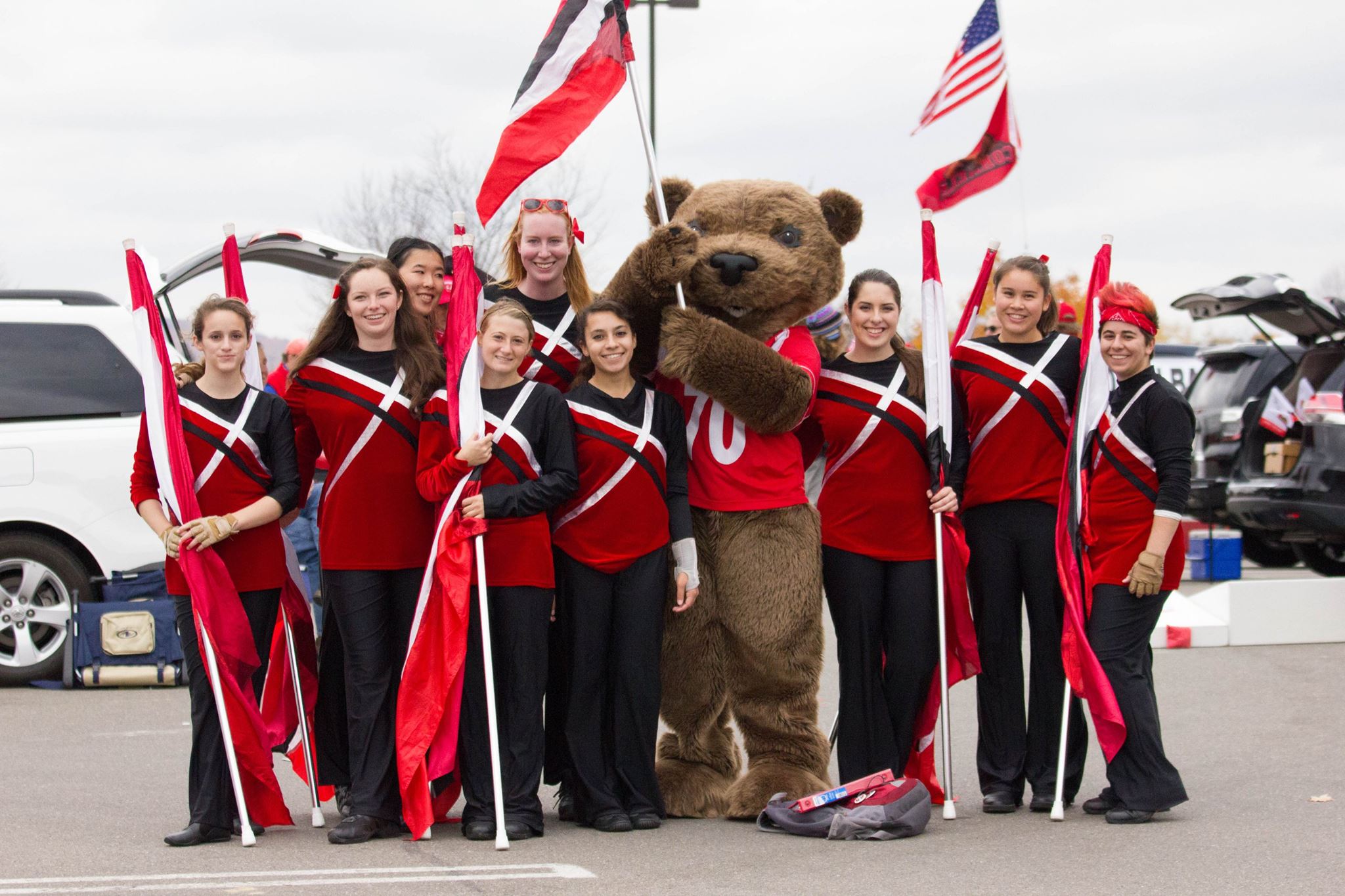 The Guard has had a fantastic season this fall. We welcomed three freshman guard babies and adopted two IC seniors into our ranks. Thanks to everyone's hard work, we've never looked better as we show off our new show silks and our brand-spanking-new rifles! This year, we moonwalked our way into the hearts of every bandie during the 80s show, than accidentally fell in love with Becca Rodell '19′s solo in the Shrek show. Though we couldn't spend the semester in Spain, the rifle line led by Suzannah Bretz '16 in our third show brought us pretty close. Our Hipster show featured several new guard moves (cough drop… you've probably never heard of it) and was a great way to end the season. Shout outs to our graduating seniors: Odile Maurelli '17, Suzannah Bretz '17, Amanda Morrison '17, Laura Young IC '17, and Ellie Holleran IC '17!
As usual, the drumline is too cool to be in BandNotes!