Freshman Perspective
When I packed for Cornell I brought my instrument with me but I only had intentions of joining a low-commitment music group where I could still be active with clarinet. I didn't want to take too much time of my time up with activities. I didn't participate in a big marching band in high school, and could't really see myself doing it in college either. I never dreamed I would join the Big Red Marching Band, or more importantly, would join the group of people that have made me the most happy since I arrived on campus.
On move-in day, I decided to show up for marching band "auditions" and it was probably the best decision I have made since choosing to attend Cornell. I was greeted with a huge "Join Band Natalie Parker" poster. I didn't know any of the people but they all knew who I was and were super excited to see me there! Their happiness was contagious and I had a great day meeting all of the band upperclassmen who I soon realized I would be spending 3 nights a week and my weekends with.
My band experience only went uphill from there. I had an amazing First Night and met so many new people as we stayed up late making jokes and sitting around playing card games. Once practices started, I made a ton of friends. I was so happy to be meeting people so early in the year; it was amazing find such a great group right at the start. Now I always look forward to practices where I can see everyone together.
A huge part of the reason I love Cornell so much is because of the amazing band and the positive people in it. I feel like I have a band family. Everyone is so welcoming. I have made so many great friendships through band and have met people who I know I will stay close to for the rest of my time at Cornell.  I love my fellow bandies and could not have asked for a better group of people to spend my time here with. I look forward to many more great times and can't wait for all of the memories to come.
Natalie Parker '20
Senior Perspective: Two and Through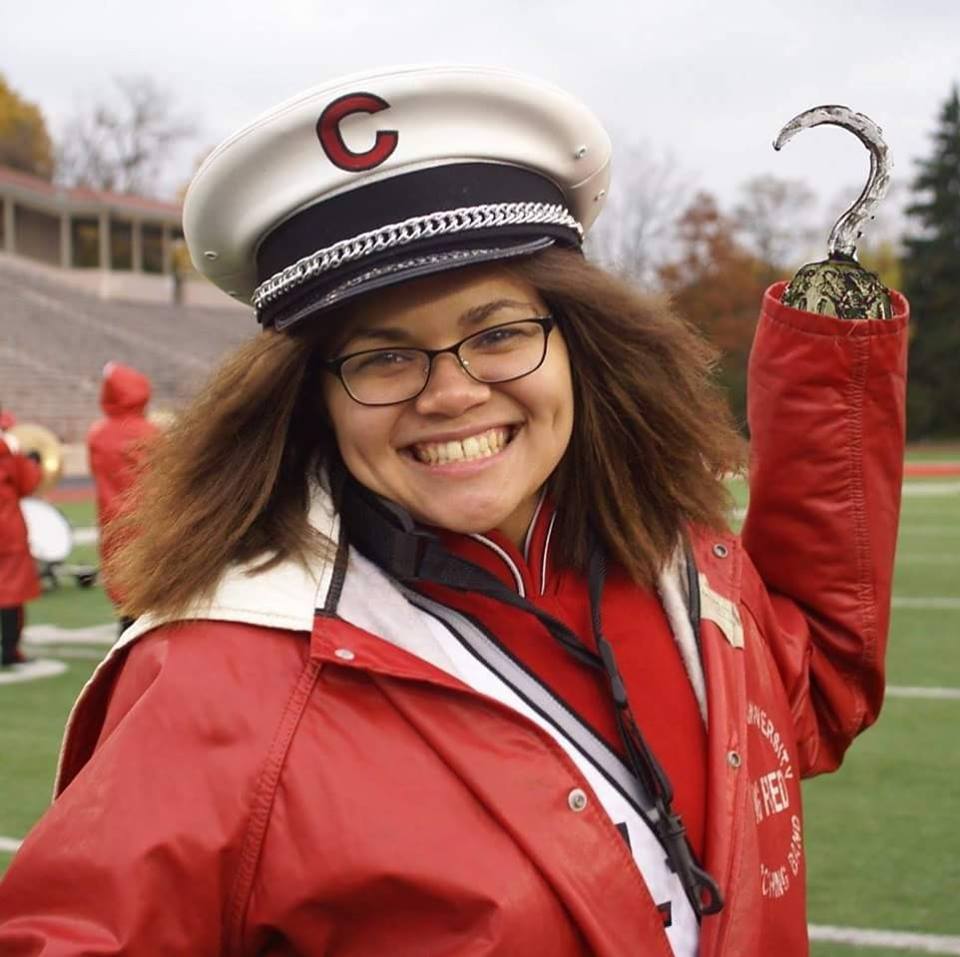 For me, being a part of the band was a relatively short journey. After just two semesters, I was already a band alumna. As a China and Asia-Pacific Studies major I spent my junior and senior falls away from campus in Washington D.C. and Beijing, respectively, and thus had to say goodbye to marching band…but the band never left me.
Freshman year (2013) I walked up to the Fischell Band Center (no 'old' band room for us) and indecisively inquired about joining band. I didn't know if I should continue playing clarinet or saxophone but in the end I chose the saxophone because 1. duh, and 2. my clarinet was too nice to be exposed to the elements. It was the best decision I made in my college career.
The Big Red Marching Band has always given me a sense of belonging despite feeling like that small fish in a big sea. I've met some great people. I've had some great moments. I will cherish these people and moments for the rest of my life. Even though I am a senior who really only participated in band for a two years, I feel as close to it as ever and I hope that future generations of Cornellians get to share a similar experience whether they are in marching band for one year or four.
Because the Cornell Big Red Marching Band is more than a marching band and more than a student organization, it really is a family.
Amanda Williams '17