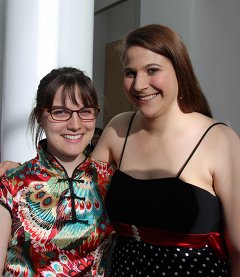 Doing what only two other duos have done in Cornell Big Red Band history, we have been drum major and head manager together for the past two years. From our first meeting in Okenshields to becoming the best of friends, from the blizzard at the Princeton game in 2011 to the incessant downpour during the groundbreaking at Homecoming 2012, from being stranded at the Canadian border to losing four buses in Manhattan, leading the only REAL marching band in the Ivy League has been quite a life-changing journey. The first time I saw Jess I got so excited I spilled 2000M HCl on my hands (we had honors chemistry lab together). This excitement that defines our relationship to this day has never ceased to spice up even the dullest of times in the BRMB… oh wait, there were none.
Over the past two years we have had the unique opportunity to hone our leadership skills while having the privilege of interacting with past, present, and future members of the BRMB. While our first year was spent mostly figuring things out, we felt that in the second year we were able to implement some changes that have helped the band become a better organization. Although we will be sad not to have the BRMB in our daily lives this upcoming fall (why is there no marching band in the real world?), we know we are leaving it in good hands. We were so excited to help with the development of the plans for the new band facility and look forward to attending future reunions and homecomings in this new space. Even though the basement of Barton will always hold a special place in our hearts (and perhaps our lungs), we're glad to see the visions of many past and present members being put into action in the new band facility. We are excited for the many opportunities this move will afford the band for interaction with the community, in addition to the fancy new doors and storage spaces.
This summer, when Jess ventures around the globe to teach in India and Jen takes her ruby slippers on down to Columbia University (not to be confused with Colombia, the Latin American country) to earn a master's degree in secondary education, we will both be far from Cornell and the group of friends that we have been so fortunate to make through our participation in the marching band. The past two years have been an unforgettable experience and we are both so glad to have had the chance to lead the BRMB. Without the band, we would both be much different (probably more sane) people, and we feel so special to have been able to impact and be impacted by the only REAL marching band in the Ivy League.
In the words of our illustrious advisor, Mark, "Peace, Love, and Happiness."
Jess Reno '13 and Jen Goforth '13