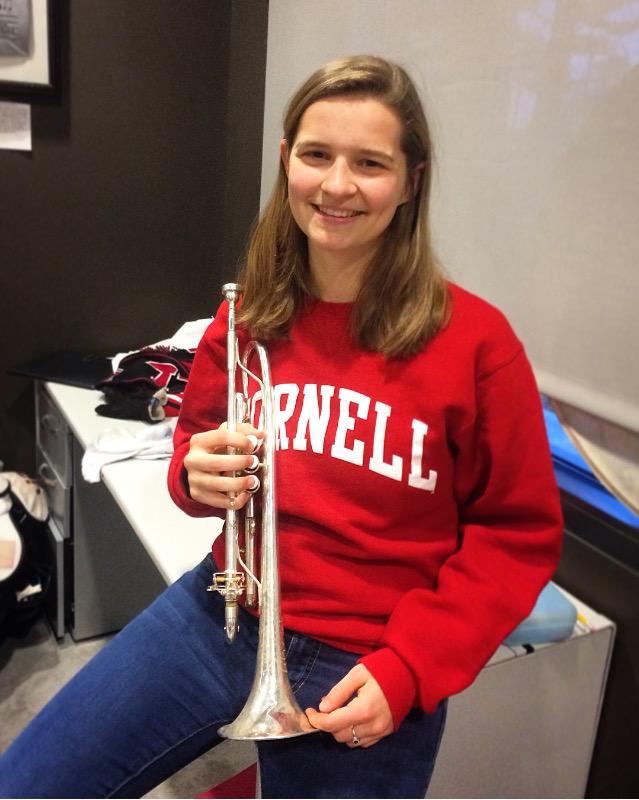 Hey Band!
I'm Bethany Angeliu, and I'm proud to say that I will be Head Manager of the only REAL Marching Band in the Ivy League for 2016! These last two years I've been a member of the Trumpet section with a claim to fame of maintaining a special tradition at Columbia games. I'm studying Industrial and Labor Relations, but with all the time I spend between the Bands I sometimes feel like I could minor in Music! I'm excited to give my energy to organizing everything in store for the Band this year.
On Monday, March 7th we were saddened to learn about the passing of President Elizabeth Garrett. The Band appeared at a candlelight vigil the next evening, where a member of the Band spoke of President Garrett's support of the Band and Cornell spirit, and we performed the Alma Mater, Chimes, and Evening Song to honor her memory. In the words of Michaela Olson '16, "Beth is in every note and every melody and every song that the band plays to bring spirit and celebration to Cornell University. We are not only wishing her farewell, but inviting her to stay with us and inspire us as we work to making her vision a reality."
Our spring season began with an exciting NEW event: we performed in the Horseheads, NY St. Patrick's Day Parade! It was great to don our uniforms and represent Cornell in the greater community. We also helped kick off the 91st annual Hotel Ezra Cornell conference by taking Statler Hall by storm between classes. You'd think the Hotelies would be used to it by now…
Coming up later this month, we are excited to announce that the Band will be performing again for Giving Day on April 19th! After last year's success, we'll be on the live broadcast again performing from the Fischell Band Center. Be sure to tune in to the broadcast that evening to watch.
Aside from our preparations (already!) for the Fall season, April is bringing us many opportunities to play. Once again we will parade for prefrosh at Cornell Days and perform at the American Cancer Society's Relay for Life. We're also participating in Cornell's Bring Your Child to Work Day with an educational session for 8-12 year-olds – after all, you're never too young to get excited about band! We're also looking into our Bandsmen getting involved with Therapy Thru Music at retirement homes in the immediate Ithaca area.
Our much-anticipated Spring Concert is currently scheduled for April 23rd, this year on the newly renovated Commons in Downtown Ithaca! We're hoping for clear skies and warm temperatures, which is looking more and more likely as the semester goes on.
Well, it might not be the Sesquicentennial anymore but the Band will still be an active presence on and around campus. I'm already looking forward to Homecoming (our first game!) and our trips to Harvard, Brown, and Columbia in the fall. We're hoping to see you then if not sooner!  And I'm excited to serve in a new way for the Big Red Marching Band this year.
Bethany Angeliu '18