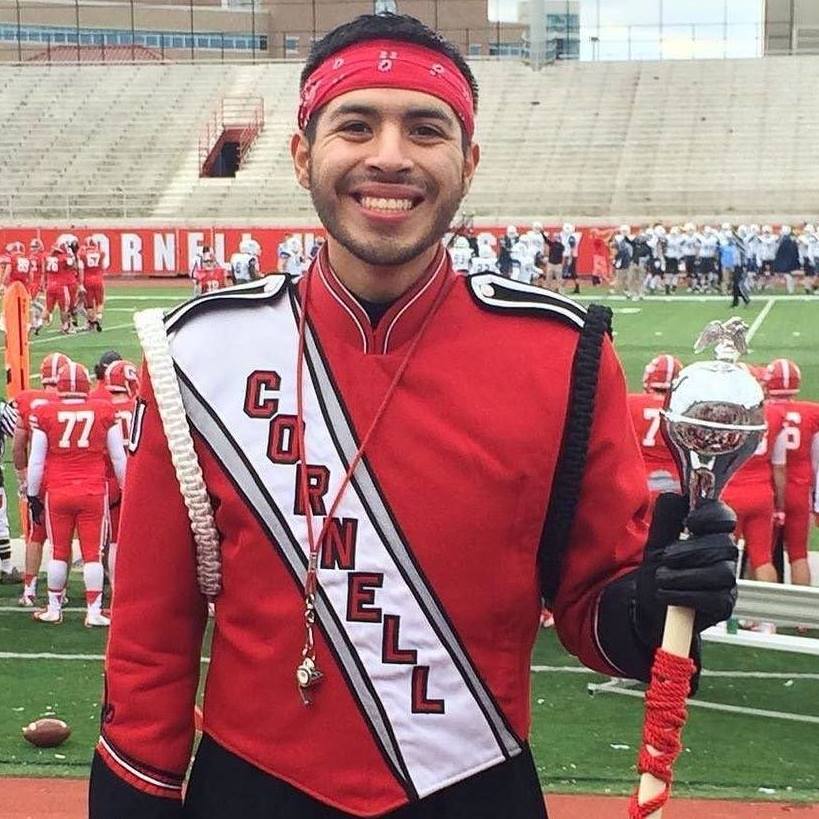 Howdy, everybody! My name is Sergio Manuel Preciado (but please, call me "Serge"), and I'm the 2016 Drum Major. I'm a pre-med junior in CALS, majoring in Biological Sciences with a concentration in Molecular and Cell Biology. Before I switched to the arms, I played Alto Sax during the past three seasons and dabbled in Tenor Sax in the Pep Band. I was also a member of the show committee in 2014 and served as equipment chair and Saxophone co-section leader in 2015.  I was raised in McAllen, Texas, where my love of air conditioning, Whataburger, and marching bands began.
Our first event was a solemn one. On March 7th, the band and the Cornell community were shocked to hear of the passing of President Elizabeth Garret. The next day  a candlelight vigil was held on Ho Plaza to commemorate her life. Several Cornellians, including our own Michaela Olson '16, spoke about Presidents Garret's impact on the community. The band came together and performed the Alma Mater, Chimes, and Evening Song to close the ceremonies that evening. Although she was only our president for a short time, her enthusiasm for and interactions with the Big Red Bands will not be forgotten.
Following the vigil, our spring "season" started to kick off! We performed at the St. Patrick's Day Parade in Horseheads, NY, the first time we've done so in recent history. The band paraded down Horseheads' main street and played Davy, MYOC, and NCFS for the crowd (although some of us may have forgotten to wear green)! At our next event we helped the hotel students stage their annual coup of the Statler Hotel: Hotel Ezra Cornell, or HEC! HEC is a weekend-long event where the hotel students run the Statler Hotel, and we paraded through and concerted in the building to kick off the event. No hotelies were harmed in the making of this event, although we can't say the same for one particular "Exit" sign.
That's all I've got for now! Hopefully you'll be seeing us soon, either in-person or digitally (#RememberTheBand)! Expect more updates from us in June, and don't forget to tip your waitress.
Sergio "Serge" Preciado '17