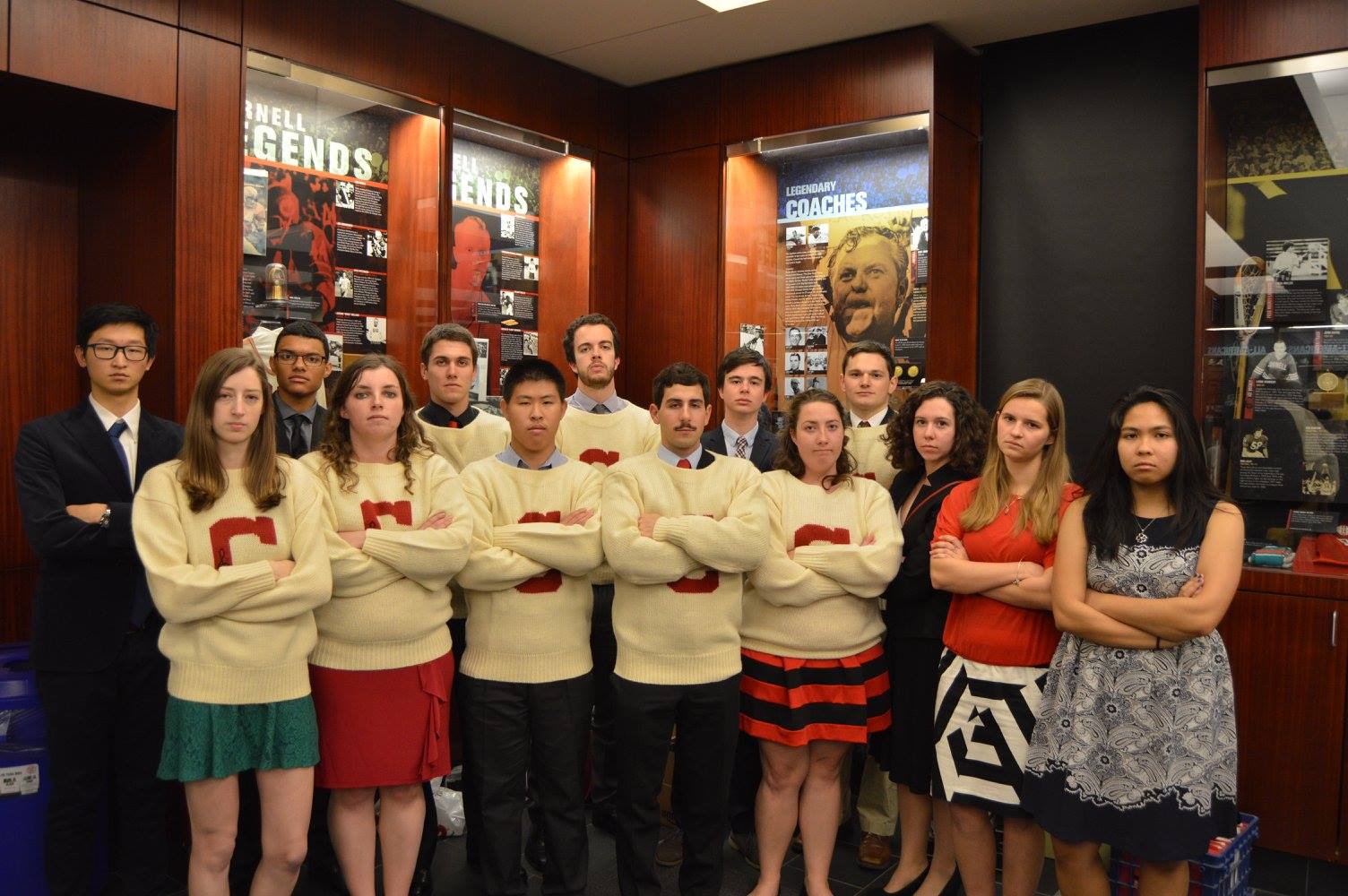 The Trumpets have continued their misbehavior and shenaniganry into the New Year. We continue to play fortisississississimo at all times. We are already getting psyched for the fall and the bounty of solos that come with it. We are also excited for the plethora of trumpets in new leadership: Pinto Smith '17, section leader; Mary Amper '18, SpinMaster (and showcomm), Bethany Angelieu '18, Head Manager; Jeff Van '19, Field Manager; Chris Sanchez '19, Webmaster; Diana Herrera and Antony Gariolo '19, Equipment Chairs; Zeyu Hu '19, Publicity.  We also want to wish all of our seniors the best as they go out and join the real world (ew).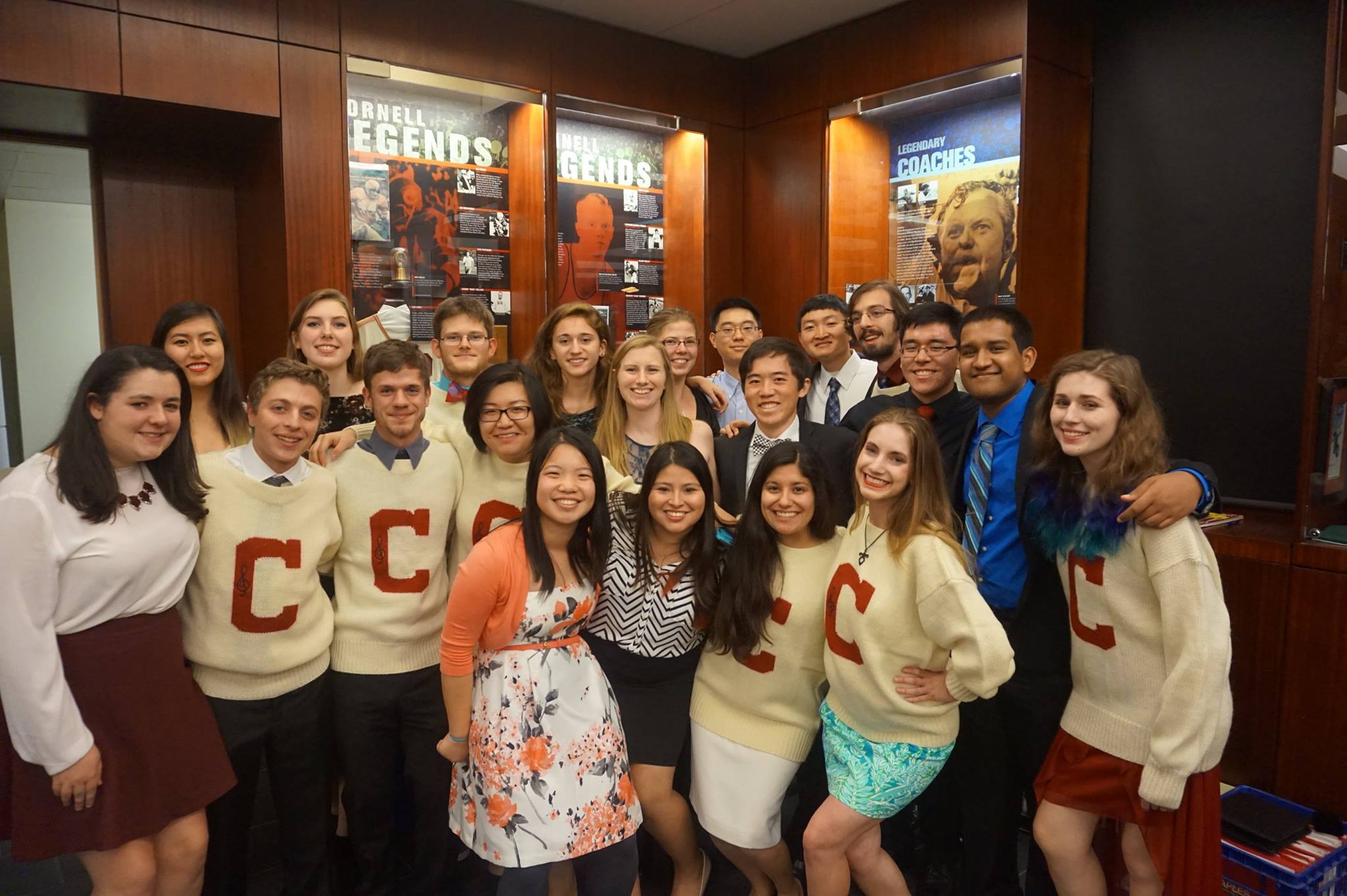 The Clarinets have been keeping busy in the  offseason! With two brand new section  leaders,  we're very excited to be ringing in the new year! We've been trying out a few new  events on the  calendar, such as going ice skating together and watching the Oscars together.  In marching  news, we've continued to use last semester's new parading move, Move JB, and  we got to show  off those moves during the Horseheads St. Patrick's Day Parade on March 12  and during Hotel  Ezra Cornell on March 16. We're also excited to be adding an entirely new  apartment to Clarinet  House for next year, giving us 4 new rooms, meaning that the entirety  of 301 Cornell Street now  belongs to the Clarinets! All in all, it's shaping up to be a great  semester, and we hope to see many of you on campus in both the Spring and the Fall!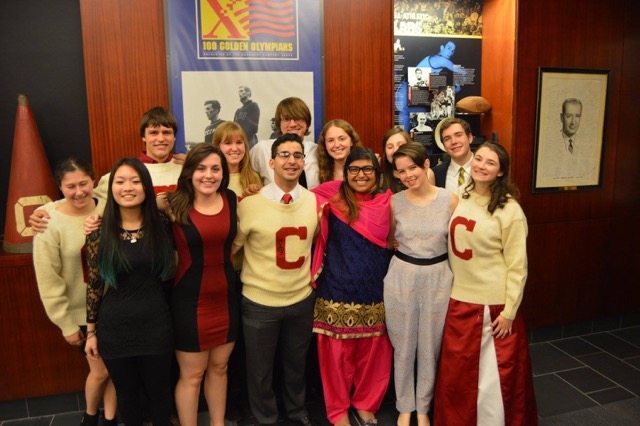 The only real 8-mile-wide section in the Ivy League has been having a great time! The theme of this spring is "new," as the Big Red Horns rang in the new year with our new section leaders, Snigdha Sharma '18 and Sachi Koide '18, as well as some exciting new events! We had our second annual Secret Valentines gift exchange in February, and we also got to march in a St. Patrick's Day parade in Horseheads, NY. We're already looking forward to the fall 2016 season, hoping to see the section continue to grow rapidly!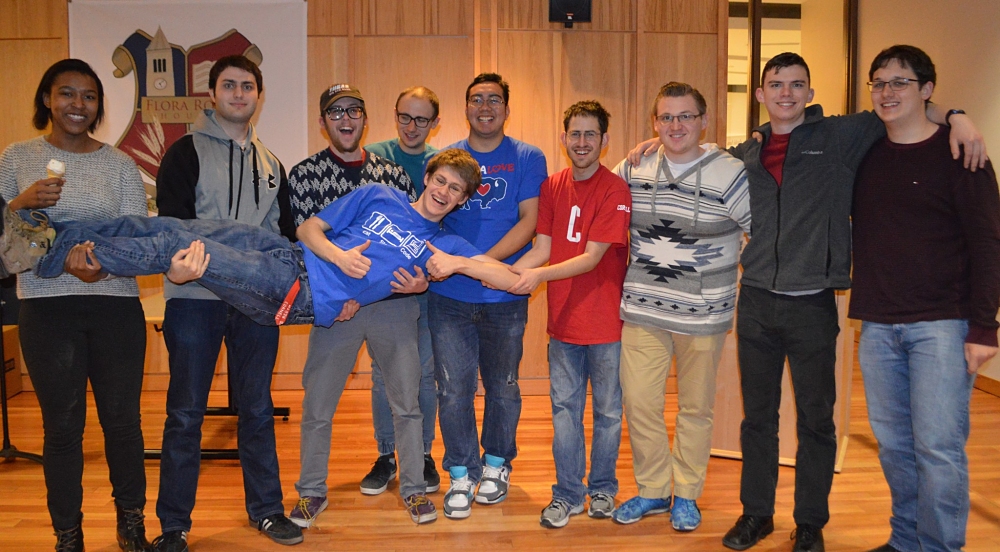 The Big Red Tubae have a lot going on this  semester! Two of our outstanding Newbas,  Will  Hernandez and Chelsea Sanders, have stepped up to  replace our dear comrade, Jordan  Silver, as Uniform Chairs in the BRMB. Will is also pulling  double duty as Pep Band  Treasurer! Beyond that, we have cemented Taco Tuesday as a section  tradition as dear to us  as the Shirtless Rehearsal. We look forward to the myriad of musical  events this semester  has in store, as well as seizing the means of production from the  bourgeoisie!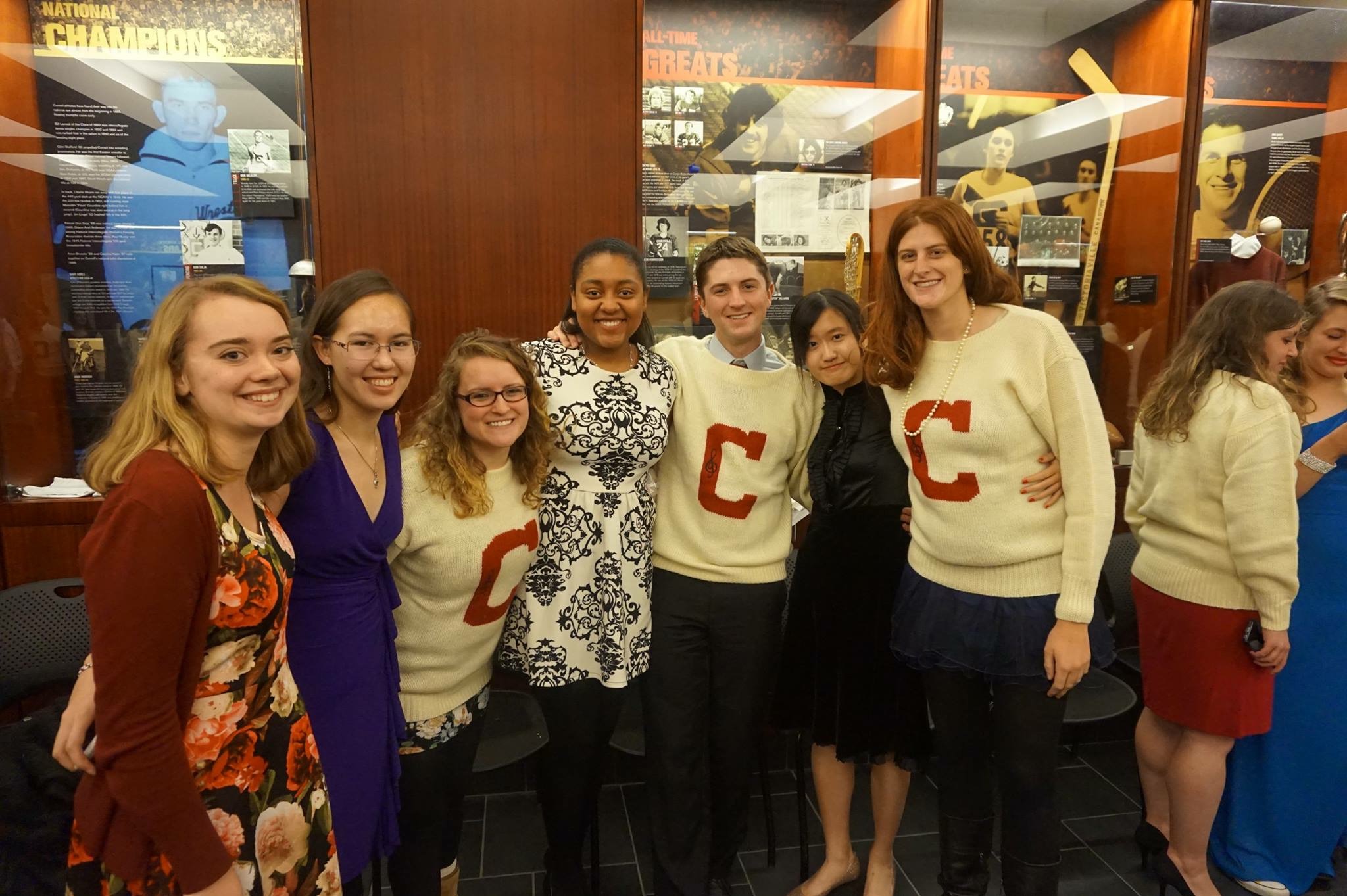 The Big Red Flutes are having a wonderful spring semester. We continued the traditions of cooking baking and Anti-Valentine's Day throughout the semester. We are continuing to try to have weekly dinners and sporadic movie nights. Overall, we are looking forward to a lovely end of the year and the beginning of more marching events, filled with friends and flove.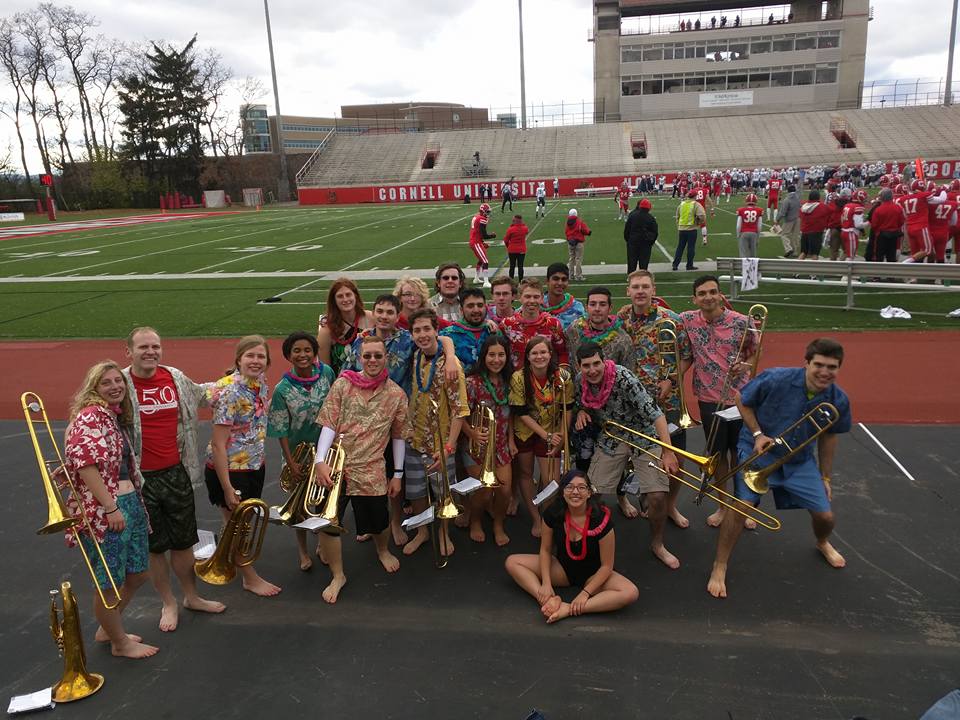 Da Bones are having a pretty chill semester!  We  retained many of our new members  this    year and  even picked up a new tone for pep  band! We're  eagerly hoping that we  match our  amazing numbers  next marching season!  We had a really fun  BoneRush,  with trips to  Dino, the Syracuse Mall, and the Pines. We  have a couple of  underbones  currently  working on some new bone cheers for next year  and can't wait to try them  out  over the  spring. An underbone also arranged a song for  marching band that we will    hopefully  play next season. We're also very excited for Grand  Bonecoming next semester  and  hope  to see a lot of bone alums over that weekend!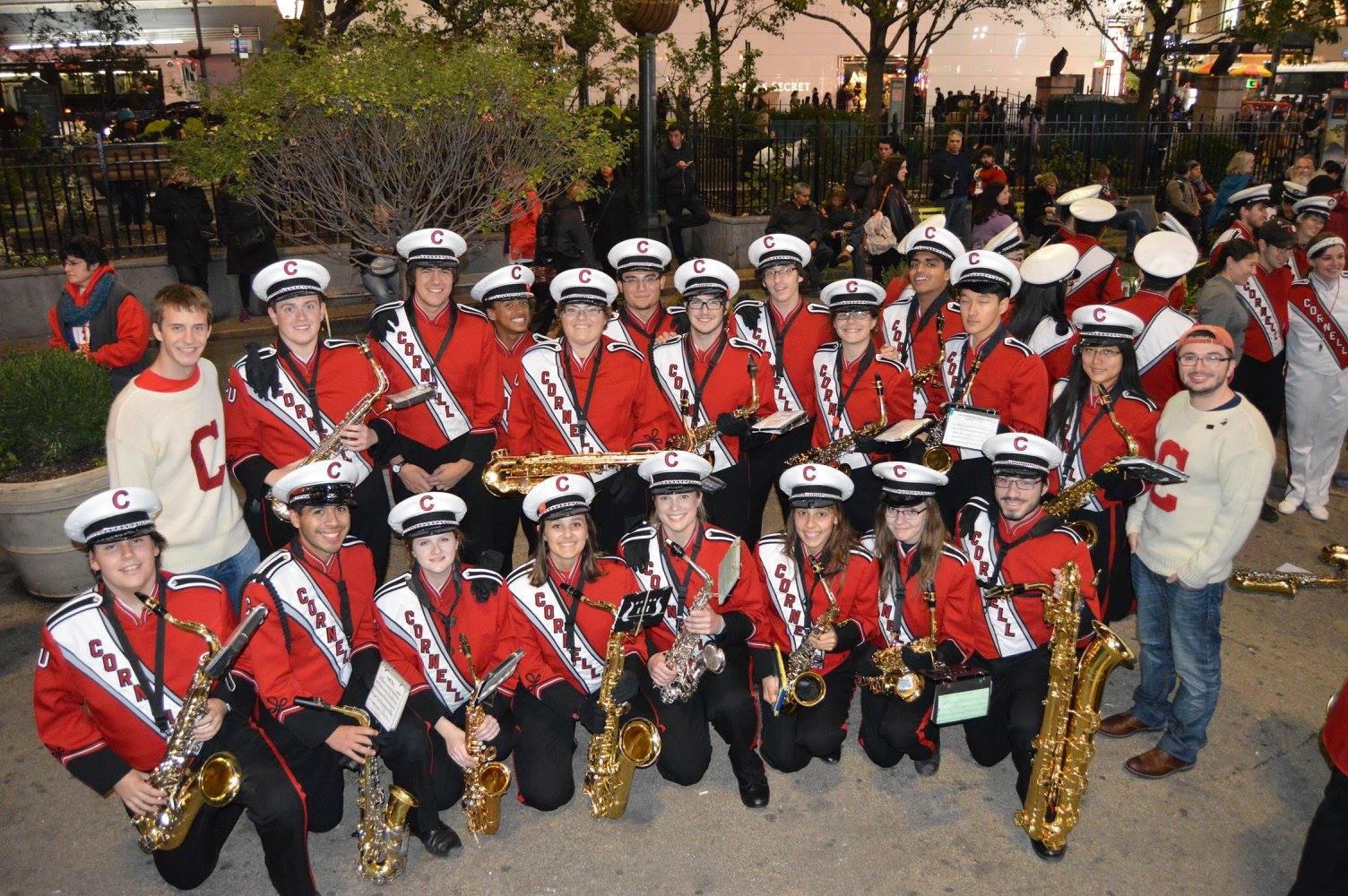 The Saxes are jumping back into the school year. We started the semester with a very competitive board game night. The location? Sax House of course! For a refresher on the greatest place on earth, check out sax.house, a domain that the big red saxes proudly own and update. Other events we've had include a Superbowl (or Superb Owl) event and a celebration of Pi day. In other news, many saxes are being written into a story that describes the epic saga of the Hawaiian zombie apocalypse which is currently occurring in a parallel universe. Our section is also leading the charge in creating a marching jazz band.
The Colorguard is movi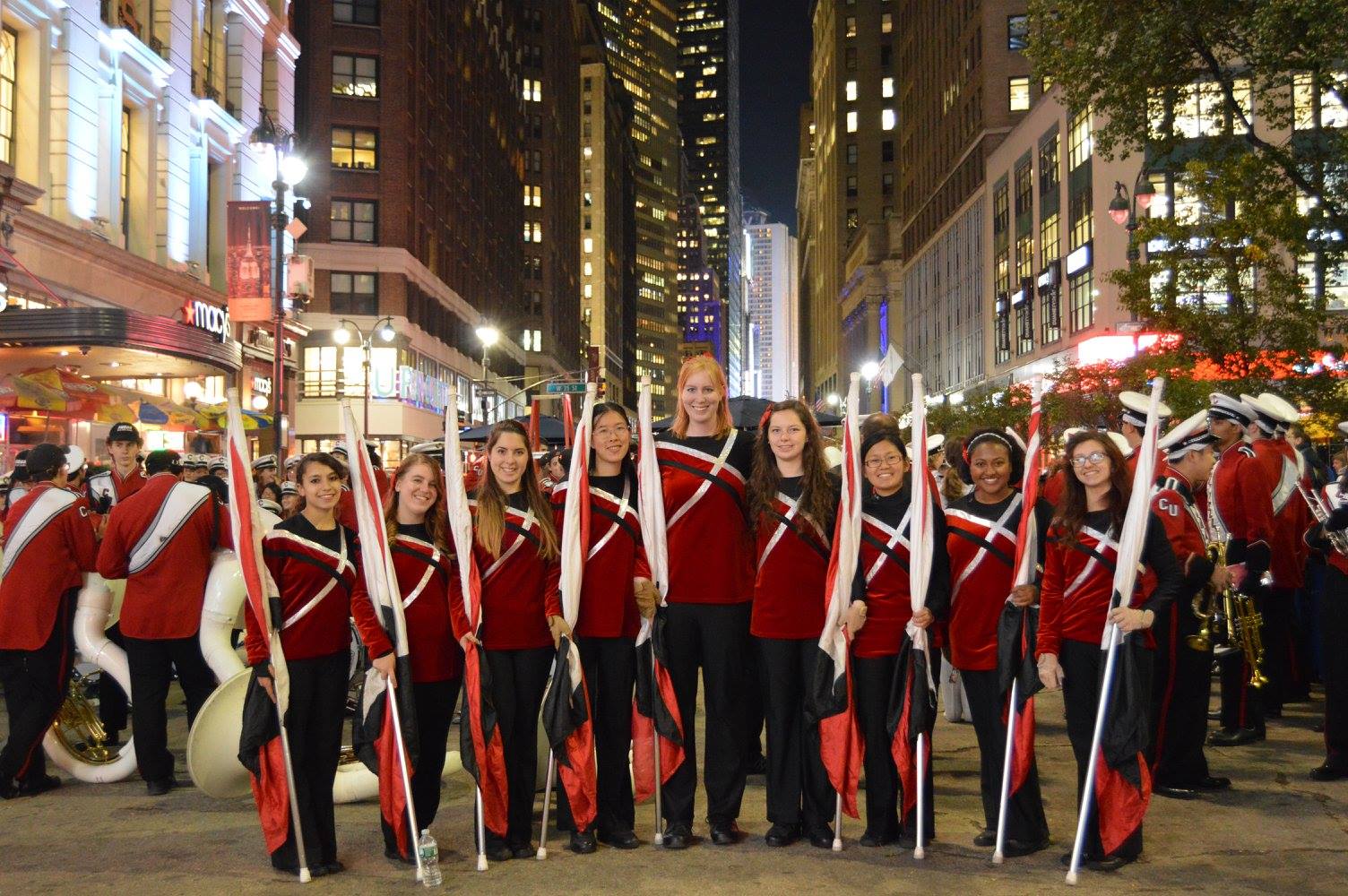 ng up in the only real Marching Band in the Ivy League. Spectators at this year's St Patrick's Day Parade in Horseheads, NY saw the Guard marching at the front of the Big Red Band, instead of our usual "save the prettiest section for last" approach. We were lead by our newly elected leaders, captain Odile Maurelli '17 (last season's co-captain) and co-captain Lauren Russo '18 (our baton twirler who has switched to spinning flags full-time). Guard has also gone international with two of our members, Suzannah Bretz '17 and Amanda Morrison '17, sending us love during their semester in Europe. Though we cry at the idea of losing our two seniors, Rachel Langey '16 and Sarah Acre '16, we're excitedly looking forward to having new Guard babies next semester.
As usual, the drumline is too cool to be in BandNotes!