Hey guys!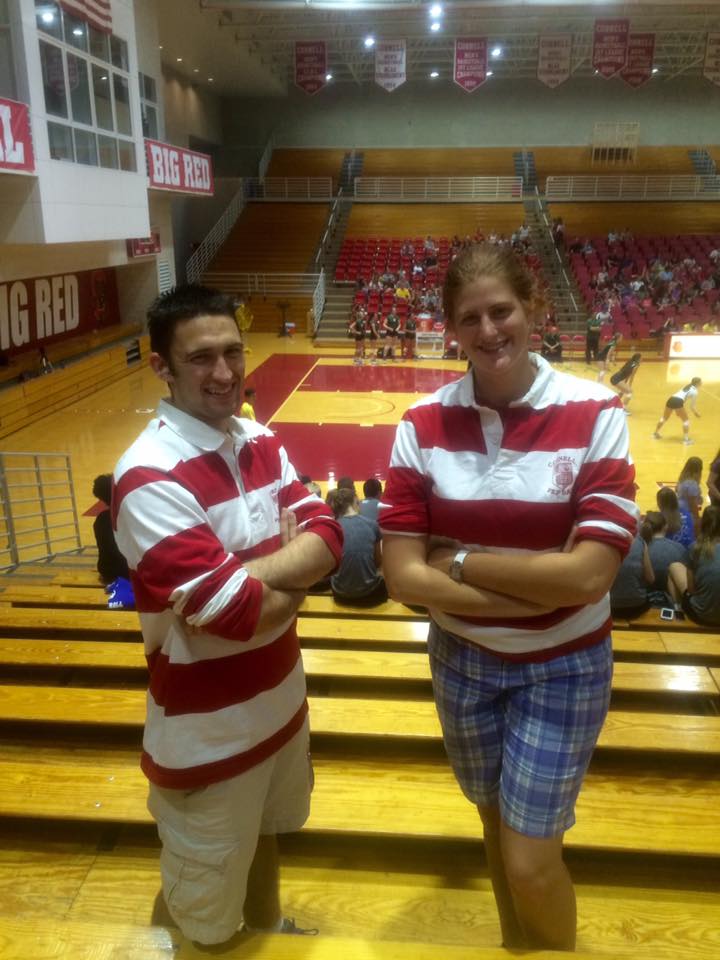 I'm Vincent, one of the pep band conductors this fall. This semester's been pretty fantastic in terms of events. We were asked to play a wedding, with the ever romantic set of "Buddy Holly," "The Muppets," and "I Want You Back." We also got to play Davy in 3 at sprint football, in an exciting blowout against Princeton.
The highlight of this semester for me personally was Student Arrangers' Day. We wanted to show off the talent of the members of the pep band, while giving said members a chance to hear their arrangements played in real life. We played twelve submissions, and so far have added two to the folder and are about to add a third. This will serve to keep the folder fresh and varied. The Day was a resounding success, and in a post event survey we sent out, every single person who responded said they would do it again in the future. That result is probably what I am most proud of from that day. We were able to learn a lot from running the event, and I'm certain thatif it's done again in the future, it will be even better and more productive.
We will once again be travelling to Madison Square Garden over Thanksgiving break to play for Red Hot Hockey. The last time we faced BU there it was a very close and incredibly tense game until the last seconds. Additionally, the Lynah Faithful are even more intense when they're filling the Garden. This event is sure to be a memorable one for the band, and I cannot wait to lead them through it.
I'm really pleased with how this semester has turned out for the band. My co-conductor Emily and I have rather complimentary tastes, so rehearsals have been inherently varied from the beginning. I'm so proud of what we've accomplished, and I look forward to seeing what the band can still do before the end of the semester.
-Vincent Sheppard '17
Hi Alumni!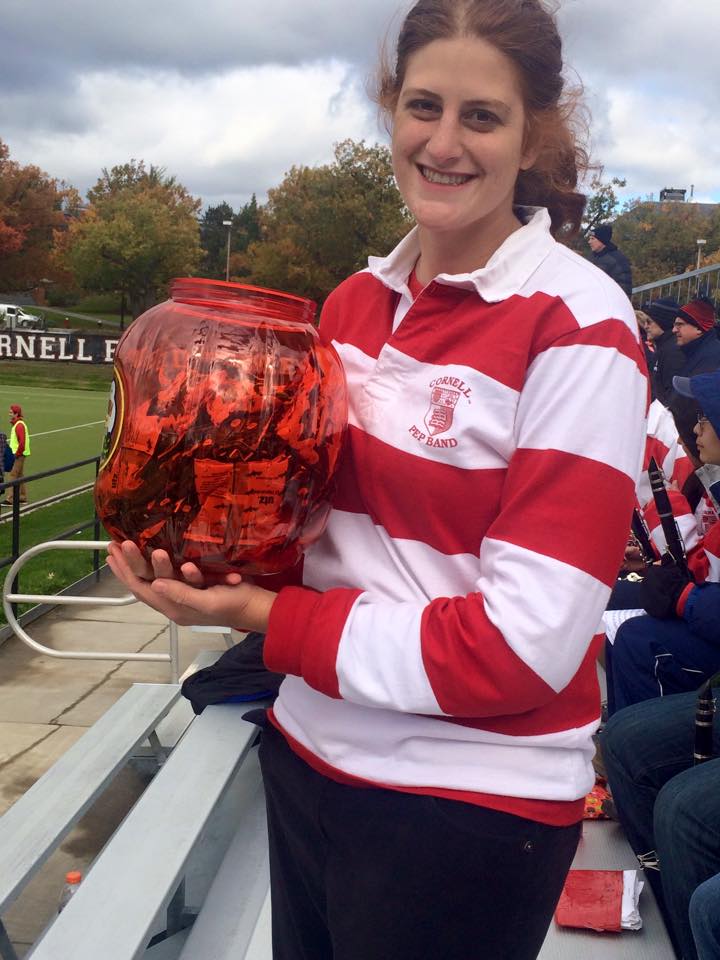 I am Emily, one of the Fall 2015 pep band conductors! You may recognize me from Band Notes last year because I was the one sending emails as Alumni Relations Chair. This year, I am actually writing an article that is more than just an introduction.
The fall has been going great so far! We have had a wide variety of sports and other events. Over the summer we were able to help out a local charity, Franziska Racker Center, by playing at an exhibition game with Cornell celebrities like Ben Scrivens '10 and Joe Nieuwendyk '88. We had a midnight debut at Big Red Blowout, played at two weddings, and most recently were played for a distinguished alum veteran Frederick Crow for Veteran's Day.
Red/White this year did not fall on Homecoming, so we missed some of you, but the night was still a blast. When the marching band traveled to Princeton, we had a skeleton band, in multiple senses of the word (instrumentation and Halloween Hockey) and provided lots of spooky cheer and energy for Lynah.
The men's team is looking pretty good this year. The band has played for shutouts (4-0 against Niagara), blowouts (5-1 against Colgate), and third period thrillers (4-3 against Princeton). We hope to see you there as Cornell takes on a classic rival, BU, at MSG. We should be in for an exciting game as well as an exciting spring!
As Vincent mentioned, we attempted the first ever Student Arrangers' Day. In addition to this being a very fun, intense two hours of sight reading and conducting, we have play new arrangements and have some in the works that bring the BRPB into the 21st century while keeping some of our more quirky roots.
We have a ton of new members this semester, both from the marching band as well as pep band only. One fun thing we did was having a duct tape folder making party and ice cream social. In addition to being delicious and a good way to meet each other, most members now have duct tape folder that will survive the Ithaca winter, as well as the Ithaca spring, fall and summer.
Conducting the pep band this semester has been a wonderful, at times challenging, experience and a great way to give back to the band my senior fall! I look forward to finishing the semester strong with Vincent, and having a spectacular spring.
Emily Miller '16