Oh, we are the Trumpets; we've had a great year/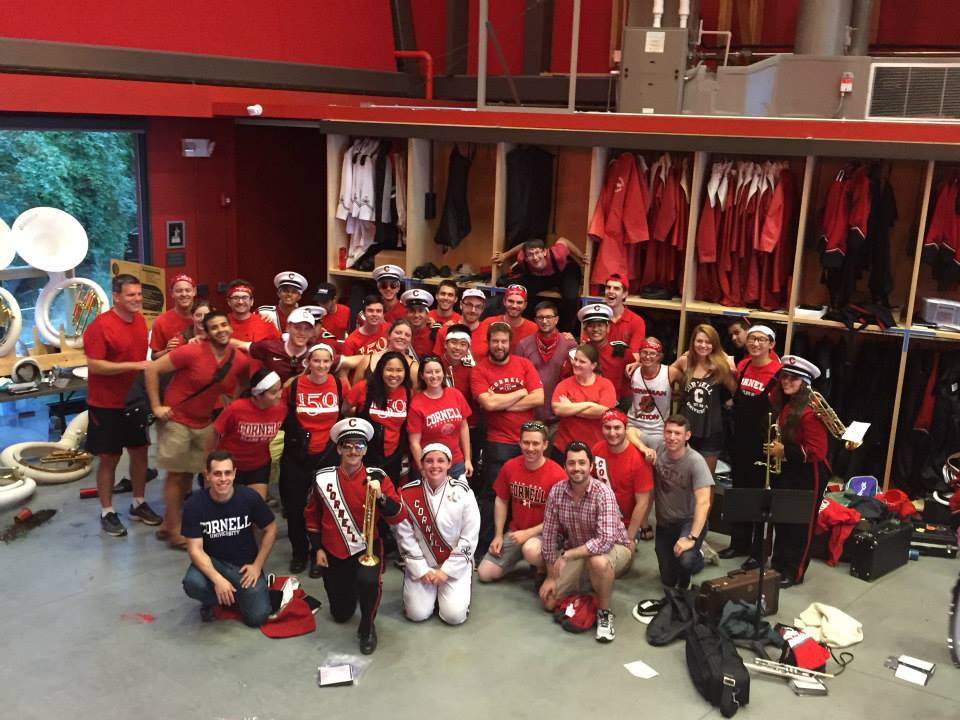 We played Spanish Flea and our other cool cheers/ But only so much can be fit in this song And what we have to say will be a bit long…er: The loudest and proudest section in the BRMB has added a number of talented new members to its ranks! This year's field shows included solos performed by Tim "Big Time" Coda '16, Luigi Widom '16, Pinto Smith '17, and Chris Sanchez '19. Under the leadership of Drum Major Michaela Olson '16 and Pep Band Manager Pinto Smith '17 (both members of the Big Red Trumpet Section), the Big Red Bands have experienced an exciting 2015 season. We're looking forward to continuing our tradition of pride and excellence in 2016!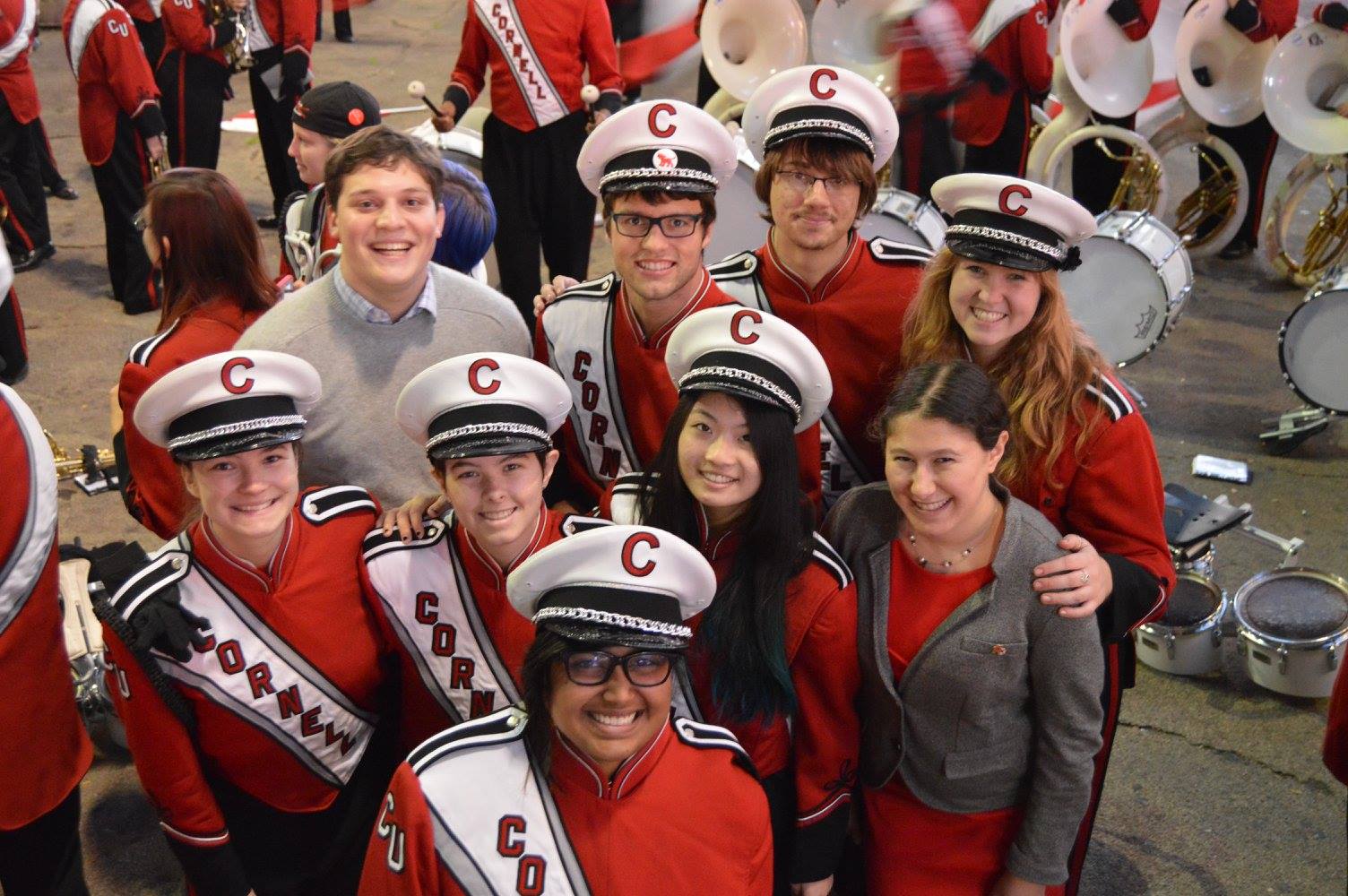 "The Big Red Horns saw an explosion of new members with 6 freshmen and 1 sophomore joining our rank(s). Our numbers went up 16, warranting the creation of Rank * (star)!! As section leaders this was extremely exciting! We also ran into the issue of not having enough instruments for the first few weeks, but a big Thank You to one of our lovely alums Sam Dean for loaning us her personal horn! Thank you to our Alumni for their continued support and (baked goods)! And Thank you to all of horn section for their continued dedication to the BRMB"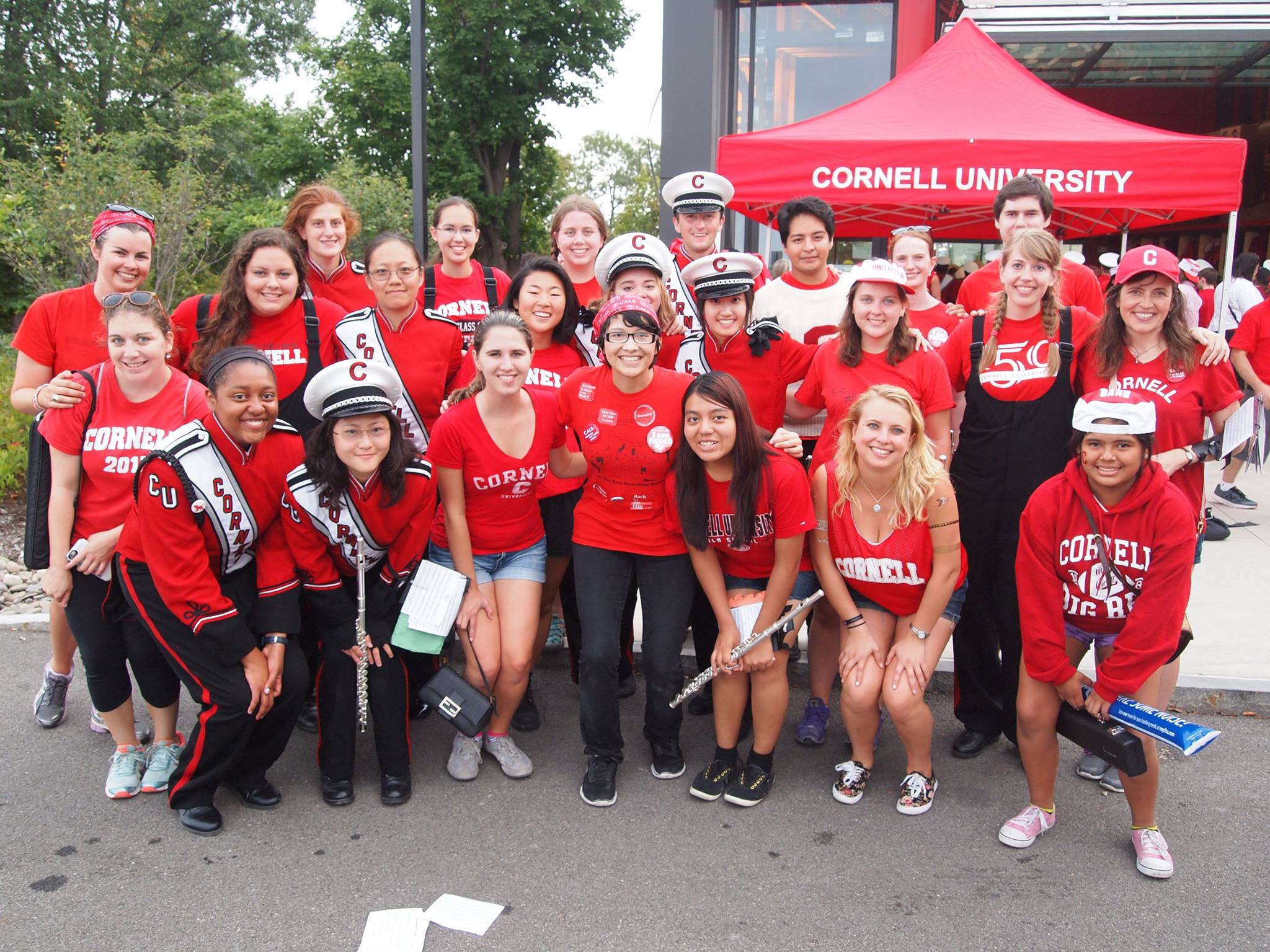 The Big Red Flutes had a great season! We had a great group of active new members this season, and can't wait to continue having them around. We continued the tradition of Fall Fancy Flute during rehearsal towards the beginning of the season, and we all looked fabulous. With parading, we have officially continued with the addition of the ripple at the end of the cadence. Overall, it was another great season filled with flove (flute-love) and fun!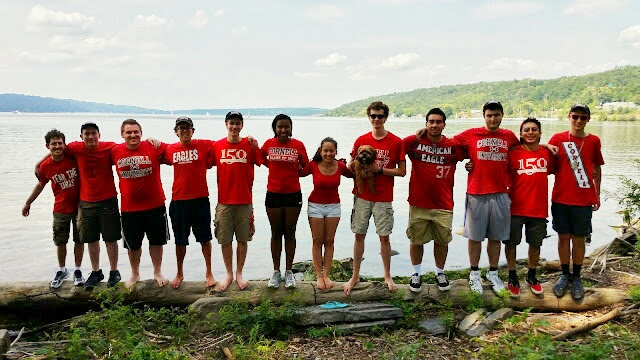 The Big Red Tubae have had a great 2015 season! We gained three freshman, a junior transfer, and a sophomore, filling ranks Hammer and Sickle. This year the power bottoms not only sounded great, but pinwheeled and gate turned too! Many thanks to the seniors, Josh Reichler, Jordan Silver, Graham Bastian, Marek Kwaśnica, and T$. And now announcing your 2016 Fearless Leader, Lewis Haber!
The guard has had an amazing Fall marching season! This year we welcomed 4 freshmen students as well as one sophomore transfer. This has been a season of growth and hard work for the colorguard. We worked with Showcomm to put more drill in our shows, and had a lot of fun marching through the band during Star Wars! During the four shows of this season we have also incorporated a swing flag solo by Rachel Langley, '16, a swing flag duet by Amanda Morrison '17 and Toni Sassano, '19, a short dance routine, and two rifle routines. Our dedicated members have had fantastic attendance at morning rehearsal and music rehearsals. We also have brand new show silks to show off! But on top of our hard work inside and outside of band, we still know how to have a lot of fun!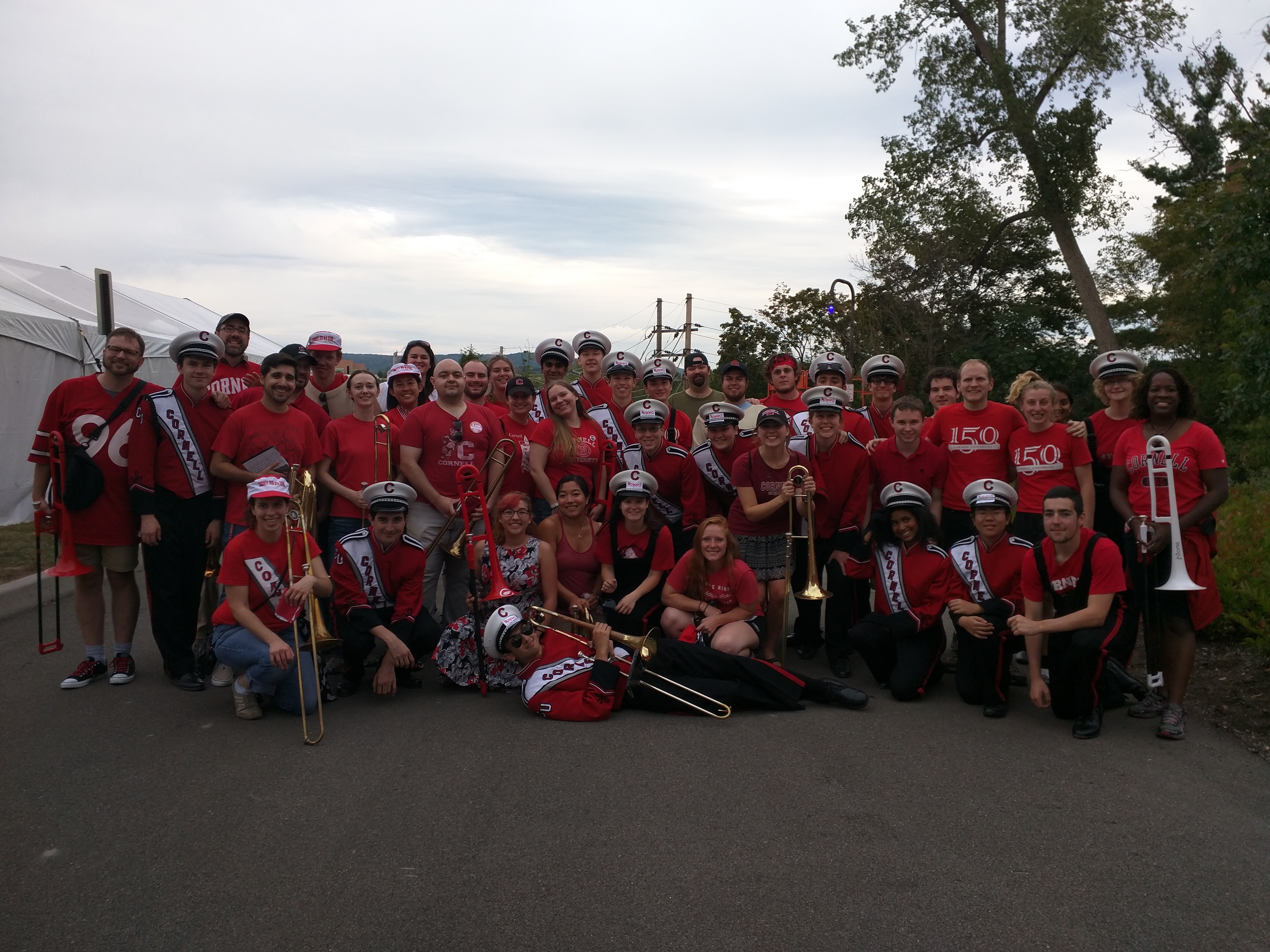 Da Bones are having a great year! We welcomed 12 new members to the section. In fact, there were so many new tones that we got two new instruments this year – Purity and Chaos. As part of the sci-fi show, we marched Back to the Future arranged by bone alum, Beaker ('94). Keeping the arranger tradition alive, a current underbone worked on a new cheersheet, which debuted at Red/White Hockey and has become a favorite for starting goalie Mitch Gillam. Outside rehearsal and games, we're enjoying the new house on University Ave, with its porches and awesome attic. Despite the new location, we continue to recognize time honored traditions like Hawaii 5-0, Guy Fawkes Day, Night of the Unknown Bone, and bone piling. As the season ends, we are eagerly awaiting the arrival of this year's bone apparel, Bone mittens, and looking forward to Grand Bonecoming next year.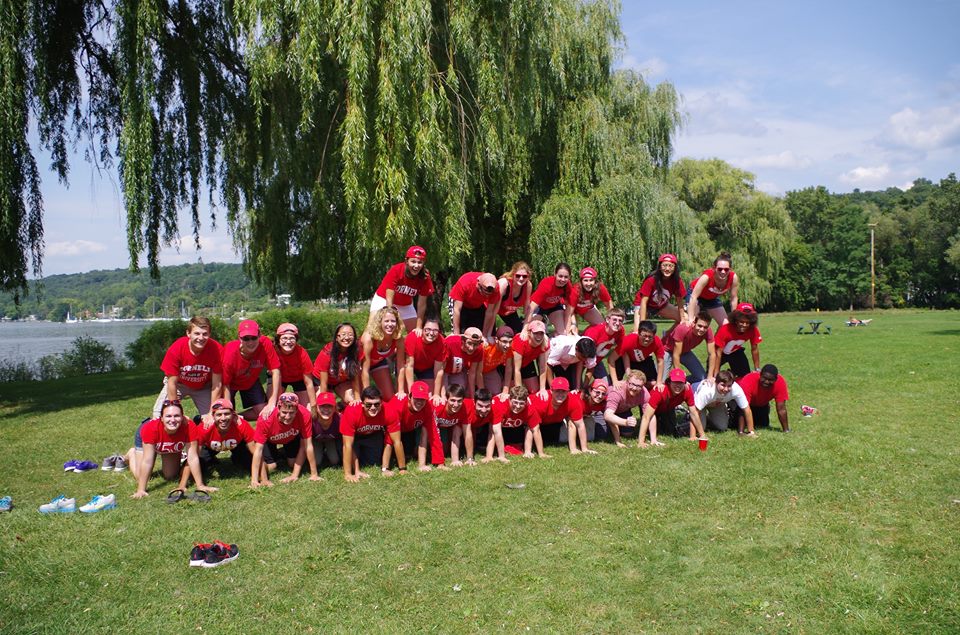 The Saxes have had the best season. We had an amazing, dedicated crop of freshmen, including enough tenors to fill up rank & and beyond! In addition, our Bari corps grew, and we have finally acquired a new Pickles (Cucumber? We're working on it.). We also took ARCH 1102: Advanced Sax Pyramiding to finally pull off the sax coliseum, and then took to Montreal and Buffalo in some exciting games before thousands of people! Through games, events, and looong bus rides, the sax section has spawned what are unequivocally the dankest of memes (and memers) in the band. Finally, we are proud to have our co-section leader, Sergio Preciado '17, as the new drum major for 2016!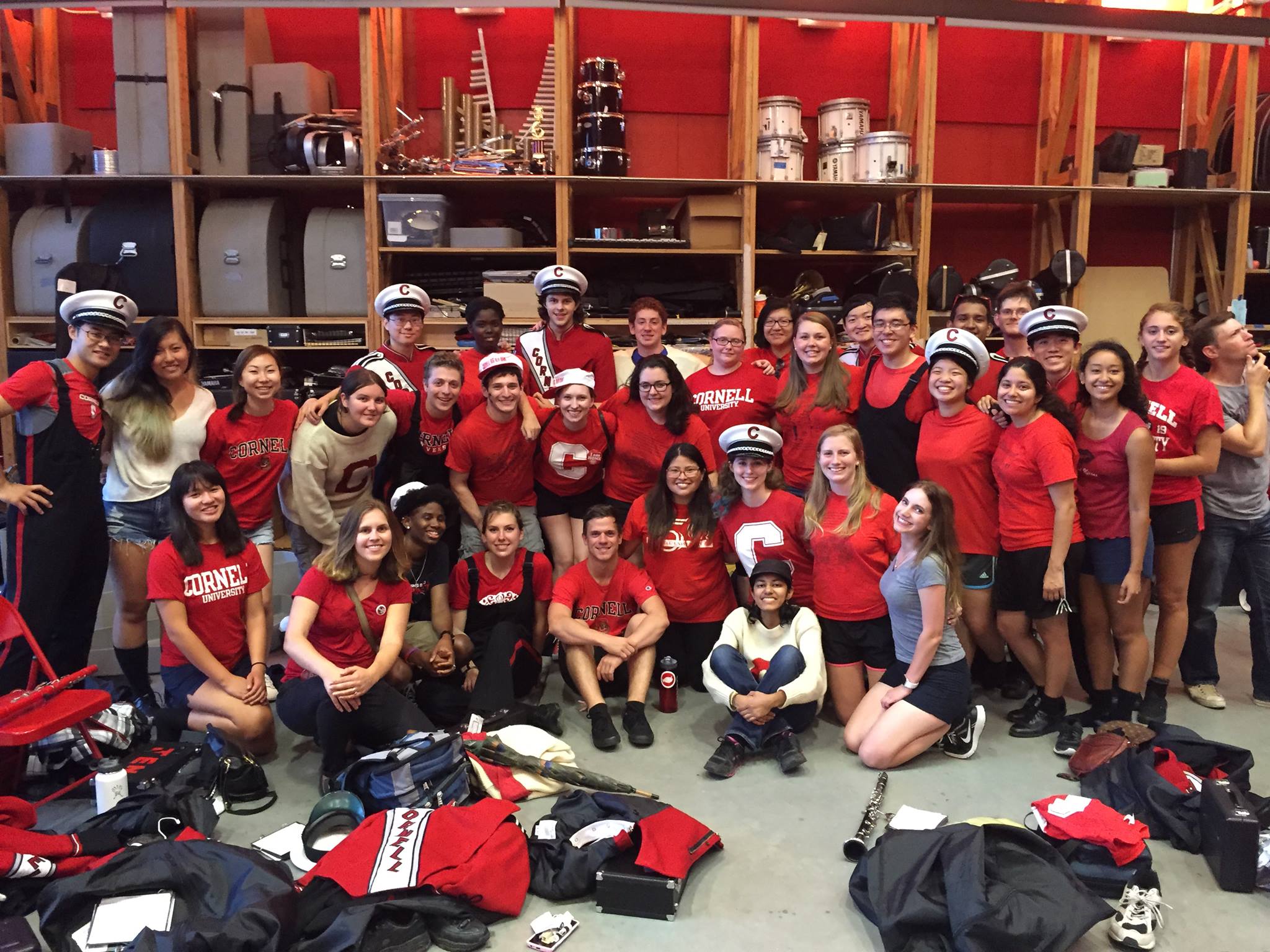 The Clarinets had a fantastic season! We welcomed an impressive class of 11 freshman plus one sophomore transfer who augmented the spamming of dank memes in the GroupMe. We started out the season strong by winning the Scavenger Hunt, although we didn't catch a live squirrel (goal for next year?). We also added a few new events to our calendar like pumpkin carving and laser tag as well as introduce the new "Move JB" during parading. Overall, we had an amazing year filled with two-hour lunches, toot tickling, and lots and lots of fun!! The end of the season also ends our two year reign as section leaders and we just wanted to thank the current and past section members for their phenomenal support. It's been our absolute honor and privilege to lead the section for the past two years.
  The Drumline abstains from BandNotes. But will still managed to get a picture of them.