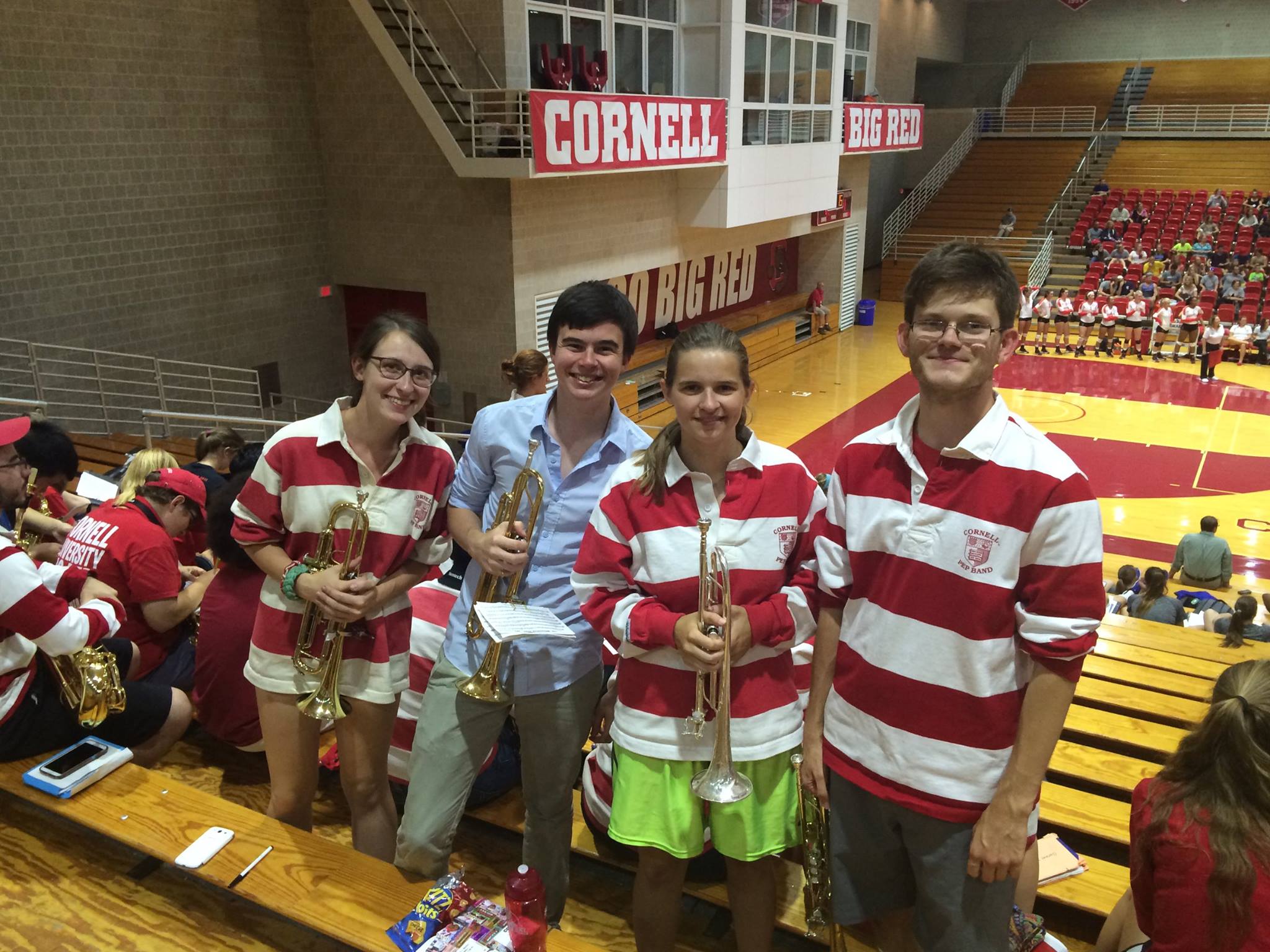 While the Marching Band season winds down, the Pep Band Season is surging into full swing as the Men's and Women's Hockey clubs began ECAC play just last weekend. Even though hockey is just starting up, the Pep Band has been very active already this fall. On top of Field Hockey, Volleyball and Sprint Football, the Pep Band has played at a wedding ceremony, the Big Red Blowout during orientation, as well as for notable Cornell Alum and decorated veteran, Frederick Crow '51. We welcome new membership this semester and they are already gung ho about joining the Lynah Faithful.
The conductors for the spring are Emily Miller '16 and Vincent Sheppard '17. They are two of the most enthusiastic pep band members I've ever met. They rejuvenated the band this semester with all sorts of ideas like a day for Student Arrangements and some great new rehearsal ideas. Conveniently, having two conductors in two years means that each can conduct their own band at Red/White hockey. This year was a hard fought battle between the bands. There was playful animosity from both sides and creativity in rewriting Taylor Swift lyrics to insult the other group. Ultimately I'm pretty sure the Red Band won, as all juniors and sophomores know, though you may hear another story from elsewhere.
The rest of this semester holds even more excitement! There are three more hockey weekends in our future, with Colgate bringing a band to Lynah, Clarkson coming in during the last weekend of the semester, but most of all, Red Hot Hockey at Madison Square Garden is coming up! The Big Red takes on Boston University on the biggest stage of the year (besides the NCAA championship, of course). The Pep Band will be out in full force to support our team during the game, so come stop by and say hi!
Keep an eye on the Pep Band next semester as we travel on three away trips, to North Country (1/29, 1/30), Quinnipiac and Princeton (2/05, 2/06), and of course, Harvard and Dartmouth (2/19. 2/20). Otherwise how will Cambridge know who loses and who dies?
This is the last Band Notes I will write as the Pep Band Manager, so I just wanted to thank everyone who made this year so spectacular. I'll never forget the innumerable lessons that bossing around a couple hundred people taught me. I can't wait to see how the rest of the semester plays out and I can't wait to see all of you at our various events. Let's Go Red!
-Henry "Pinto" Smith
2015 Pep Band Head Manager