The Big Red Flutes had another great season! One new thing we tried this year is Fall Fancy Flute. During an early September Tuesday rehearsal, the flutes dressed up in their best attire (formal dresses and suits) and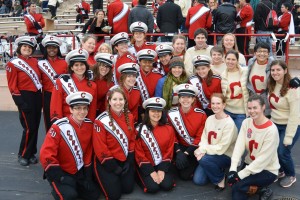 marched the rehearsal like nothing was different. (What can I say, we are super classy.) Musically, we had important roles in The Sorcerer's Apprentice, and we even had a "solo" part for us in "The Incredibles." Ok, we all played the solo because why would we deny the band and audience any flute sound? Finally, in order to celebrate the sesquicentennial at the last home game we did 150 flute ups! It was a full band effort, but we made it! Thanks for a great year!
The Saxes have had an awesome season. This year we had a HUGE freshmen class of more than 20 new saxes!  Additionally, we have introduced two new cheers into ou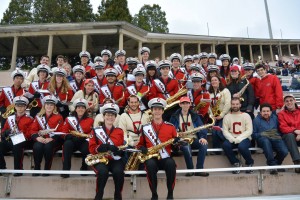 r repertoire: Game of Thrones (Anita Mbogoni '15) and Seize the Day (Courtney Stokes, PhD).  This has also been the season of many sax solis.  In the Broadway show, the saxes were featured in "Seasons of Love", and in the Pixar show, Ben Siper ('17) and Sergio Preciado ('17) blew the audience away with an awesome duet in "The Incredibles".  Thanks for an amazing season saxes!
The Clarinets had another amazing season. We got an awesome class of freshman (plus a junior transfer) who created a new tradition of all ordering strawberry smoothies after Thursday rehearsals from Libe Cafe, much to the bewilderment of the baristas. We've continu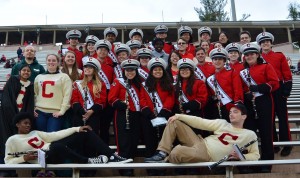 ed our long-standing traditions of laying down during Throwdown and Move 99 while parading, while also formalizing a few new ones, most notably: "Scatter-9" during Firebird and the "Swag-Surf" while parading. All in all, we had a great year full of shenanigans, laughter, and glazed ho's!
2014 was a fantastic year for the only REAL Horn section in the Ivy League. We graduated our horn mommas of two years, but we've been under the strong leadership of our two horn dads, or "manmoms" as they are commonly known. This year, we have welcomed three freshmen and a junior transfer (the third straight year we've added a transfer stud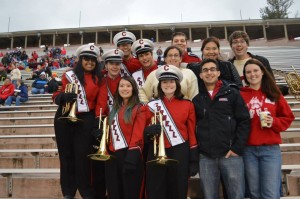 ent!) and they have all been fantastic additions to our horn family. We're also proud to say that we are one of the best represented sections at pep band, as almost every single one of our members is active in the Big Red Pep Band. Whether it's spontaneously creating new parade moves every game day, losing our voices at Lynah, pickle dancing or laughing at our absurd jokes, the horns will continue having wacky, yet memorable adventures with our band friends.
It was another exciting year for Da Bones of the BRMB! We were happy to wel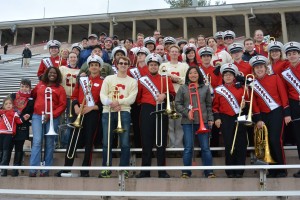 come 10 new bones (and tones) to the section in August. Among them was the long awaited appearance of Chopper! We continued traditions like Talk like a Pirate Day, Night of the Unknown Bone and the weather during Hawaii 5-0 was actually a bit chilly.  Additionally, we've announced the relocation of Bonehouse. After 10 years in the current Bonehouse, we're look forward to a fresh start at our new house, as well as the rest of the exciting events in the coming year.
The Big Red Tubae had an excellent 2014! We started the year with six new members (five freshmen and a junior transfer), making us quite possibly bigger (and uglier) than ever before. With the record growth in the past couple years, Rank ? was even reinstated, so that the tubae once again form ranks Hammer and Sickle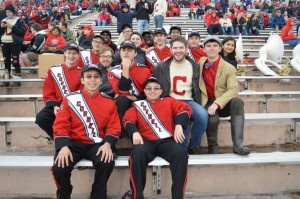 ! Many thanks to seniors Nate Floro and Kevin Mollica, who guided us through the trials and tribulations of 2014, and will be sorely missed. Looking to the future, Istvan Burbank '17 is taking the reins as Liaison, and we couldn't be more excited for next season!
The Trumpet Section has continued to be as loud and proud as ever. We were lucky to have a great group of new members join our ranks this season, bringing great new energy to the section! We held up our tradition of excellent performance on the field. This year our soloists included Melissa Harbert '15, Schwegger H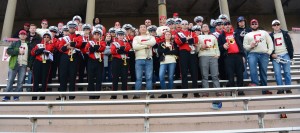 olmes '15, Tim "Big Time" Coda '16, Luigi Widom '16, and Pinto Smith '17. The Trumpets are also proud to have one of our own start her second term as Drum Major; congrats Michaela!
The Guard had a great season!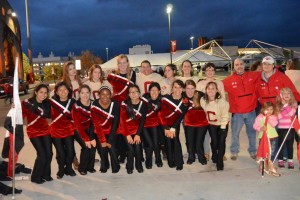 The Drum Line is still too cool to be in Band Notes!