Hello Big Red Bands alumni! My name is Anita Mbogoni '15, I'm a senior Biology & Society major, and this semester I've had the great honor of co-conducting the Pep Band. Some of you may remember me from last year, w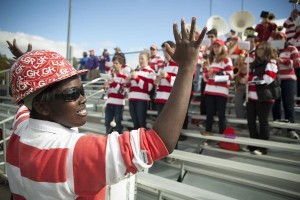 hen I served as co-Alumni Relations Chair, and as Clarinet Section Leader. It was great to see so many of you at Red/White, and at the Frozen Apple hockey game at Madison Square Garden!
The Pep Band has sounded wonderful this semester! Though I once thought that I would be more rehearsal-oriented, I've come to look forward to our many events even more than I look forward to Mondays at 4:45 in the band room. The high level of energy – and the HUUUUGE wall of sound – that the band puts forth for the crowd is absolutely amazing, whether we're playing at a Sunday morning field hockey game, a mid-week basketball contest (we won our home opener!), or in Lynah on a Friday night.
I'm very involved on campus, but nothing else is quite as fun, exciting, and rewarding as conducting the Pep Band has been this semester. As my time at Cornell comes to an end (less than 180 days until Commencement… scary), I know that I'll have fond memories of my time in the Big Red Pep Band for many years to come.
-Anita Mbogoni '15
Hey alumni! My name is Victoria Dye, I'm a Computer Science major in the class of 2016, and I'm lucky enough to be the other (younger) half of this semester's pair of pep band conductors! As with many experiences in the band, nothing quite prepared me for the surprises it had in store for this semester. In the midst of meeting excited new members and getting ready for the start of hockey season, we found ourselves travelling to Colgate to play for a varsity football game, having more than 20 past conductors at the homecoming Red/White hockey game, and even playing at a wedding!
Maintaining our reputation as the best pep band around has been no easy task, but the band has, of course, been up to it. This semester, along with attending a wider variety of events, we've seen a variety folder additions, from new arrangements like "Crazy in Love" and "Come On Eileen" to revisiting old songs like "Sing Sing Sing." No matter how difficult our music and rehearsals get, I'm constantly impressed with the band's ability to put together a performance that gets everyone excited, no matter the event. That characteristic is what sets us apart from other (lesser) pep bands – we always know how to put on a show and, whether I'm waving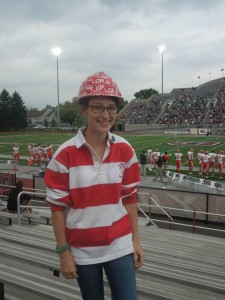 my arms or playing as loudly energetically as possible on my trumpet, I'm proud of the role I play in that.
From the first time I sat out and listened to the pep band (it was the Alma Mater before Senior Night hockey), I have never gotten tired of hearing this band play. I've enjoyed my time as conductor immensely – not only do I get to listen to the band, but I get to share my enjoyment of what is probably the most fun you can have at Cornell with current members and alumni alike. More than anything, though, I look forward to watching and hearing the band continue to improve and always enjoy itself, and I hope you'll all be there to watch it with me.
-Victoria Dye '16
 The Band plays Halloween Medley on Halloween!