Hey Alumni!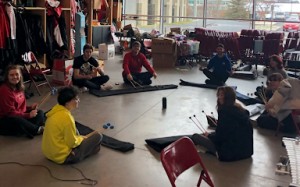 My name is Patrick Thieblemont and I am one of the current drum captains. For those of you who don't know, the Cornell Indoor Drumline (CUID) is a student-run competitive percussion ensemble that performs a marching floor show featuring both a front ensemble and a battery in the New York State Percussion Circuit, with competitions taking place over the winter. Last year, we took 1st place at NYSPC Championships, and we hope to continue our success this season!
This year's indoor drumline's show, titled Wonderland, is based on Alice in Wonderland, a journey from reality to a strange alternate world and back again. We got creative with our costumes this year, with the front ensemble acting as the tea party participants, while each battery subsection dresses up as a different suit of cards. Keep an eye out for Jiho Cha, center snare and battery captain, who will be acting as our Queen of Hearts! We will also have an Alice student performer on the floor, moving around and interacting with the battery throughout the show. We are so excited to perform at our first competition at Cicero North Syracuse High School on March 4th!
If you are interested in learning more about us or would just like to see what we do, check us out at http://www.cuindoordrumline.com/.
Come see us:
Show 1: Cicero North Syracuse HS, Sat 3/4
Show 2: East Syracuse Minoa HS, Sat 3/18
Show 3: Victor HS, Sun 3/26
NYSPC Championship: Gates Chili HS, Sun 4/2
Wish us luck!
Patrick Thieblemont '25