Hey BRBAA!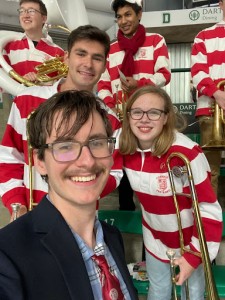 My name is Max "Slice" Scialabba, your 2023 Pep Band Manager! I'm a sophomore trombone player and former Pep Treasurer from Westfield, NJ, majoring in math, computer science, and physics.
I've entered my term riding the momentum we've gathered over the last years. Attendance is the highest it's been in several years – we're routinely filling up hockey games and bringing over 70 people to rehearsal. I'm really excited to continue fostering the strong community I've seen grow during my time here.
I'm writing this in the wake of our second trip to Colgate, and while our play on the ice has been a bit disappointing while we're away (a win and two losses), people have been really enjoying themselves away. One of the more exciting things for me has been the number of freshmen at events – we were able to bring over ten new members to our first overnight trip to Dartmouth / Harvard. In the works are another trip to Yale / Brown in two weeks and possible playoffs for both hockey and basketball.
At home, our weekends have been packed juggling the winter sports. While women's hockey and men's basketball haven't had favorable schedules, we've gone to support them whenever we can. Home hockey is just as strong as ever – a 10-1 routing of Union will show that – and the band is just as enthusiastic as they can be when I forget the newspaper in the office every other game. We've clinched a home playoff series, so there are still plenty of opportunities to see us perform in Ithaca!
We're also trying to reach out to other sports and give our members a chance to perform outside of the traditional hockey. We had a two meet homestand for #5 in the nation's men's wrestling, where we got to see the best wrestler in the country sit on a guy for three minutes (Go Yianni!). I've heard from tennis, track, and polo with interest in us performing or even just getting to interact with teams. We've never felt closer to the Cornell community while keeping our individual spirit.
I'm looking forward to continuing the interest and keeping the pep band as fresh and exciting as the traditions will allow. Hope to see you all at an event or just to say hi

Here's to a Big Red Year!
Max "Slice" Scialabba, '25