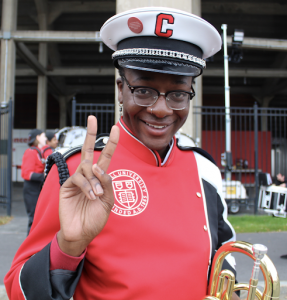 Hello Alumni!
I'm Beyan Kesselly, and this year I will be the 2023 Head Manager. Previously, I served as one of the 2022 Horn Section Leaders, but I am excited to take a bigger role in band leadership this year. I am a Junior from Newark, Delaware that studies Biological Sciences in the College of Agricultural and Life Sciences.
This year I have a lot of plans for the marching band. Last year the previous Head Manager, Bella Burgess, split up the Philanthropy Coordinator and Diversity Chair into two different positions, the Philanthropy Coordinator and the Diversity and Inclusivity Chair. This year I plan on further defining the role to ensure that we are promoting diversity and making the band a safe place for everyone. We plan to have the Diversity Chairs work with the pub chairs to educate our followers and community about the diverse groups that represent our band. Also we will be bringing back training for bandstaph to ensure that we are properly promoting diversity in the band. Lastly, we will aim to either host events for different underrepresented and/or marginalized groups or promote events around campus for these groups. As a member of multiple marginalized groups, I want to further build communities in the band for people like me.
Additionally, we want to promote retention since we are losing a large portion of our band when the class of 2023 graduates. I plan to host personal events with our Drum Major, Nina "Pauws" Ellison similar to the HM/DM breakfast on north campus. Additionally, I want to expand the Special Events Coordinator role to host more events for our band community. We will also continue with the uniform fundraiser by shipping out the uniform jacket pillows and making plans for the uniform pants and drum major uniform.
In terms of our marching season, this year we will be returning to Penn again. We will also bring back the Yale and Harvard Trips. It will be the entire band's first time going to these schools for marching band as the marching band has not gone to Yale or Harvard since 2019. I plan to bring back our performance at Herald Square Park in New York City and continue to do our Faneuil Hall performance in Boston again.
I am looking forward to the amazing year we will be having this year, and to meet you all at our many events. Stay tuned for more information on our Giving Day performance this year!
Beyan Kesselly '24