Hey Alumni!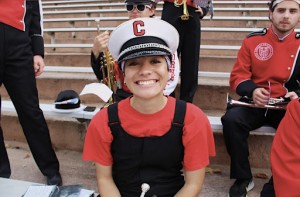 My name is Nina, but most people in the band know me as Pauws. I'm beyond excited to serve as your 2023 Drum Major! I'm a sophomore from Sturbridge, Massachusetts pursuing a major in psychology with a minor in theater. After graduation, I plan to go to law school with a focus in family law. Last year, I was your Show Committee Chair. I loved helping to run rehearsals, teach the band a new dance break, and learn how much work actually goes on behind the scenes.
Speaking of shows and music…I have a couple of goals for the upcoming year! I'd love to bring our new sound to older songs that we haven't played as much. This will ensure that we don't lose any traditions following the graduation of the last pre-COVID class of bandies. We'll be working on this during spring music rehearsals. Hopefully we'll be able to get some of them onto the Giving Day livestream this year! I'm also looking forward to working with this year's Show Committee to build shows that include a wide range of genres and artists, as well as introducing new music to the folder that really highlights our band's overwhelming talent.
New member retention over the course of this year is essential. Like I mentioned earlier, the class of 2023 is the last pre-COVID class, and they're leaving behind some big shoes to fill. I recently held a section leader forum to discuss recruitment and to establish open communication. It was refreshing to hear everyone's ideas and get a better understanding of the band's leaders so early in the season. Our Special Events Coordinators have terrific plans to get people out of their shells, and I can't wait to see them come to fruition!
I'm looking forward to traveling to the Ivies that we haven't visited since 2019. I have no sense of direction, so it'll definitely be an adventure navigating their campuses. This season is going to be incredible, and we're excited to share our music with you all. I'm sure going to miss playing my trumpet, but I've always wondered what it's like to be on the other side of the Moose…
I can't wait to meet you all at reunion and Homecoming!
Nina "Pauws" Ellison '25