Hey Alumni!
I am back after an exciting season full of new experiences and par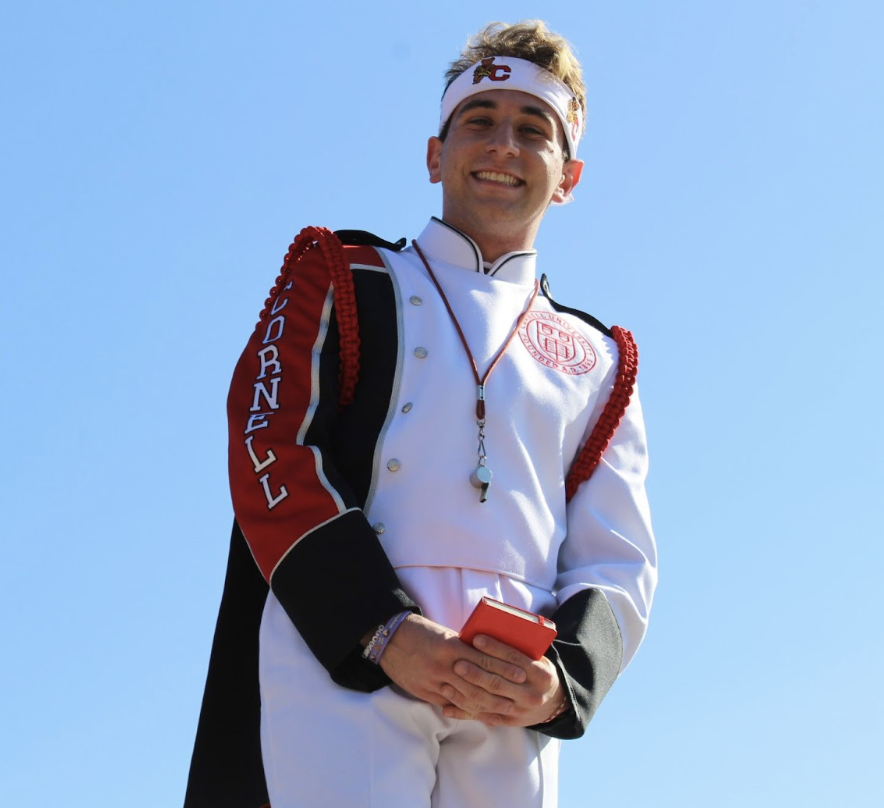 ades in NYC! From the beginning of August, until our last game in November, the band has been hard at work, accepting over 100 new members, traveling to new places everyone in the band has never been before, persevering through tough situations, celebrating in moments of glory, honoring those who have passed, and having the time of our lives in the only REAL marching band in the Ivy League!
Our first show follows a couple in their journey and pursuit of love. We called it the "Love Show". I put this in quotations because it is really never that simple! The show starts off with the two parties of the couple sharing that they will never break each other's hearts with our rendition of  "Don't Go Breaking My Heart" by Elton John and Kiki Dee, featuring a trumpet and bone duet in the beginning. After the first half of the football game, our couple finds themselves going back on their promises and breaking up :(. We kicked off our halftime show with "Good 4 U" by Olivia Rodrigo, showing the anger the couple feels towards each other after this breakup. But in the end, our couple will always have each other on their minds, rounding out our halftime performance with our homecoming song "Georgia on My Mind" by Ray Charles. I am so glad this was the homecoming song this year since it is one of, if not, my favorite songs in the folder and the song I conducted during Senior Concert. We played this show for Homecoming and against Harvard at our Friday Night Lights game.
Our second show of the year was called the A Night Out show. This show took the audience through the experience a typical college student has during a night out. Starting off with our Pre Show, Whitney Houston's "I Wanna Dance with Somebody" set the scene. With this song, we wanted to show the excitement we typically have right before or at the beginning of a night out, yearning to find somebody to dance with! For halftime, we are at the party and ready to get loud with our rendition of "Let's Get Loud" by Jennifer Lopez. This song featured an awesome drum break written by our 2022 drum captain Peter Bell ('24) and a dance break choreographed by our 2022 show committee Nina "Pauws" Ellison ('25). Finishing off our night out, we played "We Are Young" by fun. At the end of the night, everyone is sentimental the night is over but we must remember, we are young and have so many more amazing nights ahead of us! We played Show 2 at home against Lehigh, who was a pleasure to play alongside and we are so glad came and visited us in Ithaca. After this particular game, the son of the last football coach who led an undefeated football team asked the band if we could play our post-game concert at a tree in the parking lot which was planted in honor of his father. Of course, we said we were glad to and played for him and the team of football alumni who were on the 6-0 undefeated team! It was a beautiful moment that I will never forget, conducting Cornell Medley and all of the alumni knew every lyric to every song and swaying alongside the football members as they cried in remembrance of their late coach. This group of alumni come to every home football game and are actually the owners of the Cornell Van the trumpets stand on top of during the Alma Mater at our Tailgate performances.
We also played Show 2 on our first away trip of the season at Brown! This was the first time everyone in the band had traveled to Brown for marching band. Though this brought some challenges, it was so exciting visiting a new school and playing with a really cool group of people in the Brown band. That was also my very first time in Rhode Island!
Our third show was the Boy Bands Through the Ages show. We hit three different boy bands from three different parts of the first (20 or so) years of our lives. Keeping in chronological order, our pregame show featured "Bye, Bye, Bye" by NSYNC, and our halftime show starting with "Drag Me Down" by One Direction and "Dynamite" by BTS. The idea of having a boy band-themed show floated around as a suggestion for the past few years, so we were all very excited to pull it off this year. These high-energy songs provided the perfect pick me up that was very much needed near the middle of our marching season. We had the honor of playing Show 3 at Princeton, which again, was everyone in the band's first time going there for marching band. I also had the pleasure of inviting my high school band director to come to see us, since I am from New Jersey. While she was surprised by the lack of rigidity and discipline, she kept raving about how much everyone seemed to be genuinely having fun and had so much Big Red Spirit, which is truly what the BRMB is all about. While the Brown trip and the Princeton trip were back-to-back weekends, we still had amazing attendance and everyone was excited to continue to support the football team and make amazing memories. We also played Show 3 a week later at home against UPenn, rounding off our performances of Show 3.
The final show we performed this year was the Curtain Call show. This was the senior's last show ie. our curtain call. This show featured songs from musicals, ending the year with a bang. We welcomed the audience to our last show with the banger of the song "The Greatest Show" from The Greatest Showman. This song featured a circus tent formation with the tent opening and our 2022 guard captain Skyler Krouse ('23) performing a breathtaking flag solo with two beautiful swing flags. For the halftime show, we played our rendition of "Another Day of Sun" from La La Land arranged by our very own Bobby "Duck" Haig ('25). This is one of my favorite songs from a musical and I am glad it was the last song I conducted on the field. For the senior song, the band performed a mashup of the songs "I Lived" by One Republic and "Thank You for the Music" by ABBA arranged by me! I feel so honored to have arranged our senior song this year and I couldn't have asked for a better class to dance around the field with and sway with during the Alma Mater. While we only played this show once since Columbia was not allowing us to go on the field, the senior concert was a perfect way to wrap up the season.
But this was not the end of our season! As a special epilogue, I had the honor of leading the 50th Sy Katz parade in NYC. This experience was so surreal for me. I remember following the band parade through the city in 2018 before I got accepted into Cornell hoping to one day be a part of such an amazing organization. It honestly feels like a dream, calling the band up to attention, parading down 44th street, and conducting the Evening Song for the very last time in front of the Cornell Club. That experience is one I will never forget and cannot wait to watch the band do it all over again in two years.
It is so hard to believe that my season has already come to an end. I am so grateful and honored I have been able to serve as your Drum Major this year. I have had some of my best memories and experiences at Cornell and in my life during this season, and I would not trade it for the world. Thank you, Bella, section leaders, the Saxophone section, show committee, all of bandstaph, and most importantly YOU, for giving me a life-changing experience and giving me a place I have called home for the past four years. I cannot wait to C U far above Cayuga's waters next year at homecoming!
GO RED DAMMIT!!!!!
~ Zack Kozma