The Fall semester has seen a lot of action for the pep band as we continue to rev back up to full speed after the 2021 Covid year. We started the season with Women's soccer and volleyball. Many band members had never attended a Cornell volleyball game before and we had a lot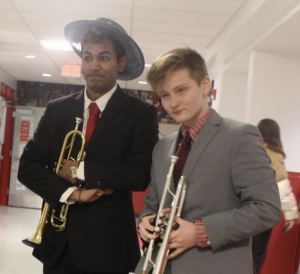 of fun! They're a little long, but the team really enjoyed us being there! I've recently caught some flack for forgetting to ask the volleyball team for pizza, apparently, that's a thing that usually happens. I guess we'll have to rely on the lacrosse fans in the Spring for our pep pizza fix. There were numerous challenging conflicts with marching events that kept us from performing for the Men's soccer team who had an excellent season, making it all the way to the third round of the NCAA tournament. Our conductors this year, Elliot Overholt '23 and Harris Greenstein '23, did a great job keeping us in time and learning on the fly as we relearned what had been lost to the annals of time (read as covid year really has been throwing us for a loop).
We had our second annual Red/White Crumpets game where the band both plays crumpets and plays cheers for the people playing crumpets (if you don't know what crumpets is, google 'New York Field Crumpets'). We also got to see the return of Red/White hockey which was a great introduction to our Lynah antics for new members. Outside of sporting events, many members have been bonding over dinners at Okenshields after pep rehearsals and sitting into a hockey lecture delivered by one of our newly elected Spring '23 conductors, David 'Dubs' Kaprielian '25, all while enjoying ice cream and decorating their music folders. We also have an arrangers' day workshop coming up where we'll celebrate the last day of classes and work on some student arrangements that may be put to the test next semester!
Pre-Season hockey gave us a taste of the Lynah atmosphere as the team continued their unbeaten preseason record against Ottawa and Guelph. They had a rough start to the season with 6 away games resulting in a 2-4 opening record. For their last away weekend, we got to travel to Saint Lawrence to watch Cornell win big, handing them their first home loss of the season. Unfortunately, we were not able to go to Clarkson due to the last home football game of the season. After a bit of a rough start, however, they came home hungry for wins and are now rolling on a 4 game unbeaten streak. Last weekend at MSG saw a decisive win over #6 ranked UConn, and we're hoping that energy gets carried into the home games against Harvard and Dartmouth this weekend!
Men's basketball has had a strong start to the season sitting at 5-1, and we're excited to make it to their games next semester! The women's basketball team has had ups and downs, but we believe they're on an upswing heading into the end of the semester. Looking ahead to the Spring semester, we're extremely excited to rebuild our relationship with wrestling, cheer on both basketball teams, and get into the lacrosse season! We also have a handful of trips planned! January 27th and 28th we'll travel to Dartmouth and then Harvard to start the semester off with a band. We'll also head to Colgate for a day trip on February 11th. Our last planned trip of the season has us trekking out to Rhode Island and Connecticut to face Brown and Yale on February 24th and 25th. Hopefully, we'll see some strong playoff runs from a number of teams as well!
We have had a great time serving as your 2022 Pep Band Managers and we can't wait to pass along the torch and enjoy the Spring season!
Peace & Copious Amounts of Pep,
Aiden Thomas '23 and Zakir Ahmad '23