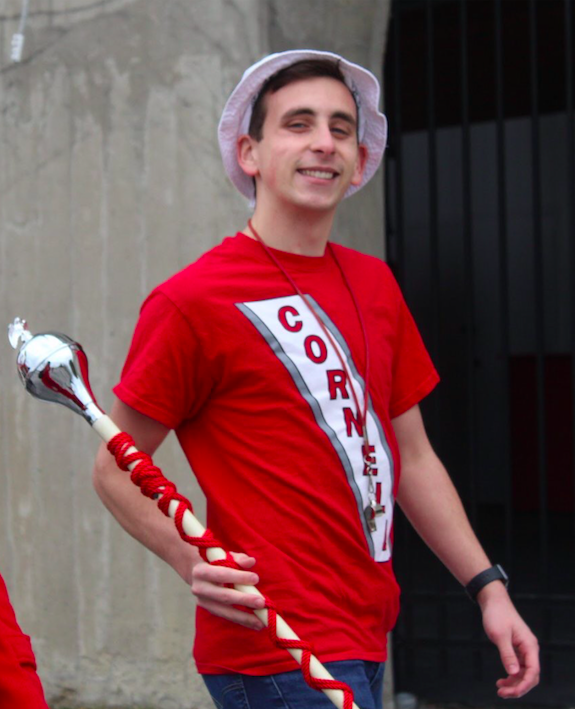 Hey Alumni!
My name is Buckets (some of you may know me as Justin) Kozma and I am the Drum Major for 2019! I am a junior Animal Science major, on the Pre-Veterinary track, from Randolph, NJ. My home while at Cornell, however, is the lovable and mighty Trumpet section. Outside of the Big Red Bands, I am a Hunter R. Rawlings III Research Scholar, currently working at the Wildlife Health Center on a research project involving native wildlife and rodenticide levels. Furthermore, I volunteer my time at the Janet L. Swanson Wildlife Hospital near East Hill Plaza feeding, handling, and treating the injured wildlife of the area.
Now that you know a little about me, it's time to get into the current state of the Band! We started off the year strong in March by having our first music rehearsal where we not only worked on those beloved difficult concert songs such as "Firebird" and "The Hand That Feeds," but we also said hello to the newest member of the folder, "Phantom of the Opera." The following week, we paraded through campus and into the Statler Hotel to kick off the annual Hotel Ezra Cornell event! It was our first time parading and performing this semester, so the Band had a blast getting back into the swing of things. The next day, we had our Giving Day concert. Thank you so much for voting for your favorite songs and tuning in, it was a blast! In April, we have a lot of events and rehearsals to help spread school spirit, from Cornell Days to CALS Day. On April 27th, we will be having our annual Spring Concert in the Ithaca Commons, so if you are nearby or in town, make sure to come see us!
Looking ahead, Homecoming is October 4-5 this year and we are celebrating the 50th year of Women in the Band! We are making this a very large event and would love every single one of you to join us for this momentous occasion. Because of such extravagance, the Homecoming song this year is going to be a dedication to all of the women of the band rather than a song traditionally picked from the folder. The song will be "(You Make Me Feel Like) A Natural Woman" by Aretha Franklin and it will be added to the concert folder as a tribute to the celebration of our history. The arrangement for the song will be sent out well in advance to give all a chance to practice! Other notable events occurring in the fall will be our Yale Trip and Herald Square Performance in late September, Harvard Trip and Quincy Market Performance in mid-October, and Penn(Sucks) trip in mid-November. I hope to see you all at least at one of the upcoming performances this year! Whether that be Spring Concert, Reunion, Homecoming, or some other game, feel free to come and say hi, celebrate your times in the Big Red Bands, and remember the good old days on the hill (yes, THAT hill!)
And most importantly…Go Red (Dammit)!
Justin "Buckets" Kozma, Drum Major, Class of '20