Hey Alumni!
The Big Red Marching Band is wrapping up another year of practices, performances, and shenanigans. As the year comes to a close, I am incredibly thankful for the growth I have seen – within myself, individuals in the band, and the organization as a whole. The job has been strenuous at times, but nonetheless rewarding to be able to create a place where bandies, old and new, can have the time of their lives. Although my time with the band and at Cornell is coming to an end, I know that I will always have a home with the BRMB.
The start of the season was a whirlwind of activity, with recruitment yielding our largest new member class yet. We auditioned nearly 150 people, and a good number of them stuck around for the rest of the season. We celebrated our last First Night at the Nines, as it closed in mid-October. First week flew by, with notable memories including hiding from a rainstorm during our band camp parade and the ever-exciting Parade to North. We wrapped up pre-football season events with CU Downtown, performing with the pep band and building our relationship with the Ithaca community.
Our first football game of the season was Homecoming, one of the most exciting days of the year! One of my most cherished memories will be singing Evening Song with generations of bandies and a gorgeous Ithaca sunset providing the perfect backdrop. We had a few more home games and a weekend off before heading to Brown and Princeton for back-to-back away games. We then re-lived our high school experiences under Friday night lights with a home game versus Penn. The season was capped off with senior concert and our trip to Columbia, where we got to disturb New York City with one of my favorites parades to date!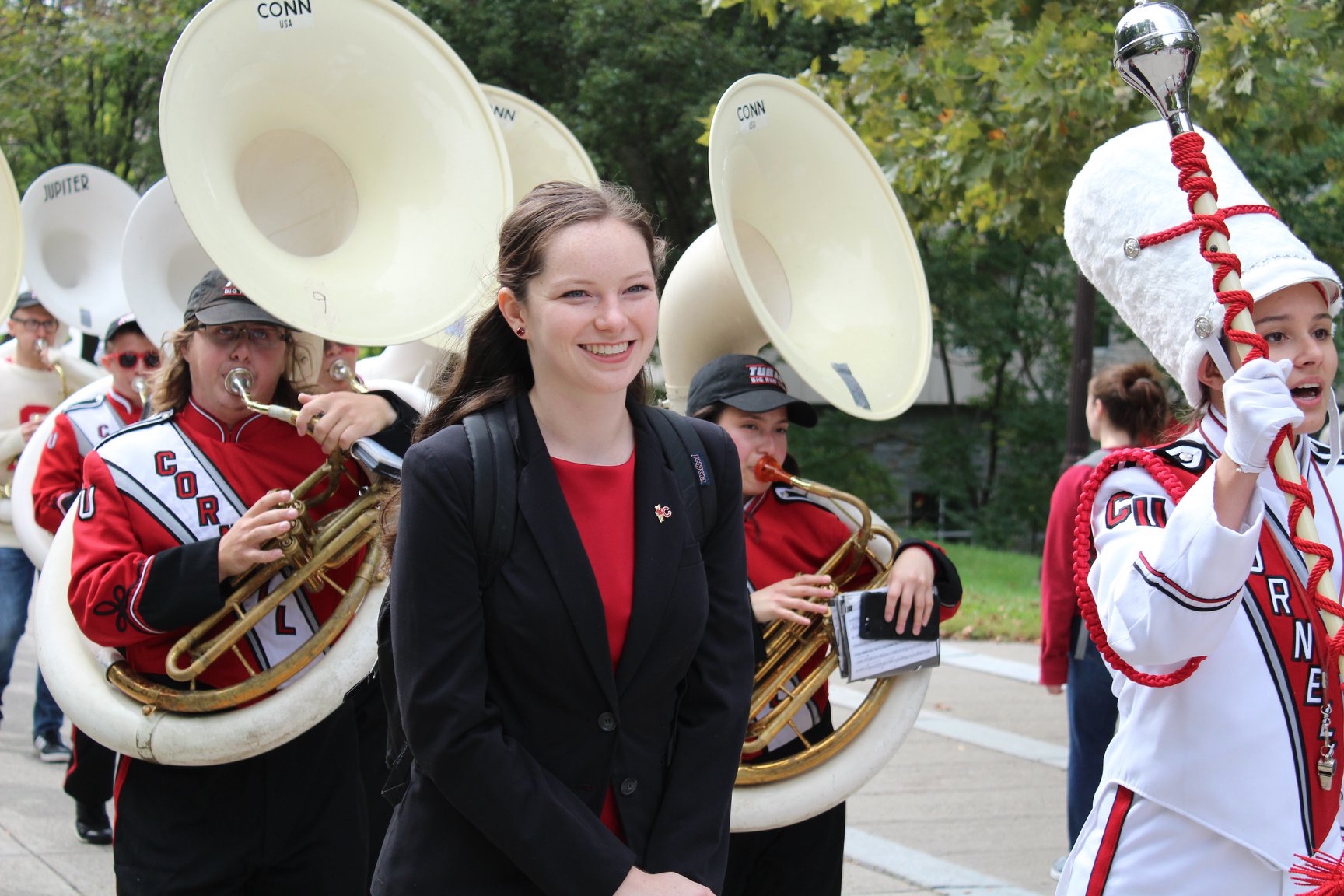 With my graduation date less than a month away, I have begun reflecting on my time at Cornell. So much has happened to me over the past three and a half years, but there is one thing I can say with certainty: this band has given me more fun memories than I can possibly count, as well as more opportunities for personal growth than I can ever properly repay. The people I have met and experiences I have had in this band will always have a special place in my heart and be the first and last things I will mention when describing my Cornell experience. I cannot wait to see how the band will continue to create the culture that I fell in love with during my freshman fall. As I prepare to head to another university for grad school this upcoming fall, I know I might be tempted to hang around their band, but they will never live up to the experiences I have had with the only REAL marching band in the Ivy League.
Thank you band, for everything.
Becca Rodell '18