HEY ALUMNI!
We've had an incredible semester filled with rainy days, cold rehearsals, and lots of laughs. While I'm wrapping up my time here at Cornell by taking the last few classes of my pre-med career, I am so excited to see how the band grows and continues to evolve. I have learned so much about leadership and I cannot thank Becca, section leaders, and my Bandstaph for all of the hard work they've put in this year. With our record breaking number of new members, First Night was a little louder and a little more crowded, but as always, we had a lot of fun welcoming everyone to campus. We also took advantage of the extended Orientation Week to solidify basics and fundamentals, and by hosting an instrument open house, where new players could spend an extended amount of time learning their instrument.
Our first show, which coincided with Homecoming, was our "Worldwide Show" which featured the famous "Africa" by Toto as our pregame song. Our half-time show featured a mash-up of Pitbull's "I Know You Want Me" and "Llorando Se Fue," a Bolivian folk song. With over 400 band members and alumni on the field, we played Maynard Ferguson's "Conquistador," a funk/jazz piece with some tricky trumpet and tuba parts. Although we lost the Homecoming game against Yale, the post-game concert made up for the loss. Following a day of beautiful fall weather, we joined together on the field with a picturesque sunset in the background. I would be surprised if you haven't seen the pictures yet on social media (check the BRMB Historian Facebook page)! Playing "Evening Song" as the sun truly faded in the crimson of the west was perhaps one of the most memorable moments I will carry with me from my time at Cornell. The next weekend, we played the first show again at home, where we secured our first win of the season against Sacred Heart.
The second show, called the "It's Just a Phase Show," was played during our second consecutive win against Harvard and during our away trip to Brown. The show featured "Welcome to the Black Parade" by My Chemical Romance as our pregame song. We added a bell soli to the arrangement to match the iconic piano melody at the beginning of the song. Our trumpet soloists, Zach Siper '20 and Luke Ellert-Beck '20, did a great job and sounded beautiful! For the halftime show, we performed an Ivy League favorite, "Everytime We Touch" by Cascada. Coincidentally, many other schools within the Ivy League have played this exact arrangement, and even have a universal dance that our drumline incorporated into their drill. The second song for halftime was the ever-popular "Mr. Brightside" by The Killers, which was arranged by saxophone alumnus Kevin Linsey '18 and this year's Drum Captain, Josh Mooney '20. This second show had people constantly singing during rehearsal, as well as the visiting bands on game day!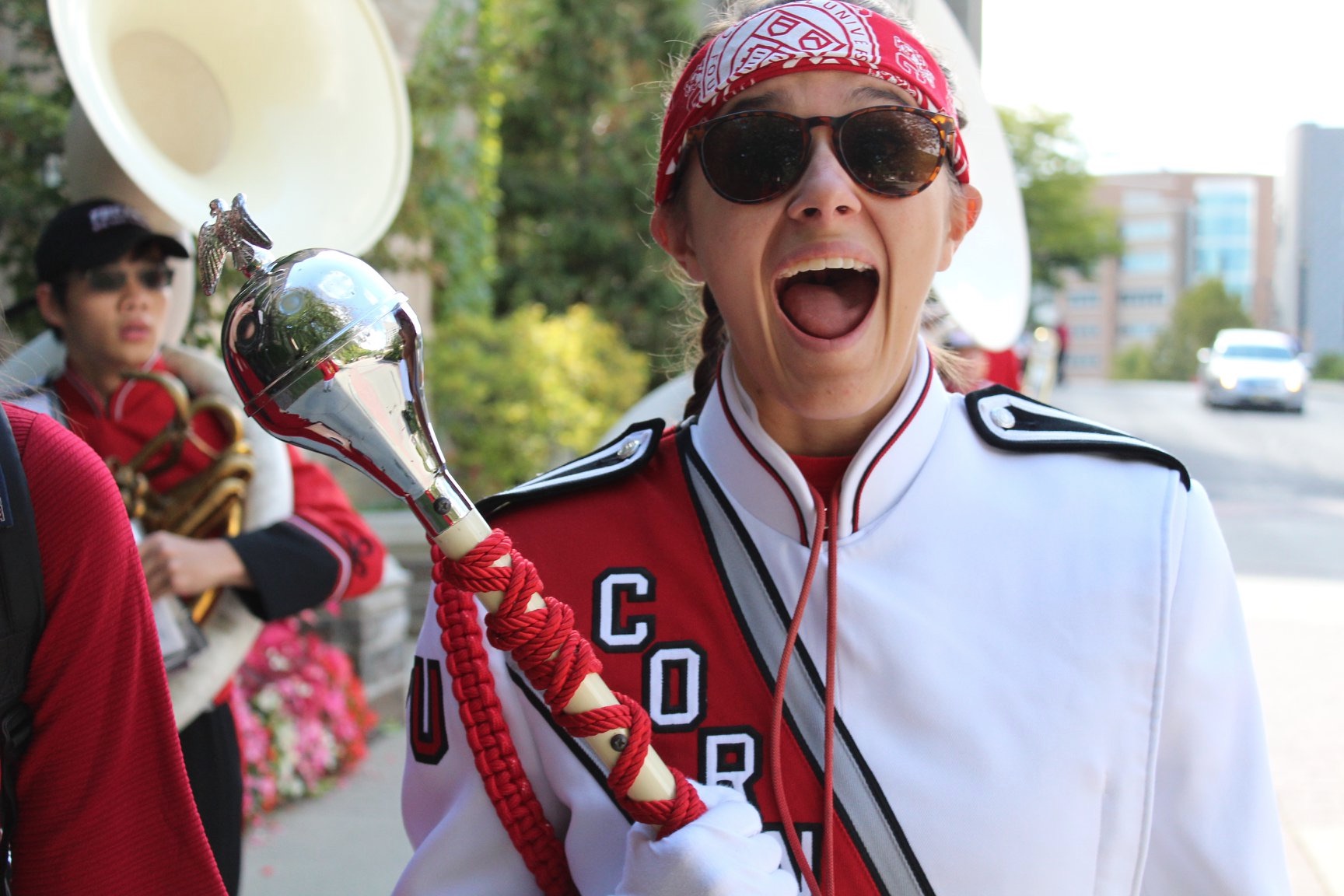 Our third show was our "Rock on Broadway" show, bringing Broadway from the 1980's, the 1990's and 2000′s to the forefront of the stage at Princeton and for a Friday night game at home versus Penn(SUCKS). "The Heat is On in Saigon" from Miss Saigon kicked off our pregame show with a literal kick line! For our halftime show, we started with "We Built This City," originally by Starship but also found in the jukebox musical Rock of Ages, as well as "You Can't Stop the Beat" from Hairspray. We made this show very theatrical!
Last but not least, we had our "House of Mouse" show, which was colloquially known as the Disney show. Now that Disney has acquired Star Wars, we decided to begin pre-game with another student arrangement of John Williams' "Imperial March" from Star Wars, arranged by Sydney Eisenberg '21 and Emily Waite '20. This was mashed-up with Hans Zimmer's "He's a Pirate" from Pirates of the Caribbean, for a song we now call "Imperial Pirates." For halftime, we chose "This Land/Circle of Life" from The Lion King as a nostalgic piece, while finishing with Aladdin's "Friend Like Me" as the senior send-off song. After playing this as the senior show at home versus Dartmouth, we were also able to play it at Columbia for the last game of the season in front of lots of alumni. After the game, we then headed downtown to Rockefeller Center for the Annual Sy Katz '31 Parade, where we finished the night with a concert outside of the Cornell Club. As someone who grew up outside of NYC, conducting the band in the city is an incredible experience.
I have had the absolute time of my life serving as drum major for the BRMB. I know that my contributions to the band are only minuscule to the love and support this band has given me and I am forever thankful for band members (past, present, and future). Thank you for your continued support! This time next year, I'll be on the alumni side of things! And lastly, THANK YOU, BAND!
Katherine Curtis '19