Heyyyyyy Alumni!
Wow have we been busy this semester. We started off this new school year by taking
advantage of our extra day during orientation week and really showing the freshman why they
should "Boin Jand!" From our recruitment dinner performances on North Campus (a new event
this year) to ESS New Student Orientation, we really made our presence known as we continued our tradition of spreading that good ol' Pep Band charm all over campus. As such, recruitment this year was such a massive success! We brought in over 60 new members from all over the world! Shout out to the trumpets who have the most new members, 18 to be exact, in Pep Band alone! Even more impressive, our Pep Band has been averaging 120 members during our weekly Monday rehearsals! Helping me manage this surge of attendance is our two conductors for the season, Jacob "Magnus" Hoglund and Justin "Buckets" Kozma. They have been rock-solid from the very start and I cannot wait to see what they have in store for the band as this semester wraps up!
Switching gears into hockey, our men's team started off strong by soundly defeating the University of Guelph (7-0) and Laurentian University (6-1) in our exhibition matches! We really showed them who is boss around here. New for this season is the Big Red Rave! This is a group of percussionists who will be performing a pregame show for Lynah IN THE DARK! Requested by our fearless leader, Coach Schafer, The Big Red Rave will be performing a sequence in the dark with the assistance of LED lights to help entice the Lynah Faithful to show up earlier. We hope to get final approval from athletics so that we can have this mini-show in Lynah by the end of the year. Make sure to watch the Big Red Rave in action the next time you are in Ithaca!
Of course, what is mentioning hockey without talking about MSG? This year, we will return to The Big Apple to face our arch-rivals, Harvard University, in the annual Frozen Apple event! This year is bound to be exciting as Harvard looks to beat us after last year's heartbreaking loss (for Harvard) to the Big Red 3-2 in the final seconds of the game. For those attending, we will be in section 202. In case you cannot make MSG this Thanksgiving weekend, the Big Red takes on Harvard one week later at East Lynah! This is a special event as this will be my last as manager. Catch me conducting our Alma Mater (and definitely not crying) as we close out the semester in Boston. We hope to see you there!
Outside of men's hockey, our other sport teams are doing quite well. Men's soccer is having one of the best seasons in recent memory and has a real chance of making it into the NCAA playoffs! Throughout the semester, we also supported the women's field hockey and volleyball teams. The rest of this semester holds even more
excitement as we finish off the year with the previously mentioned MSG as well as our trip to Harvard and Dartmouth (November 30 – December 1)!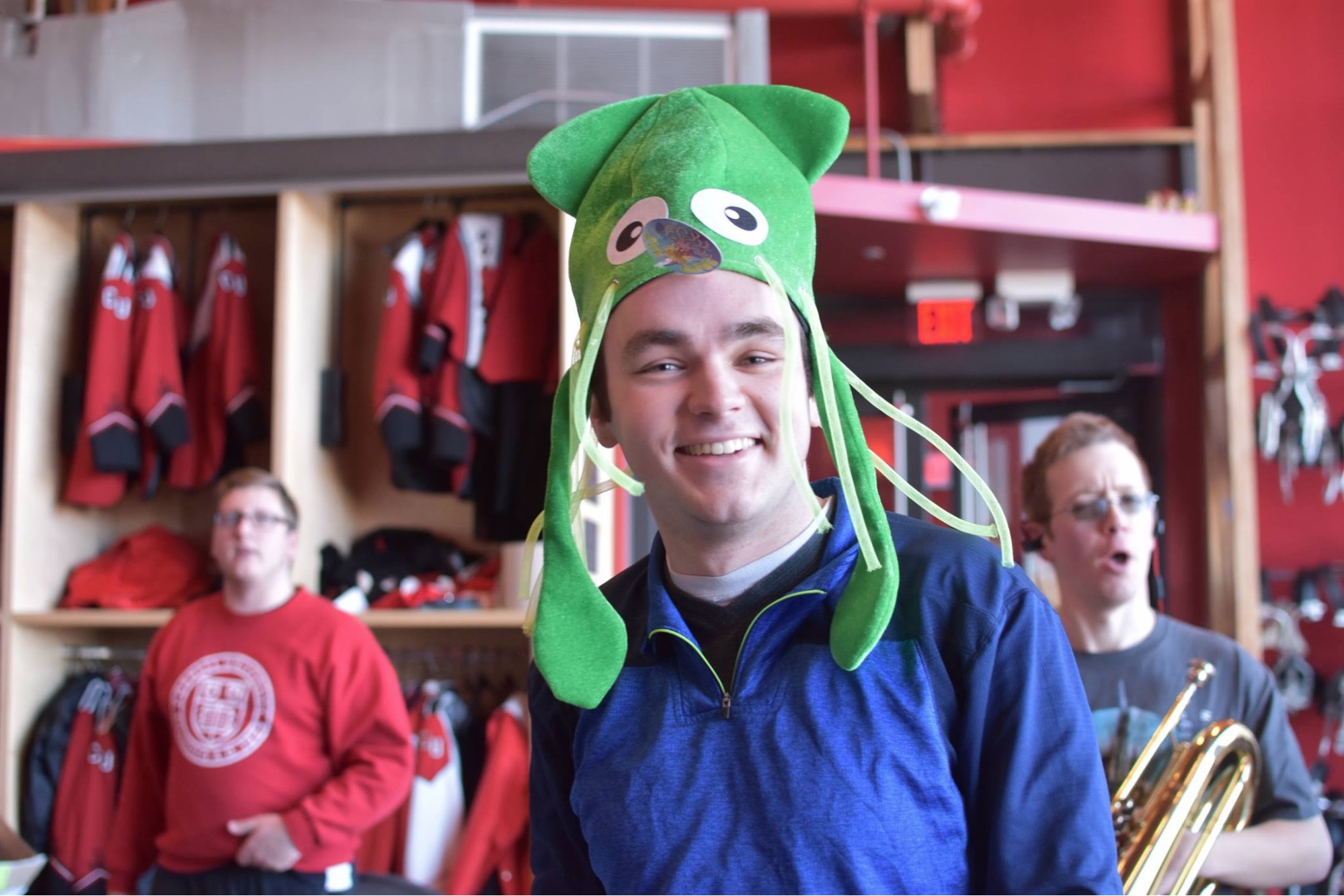 As the Marching Band season winds down and the Pep Band season surges forward, I've started to reflect on my time here as a manager. I have had the time of my life, and I've made memories that I will never forget. Attendance has been higher than ever, and everyone has been enjoying themselves, which is the goal I had from the very beginning. Saying thank you to the band that means so much to me is truly an understatement as my entire college career was memorable thanks entirely to the Pep Band. I've loved having the opportunity to manage the pep and grow as a leader in this organization. I hope whoever follows after me will be able to have just as many exciting and memorable moments as I have!
- Zachary Brothers '20