The character of the band would be nothing without the individuality and quirkiness of each section. Here is a brief update on what happened this year within each section. Recent alumni: see how your friends are doing. Older alumni: check out where your section is now!
Hey alumni! The Big Red Flutes had an AMAZING 2013 season! This past year, we gave Cornell great press- performing our hot dance moves in Canada, at the Montreal Alouttes' game, and New York City's Herald Square! The Time Warp remains ever popular along with the newer "Gangnam Style" in Everybody's Everything. Meanwhile, in Ithaca, we performed at Relay for Life, and had our Spring Concert at the Ithaca Farmer's Market! Everywhere we go, we obtain a fan base. The best story this year was getting a bunch of tiny Princeton hecklers to like the BRMB, and Cornell, through our charm and wit!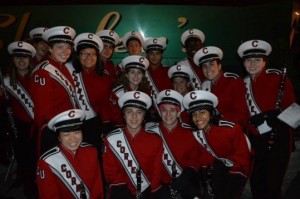 The Clarinets this year had an eventful year. The section leader chair that has been passed down from section leader to section leader was rescued from the horror that is Barton Hall's dumpster and was successfully passed down.  Things breaking was another theme: flip folders flew away and ligatures were replaced by rubber bands. On the plus side, we hosted sectionals: AND PEOPLE CAME! We continued a several year old tradition of watching Mean Girls and created a new one: yelling Leslie at anyone in games who screwed up in any capacity. Will that tradition stick? Who knows, but we had fun with it this year!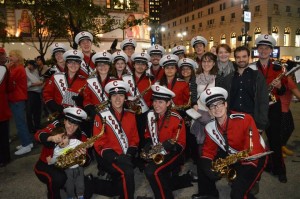 The Saxes had yet another excellent season. After wanting more for so long, we had an astounding FIFTY saxes at First Night (not counting our saxy drum major and head manager). This year, we added two new cheers to our repertoire: The Entertainer (Nick Webb '16) and Anna Molly (Joey Fagnilli '14). We also had our latest action (and fear) filled round of saxy assassins, featuring master assassins Monica "the face in the crowd" Jacobs ('14), Ben "the limerick life-ender" Siper ('17), and the eventual winner Cameron "two years in a row" Glass ('13).  Thanks saxes!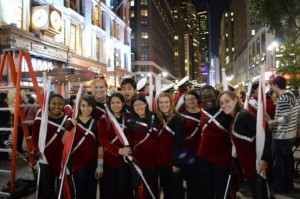 This past fall, the Color Guard proudly celebrated its 20th season.  Our shows featured a variety of equipment, including red, black and shimmering flags, rifles, and swing flags.  We enjoyed a couple of dance numbers, like our swing dance during the Elvis Medley and ballet during the Abstract show.  We brought theatrics to the Les Miserables show, during which several members portrayed characters like Eponine, Marius, and Jean Valjean during solos and features – and we were thrilled at the opportunity to perform this show in Montreal for the Canadian Football League.  We're looking forward to more fun next season!
This past season, the Trumpets continued our long-standing tradition of marching, sounding, and looking excellent.  We got an awesome (though small) class of new members in both the marching and pep bands, and they all look forward to continuing the tradition of trumpet awesomeness.  Soloists this season included Buddy Holly, '14, Inky Lamson, '14, Schwegger Holmes, '15, Luigi Widom, '16, and Michaela Olson, '16.  The trumpets would also like to congratulate Michaela on being elected Drum Major, and Michelle Yanda (via skype), '15 for being elected Pep Band Manager.  The bands are very lucky to have these trumpet ladies as their leaders!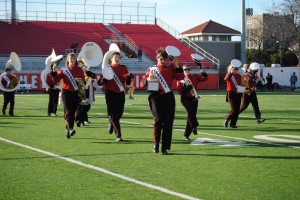 Welcome to the Horns! We're that awkward section laughing at our own jokes and galloping past you during parades. The horn section may be small but we're making up for it in Pep Band with attendance; it is not a rare occurrence for the horns to be one of the larger sections at an event! The horn section is also beginning to recruit more Y-chromosomes, including two male section leaders. Come hang out with us and see for yourself why we're so awesome!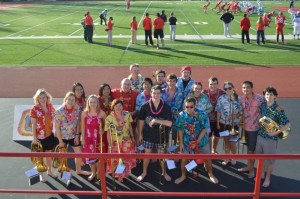 Being a Big Red Bone is always rewarding, but it's never more rewarding than during Grand Bonecoming. Every third year, any Bone alumni who can possibly make it find their way to Ithaca to celebrate Cornell and, above all, the Bones.  Bones from nearly every class between '90 and '17 attended Grand Bonecoming. After watching both a 17-year-old girl and 40-year-old man complete the Pinesburger challenge, or perhaps while watching a group of alumni from the 90s giggle like little kids at Cards Against Humanity, one thing is clear: though the Bones change a lot over the years, we never stop being a family. Somehow we Bones always have things in common, regardless of what age or walk of life we are, and no matter how much they change, the Bones will always be family.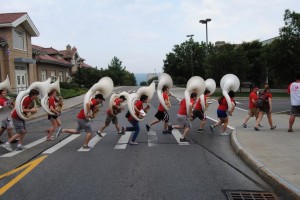 2013 was surely a year of glory for the Tuba Section. Recruiting a near record 5 new members (4 spectacular freshmen and an especially hipster transfer student), this year was definitely a big one; even requiring us to borrow tubas from Ithaca High School for homecoming to accommodate alumni. All our underclassmen grew as musicians and students (we even can almost pinwheel now!). Thanks to our seniors, Brock Mendoza and Julia Buffinton (recovering clarinet), who were indispensable in making this year's successes possible. We could not be more excited for next year as Josh Reichler '16 takes the reins as Section Liaison. Thanks for the amazing time!
The Drum Line is too cool to be in Band Notes!