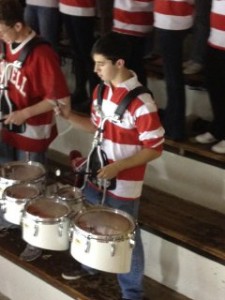 It's difficult to even to describe the impact that band has had so far on my Cornell experience. From the beginning, I knew that I wanted to join band, but I was apprehensive because my high school only had a pep band. I had never marched before, and I had an irrational fear that not being able to march would be a problem.
In retrospect, the thought of not fitting into band is ridiculous, and that's what makes it so special. The one thing that the Big Red Band does better than any other organization on campus is making every person feel welcome. Coming into a big school like Cornell, it's easy to get lost. Band snags you from your parents on registration day, immediately immersing you in a group of 200 people who want to meet you.
Throughout the fall, I was just taken aback by how genuinely friendly these people were. I wasn't that involved in band socially until October, but once I became more involved it was as if I had been there the whole time. My band friends became good friends and I no longer felt merely welcome, I felt wanted. Likewise, I wanted to get more involved in band, so I ran for Pep Band secretary.
When spring semester came, it all started to feel real. In the fall I was still a freshman who knew next to nothing about anything. But due to the Pep Band being split across several simultaneous events during particularly busy weekends, I found myself playing snare and rolling off for Davy at men's hockey playoff games and actually having responsibility in the band. Though scary at first, it made me really understand what being in the band means.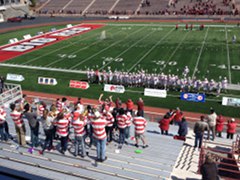 As the year went on, my band friends became my best friends who I knew I could count on. When my housing situation for sophomore year got complicated, it was the residents of the tuba-sax house that helped me out. I go to pep band events all week and yet somehow I'm still not sick of it by rehearsal on Monday. Band is my life now and I couldn't be happier about it. There isn't an organization quite like it anywhere else.
But of course, it is the traditions that hold us together and make us who we are, and for that we must thank the alumni. The great, friendly people who made me feel welcome would not be here if they hadn't been treated just as well when they entered the band. I was afraid of marching but the second I saw just how the Big Red Band marches, I knew there was nothing to be afraid of, and while we scream our heads off and dance up Tower Road, I know that somebody a long way back decided that it would be a good idea, and for that we say thank you.
As freshman year rolls into a close, I know that my four years far above Cayuga's waters will be much better than I ever could have expected, thanks to the Big Red Bands.
Alex Settle '16