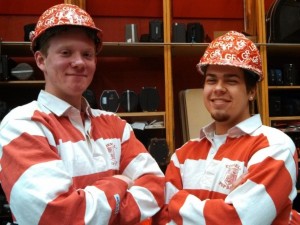 This past spring, I have had the great honor of conducting the Big Red Pep Band. This year, the men's team did well and made it to the ECAC semi-finals in Lake Placid, and the Women became ECAC champs after a win over Clarkson! Playing for the basketball teams has been exciting. What has been a pleasant surprise has been the lacrosse team. The pep band first graced lacrosse as Cornell took on number 2, UVA. The Big Red emerged victorious and remains undefeated (knock on wood). But while the sports have been good, the band has been even better. Nothing at Cornell has come close to being as great an experience as leading waving my arms in front of this fantastic group of people. The very first weekend of our conducting tenure, the band split apart – the men's and women's hockey teams each had a pair of games against Hahvahd and Dartmouth. My co-conductor Josh Schupp ('15) stayed in Ithaca, with a small group that had returned early from winter break, while I took the bus to Cambridge, for my first taste of leading the band. Lynah East was chaotic. As usual, Hahvahd's stands contained a sizeable percentage of Cornell fans. The crowd cheered loudly for each goal we scored, for each shot we took, for each cheer the band played. And I was terrified. But when we played the Alma Mater, that fear faded. Around the rink, alumni sang and swayed to the music, returning to their own days on the hill. Our hockey team won the game, which invigorated the visiting fans (us!). But to me, the atmosphere just showed the power of Cornell's community, both in Ithaca and across the world. Other away games I've been to merely reinforce this. During the Cornell-Yale hockey game, I spent most of a period break talking to an alumnus from the early 80s, who reminisced about his time back on the hill. He had some song requests (Birdland), and asked about old traditions – did we still yell X at the opposing team when Y happened? Did the tubas still do Z at games? The next night, at Brown, Nathan Olson ('05) requested to conduct the Alma Mater, so I joined the crowd of alumni and their families. With those who came before me, I lifted the chorus. The Big Red Band emphasizes how past traditions influence even the youngest in Cornell's community and that some things never change. Frank Gonzalez '14.
Joshua Schupp conducts co-conductor Frank Gonzalez's arrangement of "Radioactive" at the Harvard Game/Senior Night/Fancy Hockey!

The band plays the Alma in it's full glory! Special guest appearances from alumni and past conductors!
Subscribe to the BRPB Historian on Youtube!