Hello Alumni!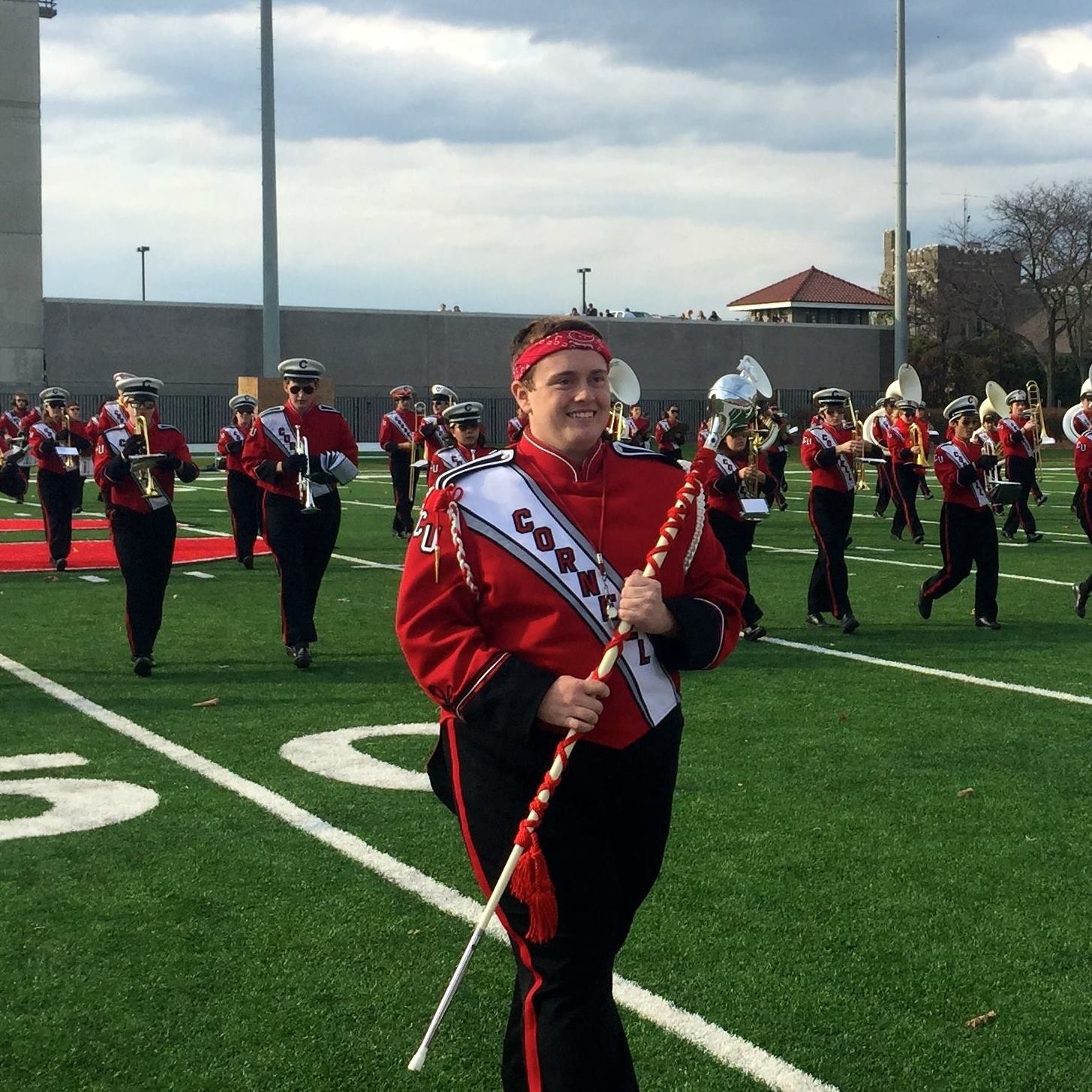 My name is Jeff Crosby, your 2017 Drum Major! I am a junior Psychology major preparing to attend law school after graduation. Some of you may remember reading about me from my positions as 2015 Alumni Relations Chair and Fall 2016 Pep Band Conductor. My roots are from the saxophone section, but I still play as a member of the bone section in Pep Band. I have had an amazing experience in band so far, and I'm so excited to serve as Drum Major for this upcoming year!
The Marching Band was very busy at the start of the year when we were asked to do a surprise performance at the SC Johnson College of Business donation presentation and celebration in late January. Many bandsmen came and performed with us for this special occasion. The Johnson family was very happy and the guests were overwhelmed with the support that the marching band students showed at the ceremony. We were even featured on the Cornell University cover photo for a few days!
On March 14, (PI DAY!), the Marching Band and Pep Band had a very successful Giving Day Concert! Even though the university was closed and classes were cancelled for two days, our bandsmen braved through the winter weather to put on an amazing concert for alumni, family, and friends. The performance was excellent and we hope you enjoyed it. If you want to see the video, check it out on our BRMB Historian Youtube page!
Due to the bad winter weather, the first day of HEC was cancelled which meant the Marching Band was unable to do our annual small concert and march through Statler Hall. To make up for it, we did another surprise performance during the Hotel Ezra Cornell Banquet. We performed Cornell spirit songs, Pinball Wizard, and the Alma Mater for many alumni and donors. It was a great event!
During the past few weeks, we also held our first new music rehearsal. I am so excited for our plans for the shows next fall. We will be featuring some cool purchased arrangements as well as BRMB student arrangements. We are planning for a very diverse showcase of music including modern songs and hit classics! There is even going to be some bandsmen dancing, so get excited for that! For our Homecoming show on October 21, the homecoming song will be JCS!
We had many other events this spring including Cornell Days, service events, and our annual Spring Concert on April 22! We are having a very busy spring, but we are also actively preparing to welcome the Class of 2021 this August.
I look forward to seeing you in the future at our performances, reunion, and homecoming! Thank you for your continued support of the BRMB!
-Jeff Crosby '18