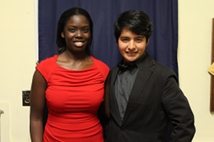 Well, it's that time of year again: final exams are done, dorm rooms are all packed up, and another senior class will soon move on to bigger and better things out in the real world (or at graduate school). It seems like just yesterday it was August, and we were welcoming the Class of 2016 to our ranks; now, as another academic year draws to a close, we are looking forward to our big move into the new Big Red Bands facility on Kite Hill at the end of May, and to Reunion Weekend (June 6-9, 2013).
And now, presenting your 2013 Alumni Relations Chairs:
Hello! My name is Anita Mbogoni '15, and I hail from Queens, NY. I am a biology and society major in the College of Agriculture and Life Sciences, with minors in inequality studies, science and technology studies, and music. In addition to Alumni Relations Chair, I'm very excited to serve as Clarinet Section Leader this year. The band has had an overwhelmingly positive impact on my Cornell experience thus far, and I eagerly await another year of great music and wonderful memories with the only REAL marching band in the Ivy League!
My name is Kevin Milian '15 and I come from Guatemala City, Guatemala. I am a communications major in the College of Agriculture and Life Sciences, with a minor in archaeology. Being in the marching band for the past two years has been a blast. I brought in the freshman Class of 2016 as Publicity Chair and now I get to work with the other side of the coin–our large alumni network. As the band moves to our new facility, I anticipate a new "golden age" for our band, and I'm excited to be a part of it. Here's to a great new semester! Let's Go Red!
As a way to reduce our carbon footprint, we are getting rid of paper issues and going green. We hope you enjoy this first digital issue of the Band Notes! If you have any questions, comments, or suggestions, please feel free to write to either of us. You can reach Anita at aam93@cornell.edu and Kevin at kjm259@cornell.edu. We look forward to meeting you all in the coming months!
Your faithful Alumni Relations Chairs,
Anita Mbogoni '15 and Kevin Milian '15